Fillable Printable Quickstart Resume Template
Fillable Printable Quickstart Resume Template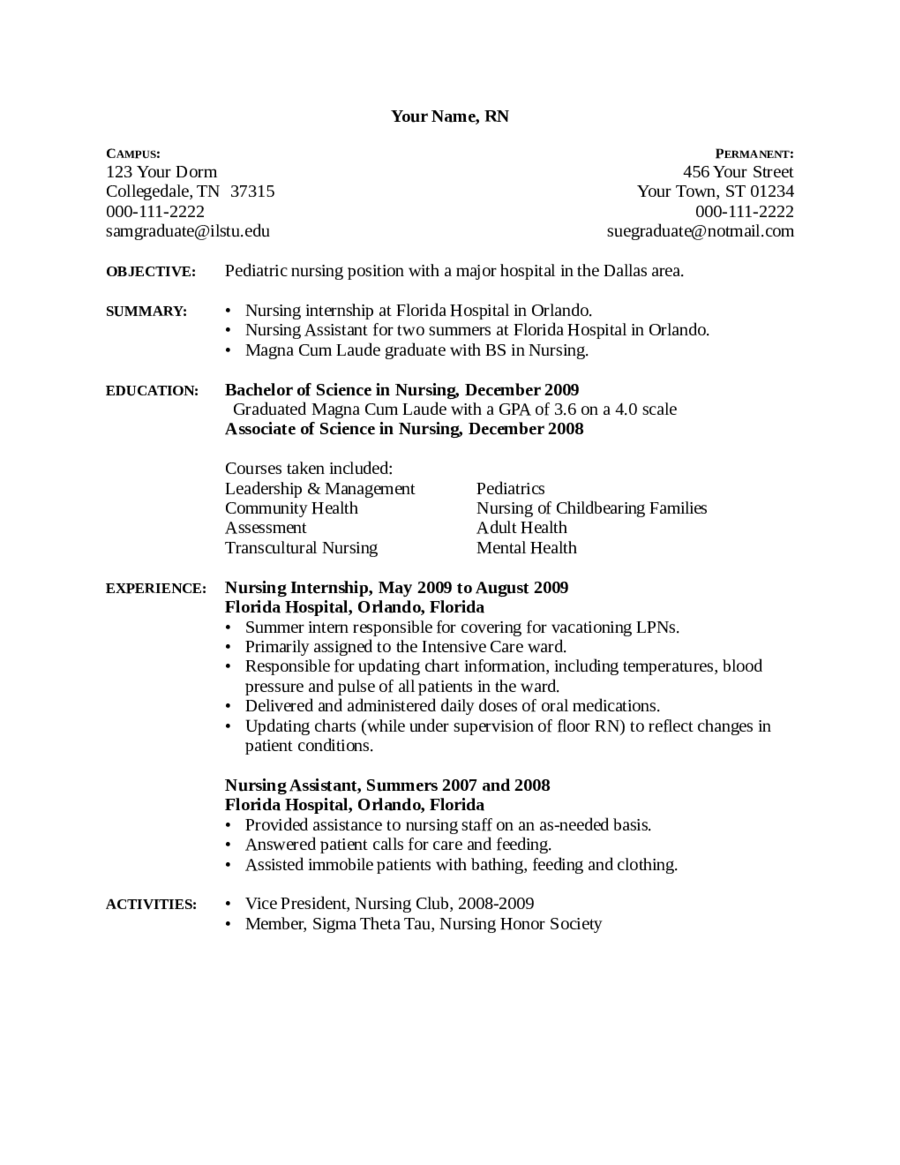 Quickstart Resume Template
Your Name, RN
123 Your Dorm
Collegedale, TN 37315
000-111-2222
samgraduate@ilstu.edu
456 Your Street
Your Town, ST 01234
000-111-2222
suegraduate@notmail.com
OBJECTIVE:
Pediatric nursing position with a major hospitalin the Dallas area.
SUMMARY:
•Nursinginternshipat Florida Hospital inOrlando.
•NursingAssistant for twosummers at Florida Hospital in Orlando.
•Magna Cum Laude graduatewith BS in Nursing.
EDUCATION:
Bachelor of Science in Nursing, December 2009
Graduated Magna CumLaude with a GPA of 3.6 on a 4.0 scale
Associate of Science in Nursing, December 2008
Courses taken included:
Leadership & ManagementPediatrics
Community HealthNursingof Childbearing Families
AssessmentAdult Health
Transcultural NursingMental Health
EXPERIENCE:
Nursing Internship, May 2009 to August 2009
Florida Hospital, Orlando, Florida
•Summerintern responsiblefor covering for vacationing LPNs.
•Primarily assigned to the Intensive Care ward.
•Responsible for updating chart information, including temperatures, blood
pressure andpulse of all patients inthe ward.
•Delivered andadministered dailydoses of oral medications.
•Updating charts (while under supervision offloor RN) to reflect changes in
patient conditions.
Nursing Assistant, Summers 2007 and 2008
Florida Hospital, Orlando, Florida
•Providedassistanceto nursing staff on an as-needed basis.
•Answered patient calls for care and feeding.
•Assisted immobile patients with bathing, feedingand clothing.
ACTIVITIES:
•VicePresident, NursingClub, 2008-2009
•Member, Sigma Theta Tau, Nursing Honor Society