Fillable Printable Front Office Assistant Cover Letter
Fillable Printable Front Office Assistant Cover Letter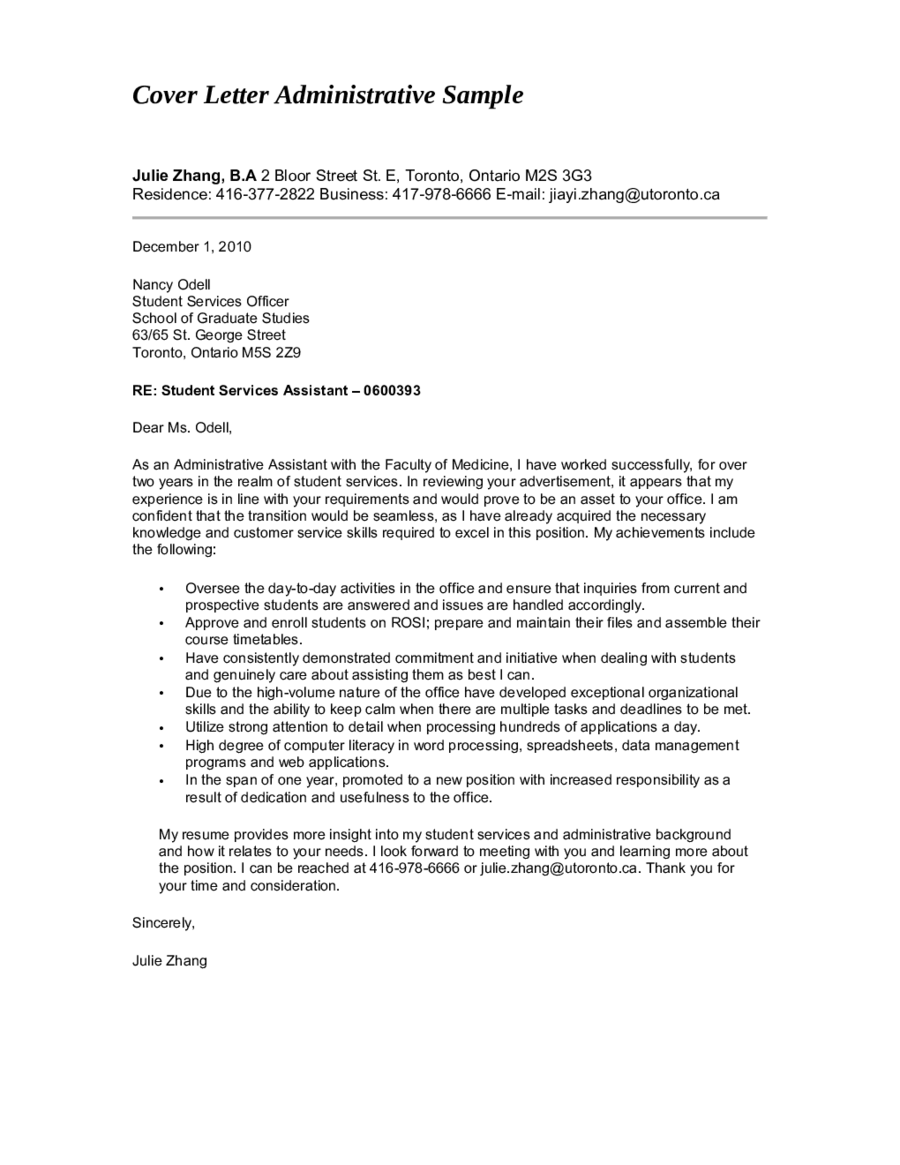 Front Office Assistant Cover Letter

Cover Letter Administrative Sample
Julie Zhang, B.A
2 Bloor Street St. E, Toronto, Ontario M2S 3G3
December 1, 2010
Nancy Odell
Student Services Officer
School of Graduate Studies
63/65 St. George Street
Toronto, Ontario M5S 2Z9
RE: Student Services Assistant – 0600393
Dear Ms. Odell,
As an Administrative Assistant with the Faculty of Medicine, I have worked successfully, for over
two years in the realm of student services. In reviewing your advertisement, it appears that my
experience is in line with your requirements and would prove to be an asset to your office. I am
confident that the transition would be seamless, as I have already acquired the necessary
knowledge and customer service skills required to excel in this position. My achievements include
the following:
•
Oversee the day-to-day activities in the office and ensure that inquiries from current and
prospective students are answered and issues are handled accordingly.
•
Approve and enroll students on ROSI; prepare and maintain their files and assemble their
course timetables.
•
Have consistently demonstrated commitment and initiative when dealing with students
and genuinely care about assisting them as best I can.
•
Due to the high-volume nature of the office have developed exceptional organizational
skills and the ability to keep calm when there are multiple tasks and deadlines to be met.
•
Utilize strong attention to detail when processing hundreds of applications a day.
•
High degree of computer literacy in word processing, spreadsheets, data management
programs and web applications.
•
In the span of one year, promoted to a new position with increased responsibility as a
result of dedication and usefulness to the office.
My resume provides more insight into my student services and administrative background
and how it relates to your needs. I look forward to meeting with you and learning more about
the position. I can be reached at 416-978-6666 or julie.zhan
[email protected]
.ca. Thank you for
your time and consideration.
Sincerely,
Julie Zhang