Home

>

Office Assistant Cover Letter
Office Assistant Cover Letter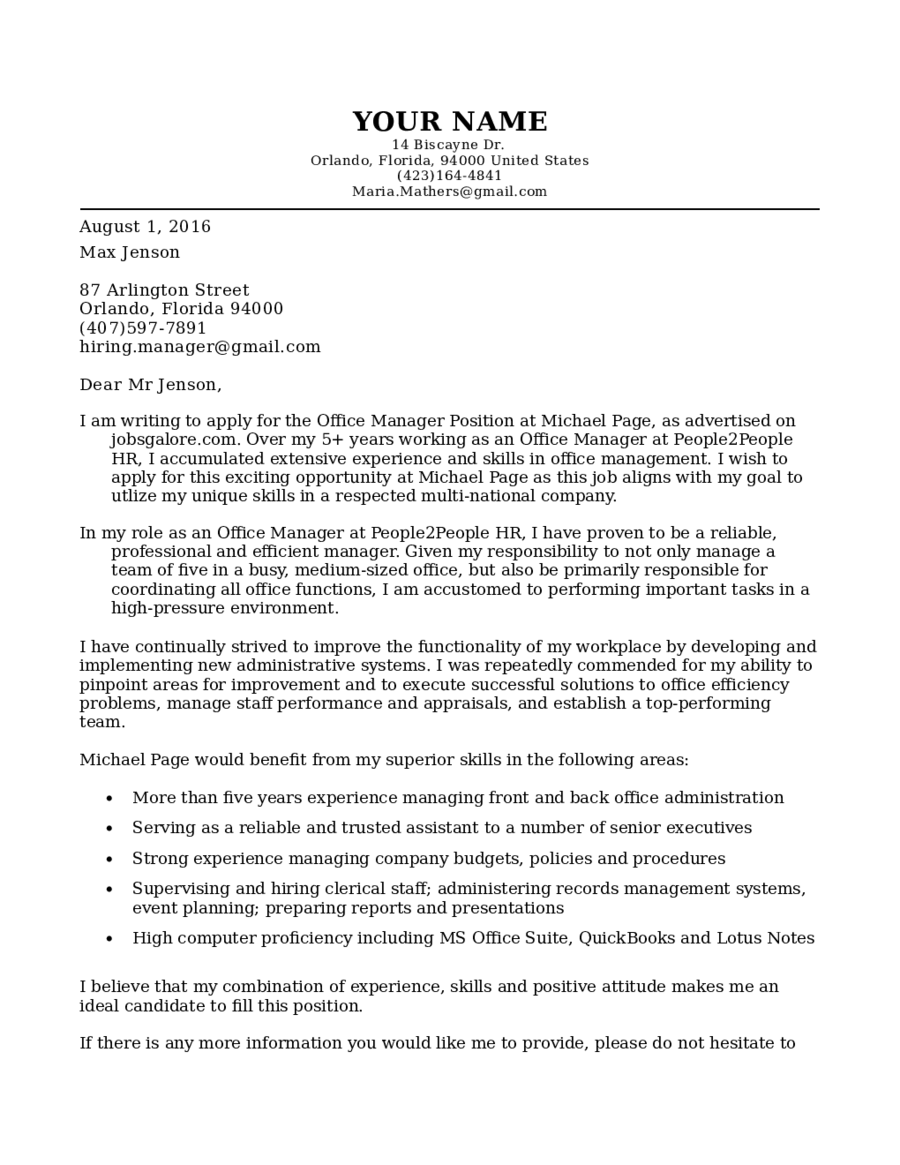 Who is an office assistant?
It is relatively impossible for a boss or manager to manage his duties while keeping an eye on every other member in the office. In order for the higher levels of authority in an office to do their job smoothly, they require assistance who can handle meetings, messages and other small but crucial aspects of their day. Assistants and secretaries play a major role in the smooth functioning of the office. Though they primarily work for one person, they ensure that every section of the office is operating at the optimum rate of productivity.If you are considering of applying for a similar job, you should know how to write an office assistant cover letter. Availing of a template to help you with such a task is readily available online. Download one for convenient use! Allow professionals to help you secure your next job for a minimal fee and many added benefits!
What are the skills of an office assistant?
There is no set number of skills that an assistant must possess. They must be efficient, reliable and able to meet the requirements of their jobs. All of these aspects can be mentioned in an office assistant cover letter entry level. Here are the office assistant skills required to be successful:
People live in the age of the internet and ever evolving technology. Basic technological skills would include, being able to operate a laptop or other device efficiently; working effortlessly on software like excel, word, PowerPoint, handling website content, e-mails, social media and various other databases is essential. Every assistant starting out on their first job is required to have basic knowledge of these programmes. If they fall short, it is possible to have a short training period.Either way, being able to do basic office operations is an absolute necessity even for applicants with office assistant cover letters no experience. Ensure that you have the required capabilities before applying for a job that you may not be able to otherwise handle.If you need help writing your cover letter, you can download professional economical and user friendly cover letter templates. You can customize any of professional templates according to your needs or you may download professional special template formats like office assistant cover letters no experience which are designed specifically for candidates without job experience.
Communication is what could make or break connections. It is vital in every field, that a person be able to communicate his thoughts, opinions and sentiments without offending or stepping on any toes. Office assistants aren't simply communicating with the person they work for, they interact with various other office members throughout the floor or building, they make and receive calls with important company clients. Constantly try to improve on your communication skills so they never rust.Look through any office assistant cover letter sample that is available for download, and try to emphasize this particular attribute. Professional templates are extremely versatile so you may use the same template for multiple applications or personalize it to suit different applications. Professional templates are available in a variety of economical, user friendly formats like MS Excel, MS Word and PDF formats for your convenience.
Considering the fact that an assistant will be handling multifarious tasks, sometimes, all at the same time, having the ability to multitask is very important. Planning, organizing and executing duties that have been assigned. This requires a lot of quick rational thinking on the spot. The jobs of assistants are often underestimated because people do not realize how effective and prompt assistants need to be.
This includes administrative, as well as, time management. Time management falls within the organizational skills of an assistant. However, many a time, PA's or office assistants will need to delegate work because they cannot possibly take care of everything. Their decision making skills when choosing a person needs to be quick and their choices need to be reliable.Templates for office assistant cover letter no experience is easily available online. They are designed by professionals to give you the added boost that your resume requires. Don't delay! Download them at the click of a button today.
How to write an office assistant cover letter
Every job application requires you to submit two main documents, that is, your cover letter and curricular vitae. The cover letter sets the tone for the employer. They are able to gauge your ability to communicate and it sets a standard for employment. This is an introduction to your CV. It informs the employer that you are keen and more than able to handle the job that you have applied for. If you are unsure of how to format or write a cover letter you can download an office assistant cover letter sample or template as a guide.
Outline of a cover letter
There are a few basic elements of a cover letter that you need to keep in mind. This could solidify your entry into a company, and showcase your adequate professionalism that is required. Remember this is a formal letter that has a set format to it.
The letter should open with a proper address to the person in charge, followed by the company address. That is, "To the manager/head of administration, etc."
Some people prefer to include their contact details on the top of the letter as well. This is not a very common habit, and isn't highly recommended.
Next, include the subject of the letter. For example:"Re: Application for the post of Office Assistant"
Address the person appropriately; start your letter with "Dear Sir/Madam".
End your letter thanking them, followed by your full name and contact details.
Below that mention that you have enclosed a CV or resume for their perusal.
This is just a basic outline that needs to be followed whenever you are writing an official cover letter. The format is an element of the cover letter that should be properly handled. Even office assistant over letter entry level candidates are expected to know and understand the universal format.
Content of a cover letter
The most important part of your letter is the body of content. This truly showcases your skills and achievements in a way that is not boastful but convinces the employer of your capabilities. Below, you will find a list of things that should be included in the content, especially for office assistant cover letter entry level candidates.
Address the person appropriately, by name or Sir/Madam.
State your skills and abilities in a manner that highlights your personality and showcases your ideal qualities that verifies why you would be an ideal candidate for the job.
Use another paragraph to tell your possible future employer about your various achievements thus far. This should also highlight and relate to the position being applied for.
After that, shine a light on any other skills that would prove useful in the process.
End your letter with a solid statement of your strength as an ideal candidate. A good conclusion could secure the job you want. It also justifies all of the above statements that you make.
There are many templates that are available online that can be of great use to you. They are easy to download and fill in. All you will have to do is fill in any extra details and requirements. If necessary, you can have them easily customized according to your requirements by professionals. Availing of cover letter templates is the easiest way to ensure that you do not miss out on any details while applying for the job!
Importance of office assistant cover letter sample
With the internet at the fingertips, people can find a guide for anything that he/she can think of. When it comes to applying for jobs, writing resumes and cover letters, there are a number of mistakes people usually make. However, simply download and easy to use cover letter template can avoid all of these. These templates are created by experts who specialize in writing viable cover letters. They can prepare the entire letter for you, or simply a basic outline – the details of which you may fill in at a later time.A cover letter is simply a way of securing that job, representing your profile adequately and exhibiting necessary professionalism and office assistant skills. A lot of the candidates are determined not just by their achievements and skills but by how they communicate as well. This is clearly portrayed in a cover letter. Hence, it is extremely essential that you go over each detail carefully and ensure that there are no mistakes.
Final Guidelines:
Have the right attitude
When applying for a job, do not assume that you are indispensable. Prepare or all eventualities.
If you want to secure your position in a company, go the extra mile and try to stand out from the crowd. When employers notice the extra effort, you are more likely to be the candidate that is hired among all others that have applied for the same job.
Pay attention to the details
Constantly try to build your CV and edit your cover letter as you move on in your professional field. Never resubmit the same documents for each job.
Ensure that your cover letter and resume adequately showcase your office assistant skills.
Optimize your formatting
Your cover letter must be accurate, informative, precise, neat and well formatted. However you can use skilled templates to help you stand out in a sea of drab cover letters.
Steer clear of excess in terms of decorative fonts, bright colours and irrelevant details as you want your cover letter to look crisp and professional.
Be straightforward and to the point. Avoid exaggeration and hyperbole so that your tone comes across as sincere.
Highlight the important and positive aspects of your skills and qualifications that you want your employer to notice. Every candidate has shortcomings so do not dwell on them. Use professional office assistant cover letter sample as a framework for all future cover letters as it is designed specially to best showcase your professional skills and abilities.
Use the cover letter to justify the abilities that could potentially make you an asset to the company. Don't just ask for a job, elaborate on the value you could contribute to the company.
With the help of these guidelines and skilled samples, you never have to worry about how to write an office assistant cover letter ever again. With the wide array of templates available for download, all you have to do is verify your details and sit back while the professionals handle it. Submit your cover letter and CV and wait to be accepted for your next job!