Home

>

Sympathy Letter Templates
Sympathy Letter Templates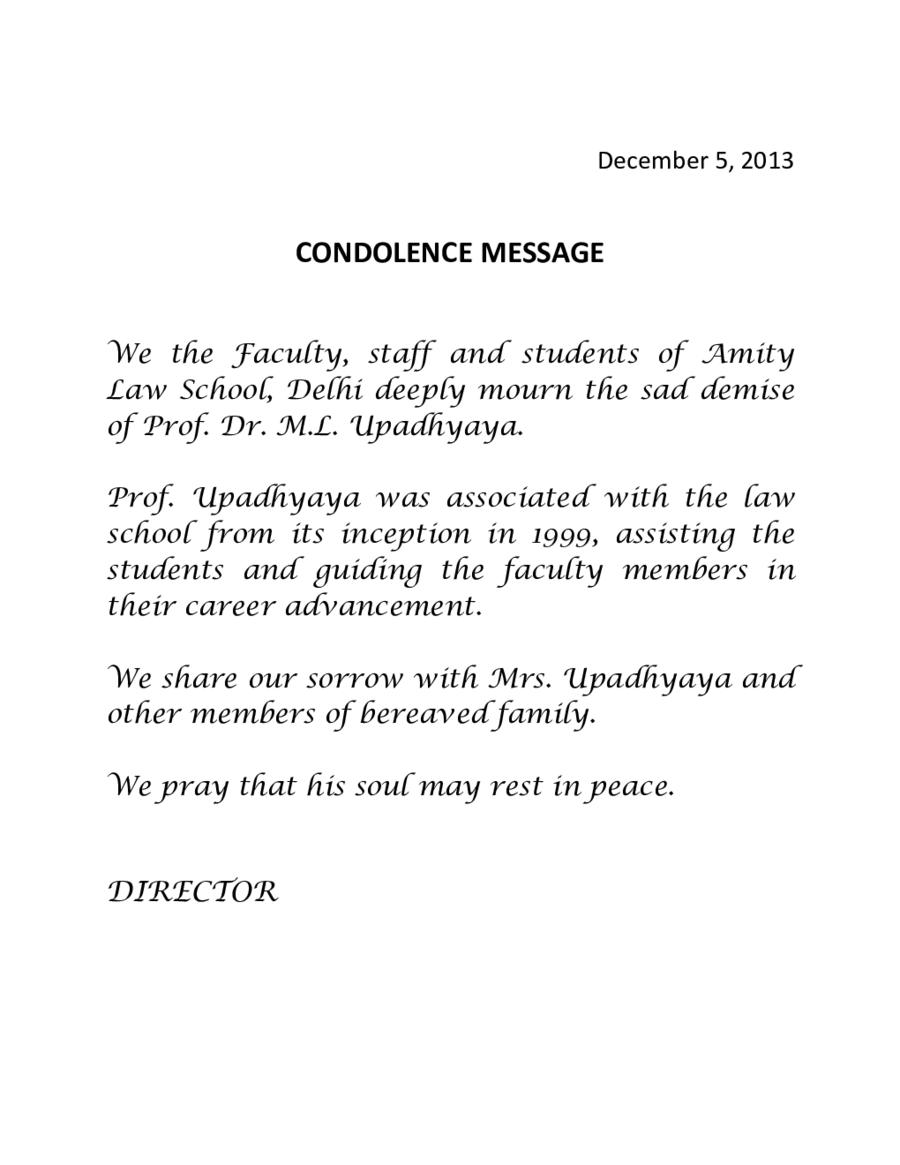 The Nature of Loss
Loss is an unavoidable part of life, however, it is never easy to bear. It is one of the most painful experiences of human existence. While people often wish that more could be done to comfort the grieving person but at such a difficult time, it isn't always possible to do that unless one is dealing with a close friend or relative. Under such circumstances, the most appropriate solution is to give them space and offer your sincerest sympathy and condolences with the help of a sympathy message.Most people have trouble coming up with the appropriate expression to express their sentiments in a manner befitting the solemnity of the occasion. If you face similar difficulties, your best option is to use a template. There are a wide variety of free condolence message professional templates for you to choose from so that you can rest easy.
What is a Sympathy Message?
When understanding What is a Sympathy Message, keep in mind that it is a message that expresses somber sentiments of compassion and maybe used in various circumstances. Primarily, words of sympathy serve as condolences to comfort a bereaved individual. However, if phrased differently, they may also be sent to encourage people going through a difficult time in their lives and to encourage them to persevere even in the face of adversity.If you're still wondering What is a Sympathy Message, take a look at various sympathy message examples for a brief outline of a condolence message. The available templates are extremely user-friendly and easy to download so make use of the free services today!
Importance of a Sympathy Message
While messages of sympathy are not the only way to express your condolences, they are the most popular. A well-written sympathy message is a great way to express heartfelt emotions that offer support and comfort without being intrusive. Unlike a personal visit or a telephone call, a sympathy card message does not presume to make any demands upon the bereaved person. It gives them the time and space to get back to you in a dignified manner. At the same time, a warm sympathy message can go a long way to offer them some solace at a difficult time and with the help of templates you can construct the perfect sympathy message whenever you need it.
Types of Sympathy Messages
There are various kinds of sympathy messages that you may compose, depending on your personal preferences and the nature of the bereavement suffered by the intended recipient. There are templates to serve every purpose. These templates are completely free and specially designed to accommodate a range of customizations without a hitch. So go through this list and find the Sympathy Message that best suits your needs:
Sympathy Card
A sympathy card message is the simplest and most popular form of address when dealing with loss and bereavement. It is a simple message delivered to the recipient in the form of a card. While the bulk of the message should articulate your condolences, they may also include reassuring sympathy quotes.If you have trouble using your own words to convey your feelings, you may always include quotes from inspirational figures, or other reassuring quotes that you find are appropriate to the context. If you are wondering What to write in a Sympathy card, consult other online templates to show you some popular modes of expressing words of sympathy.
Letter of Condolence
A letter of condolence is slightly more formal than a sympathy card. It is a traditional letter that is normally longer than the message in a sympathy card. This format is perfect and more appropriate when you share a closer relationship with the intended recipient. Apart from personal condolences, you may also incorporate meaningful condolences quotes into your letter.If you wish to use templates to help you write a condolence letter, you never have to worry about it being impersonal. All templates are 100% customizable to make it easier for you to personalize it to make it more relevant to the intended recipient.
Special Letters of Condolence
When offering love and support to near and dear ones, sometimes you need more than a simple letter of sympathy. You may need to construct a special sympathy message for loss of mother or a sympathy message for loss of father. Losing a parent is an emotionally shattering experience, and thus, requires more gentle care and affection.Special condolence message templates are perfect for these purposes as they are designed to come across as warm and sympathetic. They would be a source of solace to anyone grieving the loss of a parent.
Sympathy Card on the death anniversary of a loved one
Under normal circumstances, a sympathy card is sent immediately after the death of a loved one. However, on the anniversary of mortality, the loved ones of the deceased often feel their loss more keenly than usual and can benefit from some extra support and sympathy. This is also a good time to send a short sympathy card to remind them that they are in your thoughts and not alone in their loss. A sympathy card on a death anniversary is also best accompanied by flowers.
Sympathy Flowers Message
It is common practice to send flowers to comfort a bereaved family. If you are not sending a sympathy card, letter or note, it is best to send a short sympathy flowers message along with your flowers. Flowers are always a great idea if you find yourself at a loss for words.You can even use online, professionally formatted templates to write a short and sweet sympathy flowers message. This is ideal if you wish to express your condolences towards people with who you do not share a very intimate rapport.
Sympathy Text Message
A text message is never a good way to express your condolences. It may come across as impersonal and in bad taste. However, there are instances where you may be forced to send a sympathy text message. Under unexpected circumstances, if you have an acquaintance who you know has suffered a personal loss; you may send her a sympathy text message.If you are far away and unable to contact her in any other way, this could be your only option. However, it is best to follow this up with flowers at the earliest opportunity. There are templates available to help you with every imaginable circumstance including a text message. So go through various samples available in online websites to help you put together a thoughtful sympathy message.
How to write a Sympathy Message
While there is no single format when writing a sympathy note, if you're worrying about How to write a Sympathy Message, there are a variety of templates available in different styles to help you understand What to write in a Sympathy card. Understand that not all these tips will apply to your specific situation, but read them in order to allay any fears you may have about writing a sympathy message.Just follow these detailed instructions to construct an appropriate letter of condolence to suit your purposes:
Appropriate Tone
The main objective of a sympathy message is to offer your heartfelt condolences for somebody's loss, so ensure that the tone of your letter is warm and sympathetic, but never flippant.
Phrase your letter in a manner that is solemn and dignified, but not austere. You do not want your note to sound hollow and clinical.
If you're using templates, remember to customize it in a way that makes it personal and relevant to the recipient.
Do not complicate your letter with hyperbole, clichés, and excessive emotion. Keep your message short and simple.
It is best to write from the heart, but that is sometimes easier said than done. For instance, you may have trouble coming up with the appropriate words to write sympathy message for loss of mother. In that case, you may utilize professional templates to find a message that expresses your condolences without spending hours laboring over a short note.
Quotes
Feel free to incorporate sympathy quotes into your letter of condolence to help express your feelings. A grieving family may gather great solace from a well-written letter with a reassuring quote. Quotes are an excellent idea if you think your intended recipient will identify with the content of such condolences quotes.
Do not write depressive messages of loss or attempt to cheer up the grieving individuals. Your letter should honor the life of the deceased and not tell a grieving family how to grieve or when to move on.
When writing a sympathy message for loss of father ensure that you focus on celebrating a life well lived. Do not focus on the loss. Acknowledge the loss but never dwell on unpleasant circumstances like suffering or pain.
Other do's and don'ts
As a general rule, it is best to avoid any mention of religion unless you are well acquainted with the bereaved family and are aware of their religious and spiritual inclinations. If they welcome it, then feel free to incorporate prayers into your sympathy message.
Even if the tone of your letter is motivational and encouraging, take care so that you don't trivialize the issue and unintentionally cause hurt.
Personalize your letter by referring to your memories of the deceased. Letters with personal details and anecdotes are cherished and become a source of comfort to the survivors long after the passing of a loved one.
Offer comfort and support, but do not make promises that you will not be able to honor.
Do not send money or gifts along with your letter unless you are aware that it is something that the recipient will need and appreciate. Even then it is best to do so in a discreet manner so that it is less likely to cause offense. When in doubt just send flowers and a note.
Whenever in doubt, feel free to consult sympathy message examples provided here for your convenience.
Online services are completely free of cost and extremely user-friendly. All you have to do is select a template that best suits your purpose and download it in a convenient format. You can find templates in various formats like MS Word, MS Excel, and PDF so choose a format you are familiar with. Then just fill in your personal details and print it for use. You never have to worry about How to write a Sympathy Message again.
Final points to keep in mind
Apart from the aforementioned tips, here are some general guidelines to keep in mind while you write your sympathy message.
When writing your sympathy message, ensure that you keep in mind the nature of your relationship with the intended recipient and the deceased.
In case of close friends and loved ones, you will be expected to write a long letter of condolence. However, you may send a simple sympathy card to an acquaintance.
Ensure that you stick to your budget. Don't spend too much on ostentatious flowers when you can download free templates and use it to craft a personalized message that will be appreciated and cherished.
Sign your letter in a manner appropriate to your relationship with the intended recipient.
Remember that grief is an intensely personal experience and people deal with in different ways. Be sensitive to the family's need for space to grieve in private. A message or a letter is perfect because it is not intrusive. With the help of versatile templates and these detailed guidelines, you should never have trouble composing a Sympathy Message again.