Home

>

Letter of Interest
Letter of Interest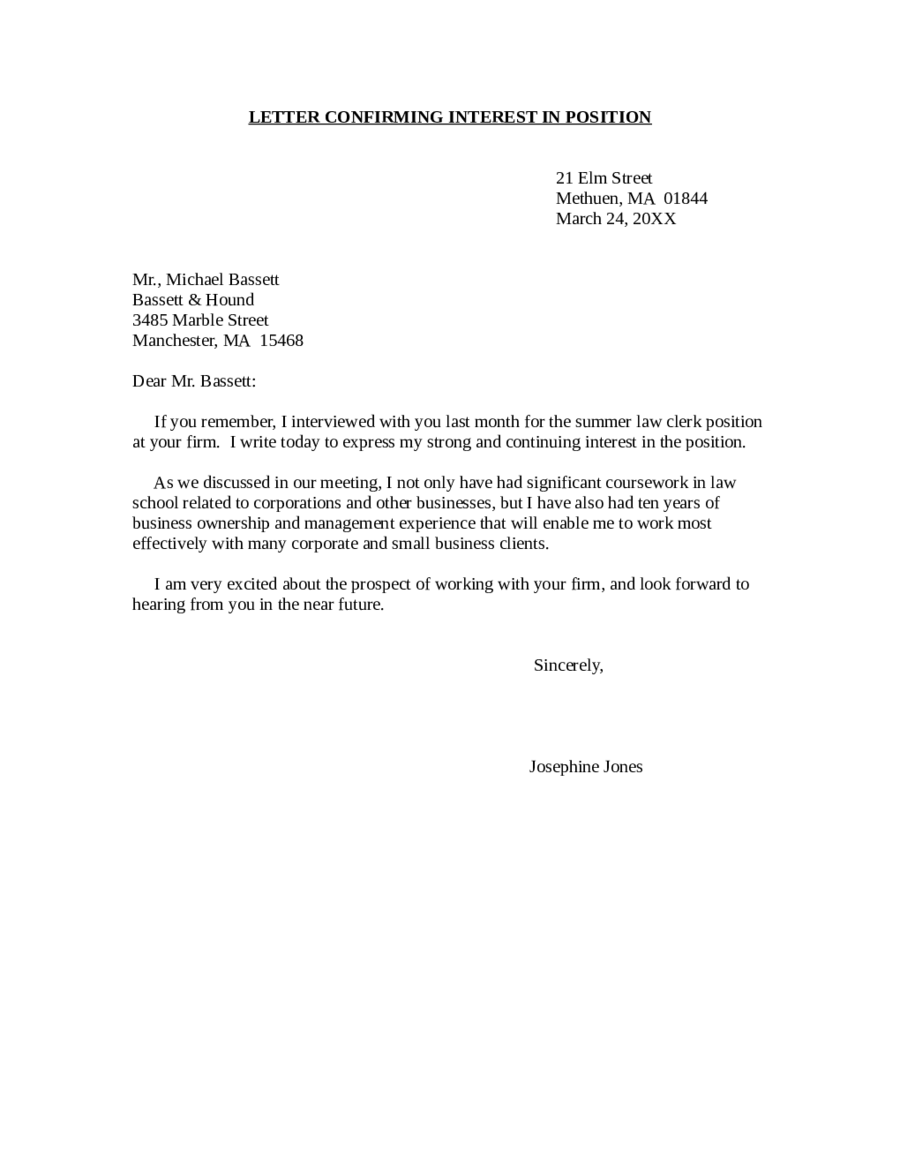 So, are you are a job-seeker of the 21st century? Do you have all those qualities that are required to be a part of this industry? Is lack of opportunities the only drawback for you?"When you cannot find a path, create one!"This is surely the mantra of present times! Well, there is surely dearth of opportunities, but not for those who can market themselves in the correct manner! What is important is that one should have great skills in presenting oneself in documentation, thereby making place for oneself in this competitive world. By presenting a letter of interest, you can surely make a place for yourself in this present world.Scared of ways to write it? Well letter of interest template is always there for your help. In case you are losing heart regarding ways to write it, just download them at your disposal and get a permanent solution!
What is a letter of interest?
Speaking in a categorical manner, a letter of interest is a type of prospective letter, or rather a letter of inquiry that is sent out to concerned agencies that have not listed out a specific job position, but maybe are hiring. However, there can be times when you can simply send in this letter to that concerned agency and they can consider it as per their suitability.Thus, on the whole, this letter is a major means to market yourself in a competitive corporate world, that surely is more interested in your talents rather than what you have scored back at your school. Specifically based on these talents, are numerous types of letter of interest for job is presented, that specifically defines what you would bring to the table as a prospective employee.Why not get a better way? Get yourself a letter of interest template, since this would help you in providing a specific guideline as to how to frame yours.
Why is such a letter sent?
Now here lies the major query. Why would you keep sending such letters to various companies? Well, welcome to the 21
st
 century! This is the world of marketing and media, and thus, self-promotion is another important aspect of this world. The manner in which a person is able to promote oneself, and the way in which that very promotion is to be reached to correct people is extremely important for a person's success.These letters are ways in which, you let your qualities be emphasized and thereby convince that concerned party that you are interested in his or her organization. Thus, this letter of interest for job is definitely one of the most important factors in present times.
Specific aspects of such a letter:
There are certain unique features that surely make an important segment of this letter of interest.
This letter should be properly addressed to concerned person or organisation.
The tone of this letter should be polite; however, it should also depict your positive aspects.
Ensure that this letter is definitely a means to promote your talents and showcase, what are the inevitable factors that you would bring in for that company.
Are you still wondering about framing this letter of interest? Get yourself a letter of interest template that would surely help you get an idea regarding guidelines that are to be followed, thereby making you concentrate simply on what to fill in. Most importantly, this is an absolute necessity for a novice, to ensure that initial impression of a prospective company is well on that job-seeker.
How to write a letter of interest?
So you have decided to write down your letter of interest? Well, time to follow standard rules! While writing such a letter it is important that you get to the core describing what you have in store. Only then can this be ideal in every sense of the term.However, before you are set to write such a letter, it is best that you follow certain guidelines, as well as certain important factors that could help you in presenting an ideal letter of interest.
Facts to include in this letter:
All set to write your own letter of interest? Surely include these facts!
Make sure to put in details of the company that has specially captivated you. These are ways in which you highlight where this company has reached and how intently you have followed it to this top.
Ensure that your letter is framed in a manner that includes your vision about and with the company. No get-setter company wishes to have a laid-back employee. Hence, it is important that you give them an idea that you are to work with them in their progress of the company.
Here comes the most important segment of marketing yourself. Clearly demarcate those talents that you possess and how they are in specific requirement for that company.
Make sure that you are immensely polite in regards to writing a letter. No company would prefer to have a rude or non-cooperative worker on board. Since writing is the only mode to advertise your skills, make sure that tonal quality is maintained.
Good writing skills are must, since; you have to make an 'impression' before that company. So surely proofread every article prior to sending them off.
Tensed regarding how to include these within your letter of interest? Get a letter of interest template that provides the standard format for you to simply fill in.
Steps to write a letter of interest:
Finally time for the actual action! Make sure that your letter should be framed by following these steps. Surely, they would keep you in an edge that is better than others.
A letter of interest primarily is a means to show your skills. Hence, it is important to first know those skills that you possess as well as those that are marketable. There are a number of skills that are possessed by an individual; however, not all are to be used in the corporate world. So list out for yourself those skills that you actually have and are in tune with that sector.
Make sure that you follow certain norms that are required as parts of a business domain letter. Salutation in a correct manner comes at an initial phase. Since, you are writing down to a specific company, it is accepted that you would have basic details regarding that company. So why leave out that courtesy?By writing out a proper salutation, you can most definitely grasp that person's attention encouraging him to read on your application.Distressed about chalking out the whole framework? Why not choose a letter of interest template? Prepared by professionals using a standard route this is most definitely one of the best ways to ensure that you have the correct format to follow.
Get to the core of the content immediately after. Since, you have a strong purpose in writing and sending off that letter, that too in a professional domain, it is best that tonal quality is also kept formal. Hence, it is best to keep it short and simple. This would ensure that person who is reading this letter knows exactly what your purpose is, thereby differentiating you amongst others.
Time for self-promotion! Well, in case you are done with the initial aspects of the letter, it is time to delve into what those specific qualities are that would make you an asset for the company, as well as would help you as an individual to serve the company in a better manner.This segment being the most important part of this letter, it is important that one should be extremely clarified and detailed in this domain. Also, this should be presented in a manner that would depict how that specific quality is useful for that company. Hence, it is imperative on their part to know what their demands are and how those are to be directed.
Getting to the qualifications is the next part of the letter. Once you are done with stating your requirements that may help in regards to that company, it is important that you place your set of qualifications to back this up. From qualification comes quality, and thus, it is important that you present to those prospective people the qualifications that are to be used for the company's betterment in future.
Finally, a conclusive note is to be presented with sincere valediction. As they say, ending makes the final result. Hence, make sure that you put in your salutations at the correct place, and finally present an anticipatory note regarding working with that company. All of this thereby finalises into a singular point regarding your intention of working with that company.So, are you still concerned about how to write a letter of interest? In case these points are not enough, surely check out letter of interest template that is available from various sources. They provide the ideal way to frame out this letter for your benefit.
Making letter of interest for job the ideal:
Well, this is truly a difficult question to answer! Since, letter of interest for job is primarily related to qualities and skills possessed, hence, marketing of those are important. For a person who has certain set of qualities, it is best that those qualities are presented in a classic manner with a business like tone, stating importance of those for benefit of that company.It is the marketing skills via writing prowess that makes for a better letter quality.
How a template is beneficial?
Heard lot about these templates and now wish to get to the core of it? Well, it is time to unravel how these templates can be actually beneficial in comparison to sitting down and composing what actual letters of interest would be.
How this template is better than actual composing?
There are a number of factors that ensures superiority of these templates over mere hand-written letters.
Since these templates are professionally prepared, hence chances of error are nil. They are prepared, proofread and then finally circulated.
These templates are ready made and structured in that particular manner. Hence, whole issue of framing out a correct structure, adding on certain important aspects and such other issues are solved.
They are easily available and can be downloaded at one's disposal. Hence, when certain things are presented in such a manner there is absolutely no need to spend any extra time over it.
These templates can be customised as per requirement.
Finally, in case you are planning on framing a letter, a letter of interest templatecan most definitely act as a fall-back option for you!
Parting shot:
So, looking for composing your ideal letter of interest? What are you waiting for? Check out what letter of interest template has in store for you! Get ideal combination of structure and style helping you get the best of offers!