Home

>

Hardship Letter
Hardship Letter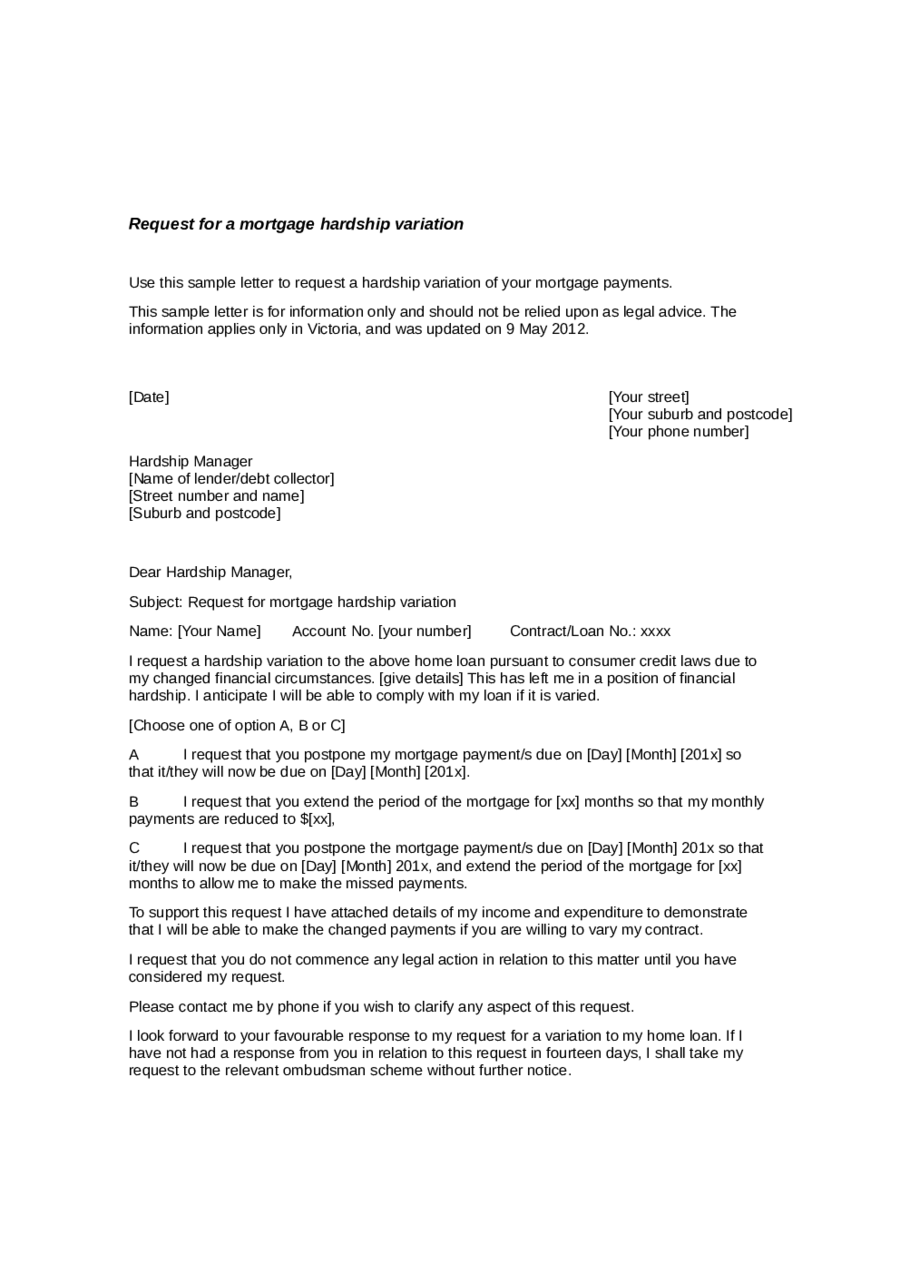 Hardships: A part of life
''Times are hard my friend!''The most unique and interesting feature of life rests in the challenges that it throws towards individuals. This challenge can include a number of aspects that needs to be taken into consideration. However, in certain cases, these challenges come as financial or personal hardships, that can take a huge toll on certain financial standards. It is here that need for hardship letters arise.These letters act as a testimony proving the conditions that an individual is facing and what are the compulsions that are faced by an individual during this time, courtesy to which he or she cannot take care of pending financial aspects.So, do you have to finally give in a hardship letter stating your financial drawbacks? But you are simply not in a mental state to compose one and add up points to it? Well, a professional hardship letter template can surely help you out in stating all the important points in a standard manner, and help in putting up a glimpse of the actual situation. Look out for one to help you in framing a letter!
Hardship Letter: The way to formally solve issues
In case of any financial hardship, it is important to deal with in a formal manner, since there are a number of institutions that are associated with your financial extensions. In such a scenario, explaining details via a letter is extremely important as this is a formal testimony of the whole situation.To answer the query as to when you need a hardship letter one needs to explain within the purview of the letter as to what financial crunches that person is facing and what are the solutions that are available before him. This letter conveys those factors that have resulted in this financial hardship and in what manner are you requesting a modification in loan. This letter is a formal document that acts for explaining severity of the whole situation.In case you are not confident of writing a financial hardship letter, you can surely seek help from templates that are available online and ease this whole process.
What is a hardship letter?
Going by the general definition, a hardship letter is that piece of document that is framed to explain to your lender the causes and reasons of your financial distress, and what is your capacity to resolve this issue. Though being written for multiple reasons, this is generally used for requesting a loan modification or a closure in case of short sale process.This letter is a means of convincing your lender regarding what financial problems you are facing and how it is better to go in for a loan modification process rather than a desired foreclosure.In case you are having a problem in understanding how to write a mortgage hardship letter or a medical hardship letter can surely take help from available hardship letter templates available online and ensure that you have a perfect letter to present.
When you need a hardship letter?
To answer this major issue, it is important to note that this letter has the capacity to act as a formal document in case of any major need. Hence, this letter by virtue of its format requires clarity.This letter is written to provide a detailed budgetary breakup that is there, stating how and when this financial distress has occurred and severity of this issue. There should be complete details of the reasons for bankruptcy and procedures and measures that you are planning to look out for in case of any distress.It is very important to note that time when you need a hardship letter as well as what aspects are to be included within it. In case you are in doubt as to how to write a letter of this type, it is best that professional help to be taken to ease this process. With a hardship letter for school sample or a mortgage hardship letter sample, writing down these letters in a standard manner would definitely become an easier process.
Types of hardship letters
Since hardship letters are generally associated with financial prospects; there are specific ways in which such letters are framed, especially targeting certain specific situations.
Financial hardship letter
This letter provides detail of that financial problem that the individual is facing and how this problem can get a solution.
Hardship letter for school
This is a letter depicting reasons which are being caused due to financial distress and how this is preventing that student from attending school.
Mortgage hardship letter
This is a letter that provides a detailed analysis of the mortgages that are being held, what problems are being caused and certain approximate solutions that might be looked out for.
Medical hardship letter
This is a letter that is clearly used for noting medical emergencies that may have arisen and what conditions are present now!In case of any problem in composing a letter, make sure to check out available professional mortgage hardship letter or financial hardship letter templates online!
Usages of this letter
There are a number of situations that specifically require an explanation of this kind of financial distress. Most importantly, a letter of this kind is the ideal way to explain those factors that have resulted in this financial issue and how they are to be managed.This letter includes within its purview certain important causes of this distress such as
Loss of job or huge loss for any business
Untimely death of any family member of any sort of medical emergency. In this case, specifically, medical hardship letter is to be given on demand.
In case of separation from spouse or divorce settlement.
In regards to any natural disaster or untoward incident.
In case of mortgage rates.
Thus, all these aspects are to be taken into consideration when composing such letters. Thus, with this letter, you can surely present all the details that are to be notified in an organized manner.However, when it comes to organization, it is to be noted that a specific structure is to be followed while composing this letter. Hence, chances remain that human error may occur. To avoid such situations, it is imperative that people take help from hardship letter template that helps in placing details in a specific order and without human error.These letters are of great use in explaining problems in a detailed manner and therefore ensure that people using this letter derive maximum benefit from it. In case you are having a problem in writing such detailed letters in an organized manner, you can surely seek help from online available samples.
How to write a hardship letter
Here comes the major issue that is associated with this letter. In case you are planning on writing this letter all by yourself, it is imperative that certain aspects be included in this letter and a specific pattern be followed while writing this letter that would depict the severity of the situation, and ensure that you get that desired rebate.There is a specific tone that is adopted in this letter. This includes:
The letter that is written should be concise and state those major issues that are to be highlighted in regards to this letter. The reason for writing this letter is to be stated in a clear manner.
There should be a summarization of the problem that is faced by the concerned party. This should include those financial details that are to be formally attached to important documents and other such factual details are to be clearly mentioned.
It is important that a personal tone is maintained throughout that letter. This tone should reflect problems faced by that party in a proper manner, as well as a humble tone of a request for accepting this prayer.
A note of thanks ending this letter is a must in such a situation.
Standard format of the letter includes:
Put the name as stated in mortgage papers followed by your address.
In the next line, lender's name along with the loan number is to be mentioned.
Give a proper opening to your letter with respected addresses made.
Next hardship is to be explained in a detailed manner, along with specific reasons as to why this has occurred, time of its initiation and approximate period for which it would continue.
Provide a plan in regards to your loan modification and state what you have done already to ease this.
Next, a request for loan modification is to be made, along with a promise that such requests will not be made in future.
Finally, a closure is to be drawn with respectful address made to the lender.
Thus, following this standard format is the only way to write such a letter. Having a problem composing it? Get yourself a hardship letter template and customize it as per your choice!
Why such templates have gained such importance?
It is to be noted that such a letter is used in specifically those times when a person has become financially broke and though there are chances to address those issues, but it is surely time-consuming. In such a scenario, while composing a letter chances remain that certain important facts may be deleted.In this case, a hardship letter template or a sample hardship letter can be of great help. It is primarily because, these letters being professionally made, include all those details that are to be mentioned within the purview of this letter. Hence, a chance of missing out any information is nil.Also, in case you wish to simply check out the template and then frame a letter of your own, in that regards, this letter can very well act as a framework on which you can base your original letter, solving the problem of how to write a hardship letter. With its availability being there in a number of formats as MS Word, PDF, MS Excel, you can surely customize it as per your wish.
Factors to be checked prior to getting a template as this
Have you decided on getting a template? Well, this letter being an important point to discuss, it is important that certain important points be checked prior to getting a sample hardship letter.
It should be checked whether this template matches up to all those demands that are expected of this letter. Though these templates have a common function, however, not all can be categorized into a singular type. Hence, before getting a sample hardship letter it should be checked whether that sample matches up to demands of that specific type.
Since these templates are available in a number of sites, hence prior to downloading them, it should be checked whether those websites are trustworthy or not, and whether the templates that they have actually adhere to that standard format that is followed generally.
After downloading the templates it should be checked whether those templates match up to the standards of the templates available online. In certain cases, print versions do not match up to the original web versions and this discrepancy can create certain issues.
Before choosing the formats, it needs to be checked whether they can be customized as per one's demands and the borders, fonts, standard markings, are in a standard order. When all these criteria match, it can be said that such letters are ideal for usage.
Thus, in case you are planning on getting your customized hardship letter template, make sure that you are aware of these details and check them prior to making formal use of these templates. Get your customized template for your own benefit!
Get your templates now
What are you waiting for? You are sure that you need help from these templates and at times would need them directly to help you out in your framing of the letter. In such a scenario, it is best that you get a sample hardship letter at the earliest and start working as per the demands!This would be a great time saver and ease manual labor to a great extent. Time for you to get your template now!