Home

>

Friendly Letter Format
Friendly Letter Format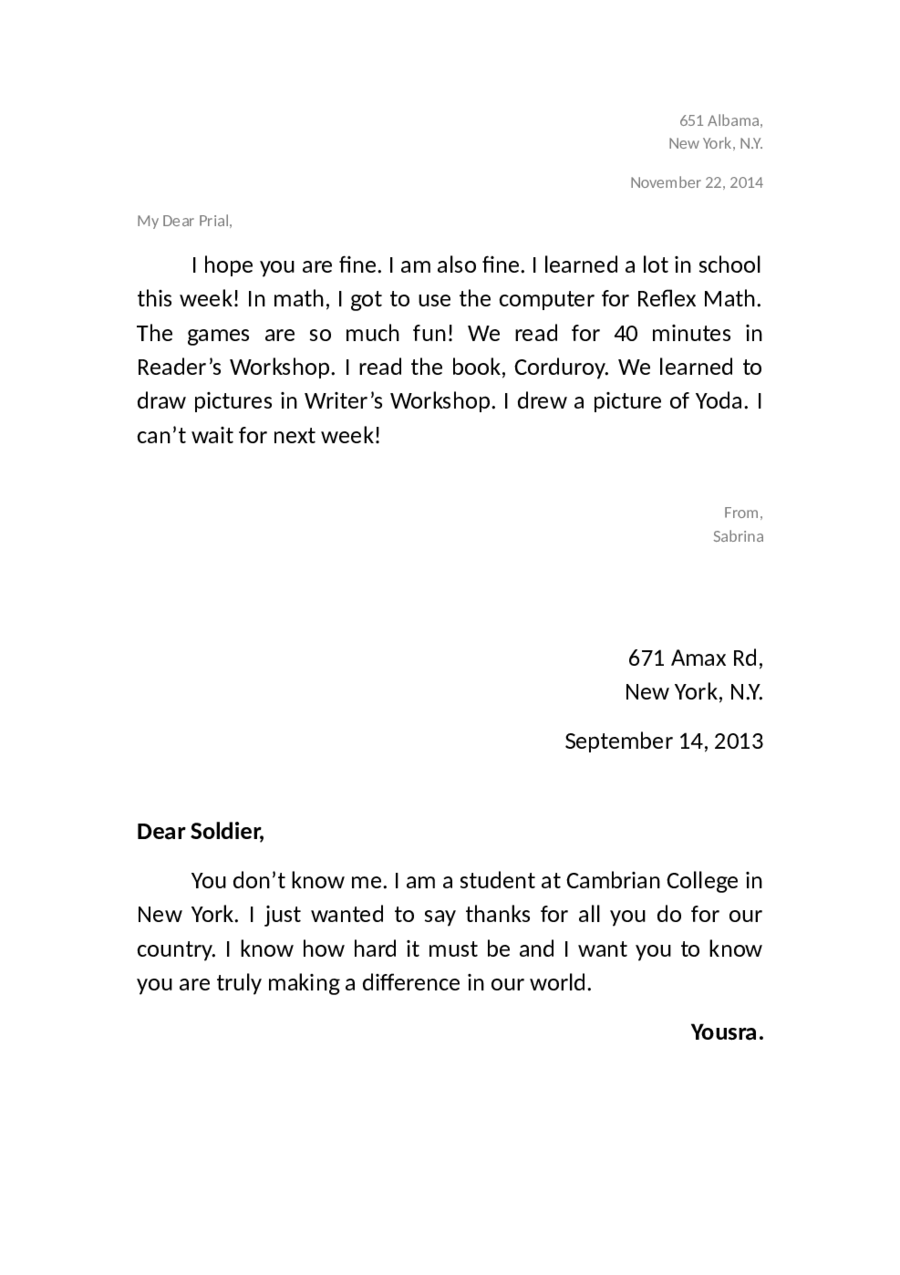 It is true that letters are the best way to express our thoughts, concerns, expressions, feelings, emotions, etc., to our friends or loved ones. Sending friendly letters are also considered as a warm and unique gesture. Also, it is more of a personal touch than sending out a WhatsApp or instant message using any social media platform.However, you may also find some difficulty in framing formats of these letters, but you don't have to worry as there are a number of websites available from where you can download the professional, friendly letter template to make it simpler. So if you think that you are in need of a friendly letter, then it is better to choose from professional, friendly letter template as they make your work easy and perfect.
What is a friendly letter?
In the world of technology where everything moves with a click of a mouse and with the availability of features like texts, instant messaging, e-mail, video chat, etc., it is quite easy to overlook that people essentially had to put their feelings, experiences, and thoughts on paper to convey then to someone else.And that is the area where the knowledge regarding how to write a friendly letter becomes relevant. A friendly letter is a letter which you may write to your friend or relatives in order to be in touch, to apprise them about your well-being or for a variety of reasons.
What is the friendly letter format for kids?
Well, friendly letter format for kids suggests that the way of writing should be informal, and the writer should share his/her interests which suit well with the mentality of the young reader. The writer should also write that how people would like to see them and complicated things like politics or discussion about people who are beyond their mental capacity should be avoided.
What is the proper format of a friendly letter?
Well, this is the most important part which makes your letter perfect, while helping to serve the actual purpose of your letter. Before writing about the proper format as stated in a friendly letter template, it is important to mention that you may take professional help from any friendly letter sample. It is because professionals are quite an expert with the formats and while you may miss certain things while framing the format but it is not the case with professionals.Now let's start with the parts of friendly letter format for kids or friendly letter format for middle school.
Heading
Heading is the most important and foremost thing which is seen on the friendly letter sample. It can be possibly the address, in case the receiver you are writing the letter didn't know that. In such a scenario placement of date or address is not mandatory.
Greeting/Salutation
Well, mostly these type of letters (friendly) always starts with 'Dear' and then it is tailed by the name of the person to whom you will be writing the letter. Also, the salutation is tailed by a comma, and there will a frisked line, for example 'Dear John'.
Your Address
It is important to mention the street address on the very first line along with the city, state and zip code on the second line. But if the letter is already printed on paper along with a letter head then it is not required.
Date
The writer must put a date on which he/she is writing the letter and the best format to follow is Month, Day, Year, for an instance August 23, 2016. Also, you should frisk a line in the middle of salutation and date.
Body
Body is the part where the writer mainly writes the content of the letter. This section can include a number of paragraphs. One should keep in mind that while writing the main content (body) of the friendly letter the subsections should be single spaced along with a frisked line among each paragraph. One can write anything in this section like any important news event, touring experience or movie commendations, etc.
Closing
After all these there is closing. Let your reader know that you are done with your letter. Closing of the friendly letter mainly ends with 'Sincerely' or 'With love', 'Truly yours', 'Thank You' and so on.
Signature
Now comes the signature part where you are required to either sign or print the name of the sender on the following closing line. It is good to use a typed signature if you are using word processed friendly letter template or friendly letter sample.
P.S.
Well, last but not the least, it is a postscript. This section is optional, and it usually comes after the closing and signature part. It is mainly used to put up an additional feeling or query which doesn't fit into the body of the letter. Writers often add P.P.S and P.P.P.S. after that, and it continues.So, these were the key elements of a friendly letter, or one can also get them if they take professional, friendly letter template or friendly letter sample. It is always good to download professional free templates as they are well framed with each and every point to make the letter impressive and perfect.
What should be included in the heading of a friendly letter?
It is already mentioned that heading is the most important of friend letter, so it is crucial for the senders to check that whether the heading of the letter is appropriate or not. In friendly letters, it is always dented in the middle of the page.If the correspondents or the writers are well acquainted, and the receiver is familiar with the address of the writer then the return address can also be omitted. Usually, heading contains the return address, and it is followed by a third line with the date.It is better that you should opt for professional, friendly letter template instead of writing it on your own as the format may not be perfect as compared with the friendly letter sample from trained professionals. Also, you can download them from certain websites absolutely free of cost.
What are the things one may write in friendly letter?
Well, it depends on the person writing the letter but in general, there are few things which should be mentioned in friendly letter, and they are:
You can applaud your friend well done on a job for his/her recent achievement.
You can also tell your friend about something interesting which you have done recently.
You can also share about your recent touring experience.
The best things to write a friendly letter is to ask for advice for offer some valuable suggestion to your younger ones. Now this is the most important one when you opt for friendly letter format for middle school.
If you want, then you can also share something related to further planning regarding education, career or any other prospect.
Referring to some books or movies is best suited with a friendly letter.
What are the different types of a friendly letter?
There are varieties of friendly letter template available over internet for the correspondents to choose from. Also, the samples or the templates are available in MS words format, and they are editable also as per the requirement of the users. Some of them are discussed below:
Seeking friendship letter
This type of friendly letter template is impeccable for those looking forward to making friendship with someone who they have run into at a social event number of times. This format is also useful for someone who is looking forward to making a friend with someone who is just a mere acquaintance.
Friendly invitation letter
This is quite popular in all the friendly letter samples available. It is considered best for those who invite their friends residing in other cities or another country for spending few days together. It can also be sent with an intention to ask the friend to stay over at his/her place.
Good friend letter
Well, if you are looking forward to ruminating old memories and good time spent together then this format is best suited for you.
Friendship emotional letter
Emotions are very crucial in friendship and friendship emotional letter format is the best way to apologize to your friends for hurting or letting them down. The action might be unintentional, but a sorry can make your friendship stronger. Also, you can add personal message after the main body of the letter. So, what are you waiting for? Stop wasting time in framing the framework by yourself and download the free templates and send it to your friend now!
Character reference friendly letter
This format is very important from helping point of view. This is the perfect letter for a friend if your friend requires you to send his/her recommendation to the interviewer for a new job. In that, this format will do its trick as the body of this letter contain number of positive traits of the friend, and they can also be edited by you.Apart from all these there are many other types of friendly letters available. So if you think that you also need help of this format then you should head for the professional templates as they can be edited, and they will make your job easy with their perfect format.
What are the important tips to write a friendly letter?
While writing a friendly letter, one should keep in mind that these letters are quite different from formal letters. Also, in these letters, the writers can elaborate the events with detail descriptions instead of reporting about the lists of events. Now lets us discuss some of the tips those can be very useful while writing friendly letters.
It is important that these letters should have moving and emotional words in order to show the affection for the reader. The writers are also required to write these letters in such a way so that the readers feel hidden emotions through proper choice of words.
One should not write much about the things which are already known to the readers as it will minimize interest of the readers.
Try to use Standard English and most importantly avoid using slangs. It is important to keep in mind that friendly letters require a casual register written that too in a friendly manner.
Writers can also use contractions and colloquial words in friendly letters, and that will be considered as a personal touch to the way of writing.
What are things that one should avoid while writing friendly letters?
In previous section, you came across some of the valuable tips for writing friendly letters and now you will get to know about the things that one should avoid while writing friendly letters.
Avoid writing questions and comments on the life of another person as it embarks a negative thought in the mind of readers.
Avoid being a complainant or negative, until and unless you do it entreatingly. Professionals suggest that positive and cheerful tone is always considered best while writing friendly letters.
Instead of starting the letter with lethargic phrases like "I don't know why I am writing", or "You know that I hate writing," etc., try to use interesting remark with a positive tone which makes your letter more appealing to the readers.
So, these were some points that one should avoid while writing friendly letters. So, if you think that you also need some of the friendly letter template and sample, then you should not hesitate to opt for professional free templates because the format they use are the best one and also updated one.