Home

>

Job Rejection Letter
Job Rejection Letter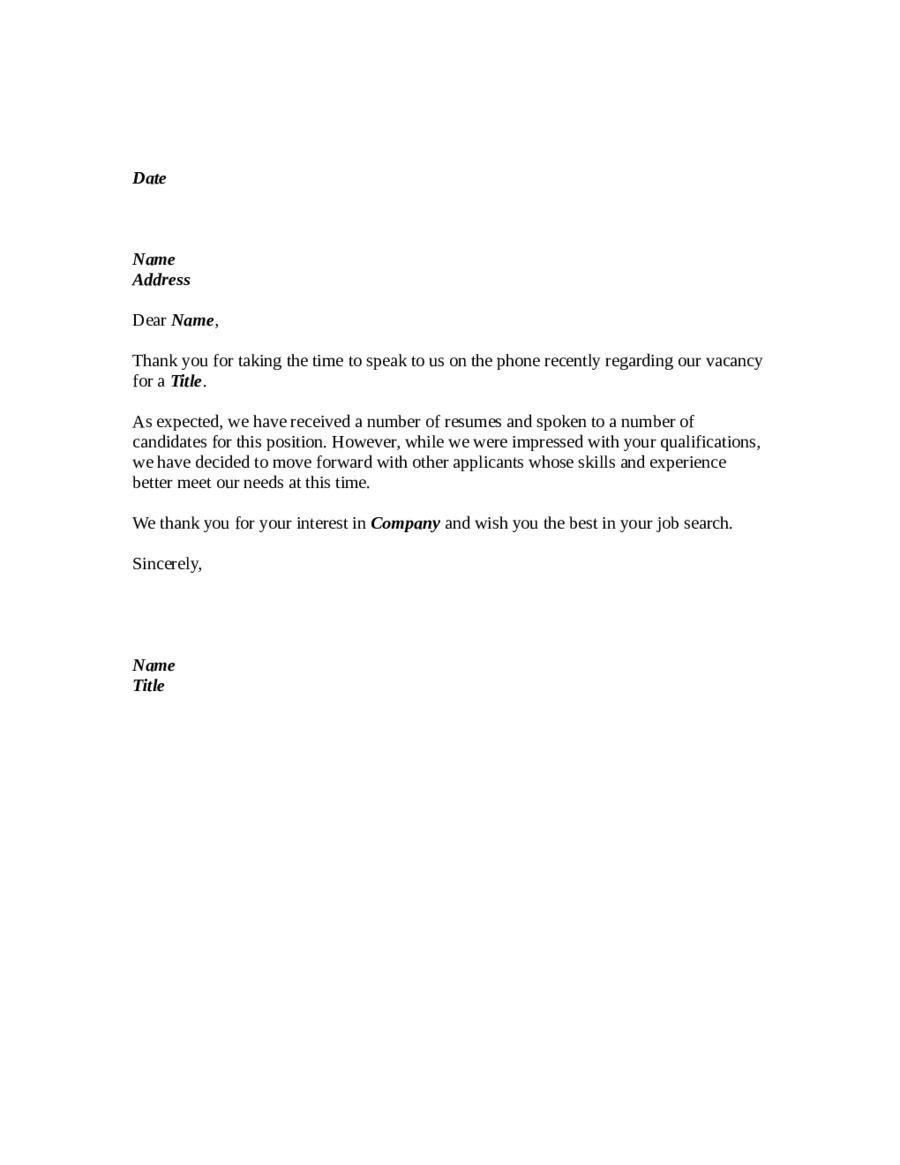 What Is a Job Rejection Letter?
A job rejection letter is an official document where an employer informs an applicant that he or she has not been selected for the position that he or she had applied for. However, it is not necessary that a job applicant will be rejected by rejection letter only. He or she may get a rejection call as well. Still some employers use rejection letter to accomplish the process in an official manner.Mostly, interviewees are rejected right after the completion of the interview process. In some cases, they are notified by email as well which is a common way to reject job interviewees. Sending rejection letter is a good practice as it helps to create a good image and viable relationship between the applicant and the company. In fact, if there comes up any job opportunity later in the course of time, the rejected applicant will be likely to apply for the post, if he or she is treated well by the company.
Why Do You Need Job Rejection Letters?
The hiring process is not so easy and choosing the right candidate for a position is even more difficult. When you select a candidate for a particular position, it is your responsibility to notify other applicants that they have not been selected for the position. So, before you say that you don't have enough time to write and send rejection letters to interviewees; let's have a look at the reasons why you need job rejection letters.
It Is a Professional Document
The symbol of a good company is how it accomplishes its every aspect of business professionally including candidate recruitment. As an HR authority, it is your duty to represent your company in today's competitive world of business and for this when it requires rejecting or eliminating a candidate for any reason, it is best to accomplish the task by sending a nicely written letter of rejection.However, the letter does not need to be elaborative or contain every detail explaining why the candidate has not been chosen. Just keep it short and simple respecting the candidate who has applied for the job. Keeping this tone may prove helpful for your company as you never know the candidate you have rejected for a certain position now may prove perfect for another opening in future. So, a rejection letter keeps the door open.
Save Image of the Company
Another important reason to send out rejection letters to candidates is protecting your company from any kind of discriminating impression against any protection or a special class of candidates.It is most often observed that a candidate who has not been selected for a particular position gets upset and tries to find out loopholes in company's recruitment process. Therefore, the best way to reduce this sort of possibility is to send out professionally written letters to rejected candidates stating some words like 'Thank you' for showing their interest to the company, and that you value their time and qualities.Keeping this tone will help your company to save its image if there arise any discrimination question in the future, and you can firmly prove that you have treated all your candidates equally.
Feedback
Candidates looking for jobs are not only confused regarding how to represent them in the interview but also get frustrated after rejection. Therefore, it is always good to send them rejection letters giving a short touch of feedback. This helps them to make necessary improvements for further interviews in the future. If possible, include a copy of their resume highlighting misspelled words or a brief note as to where they need improvement.
Save Time in the long-run
If you think you don't have enough time and patience to write and send rejection letters to interviewed candidates, knowing this reason will definitely make up your mind to consider this idea. With rejection letters, you can better manage your recruitment process that ultimately leads to save much of your time in the long run. By informing your candidates that you will follow up them later, you need to make only a few phone calls and emails in respond to a particular job or vacancy.From the above-mentioned reasons, hope you get the answer why you need job rejection letters. However, to get more ideas, you can check out thousands of rejection letter samples online and choose a format according to your requirements.
How to Write a Rejection Letter?
How you treat your interviewed candidates really matters a lot when you need to establish your business professionally. Sending rejection letters to those who have not been selected for a particular position is considered a positive step taken by the company that helps building a good relationship between you and the candidates.Always keep in mind that your company's reputation cannot be established solely through promotion. You need to attract the best and skilled candidates to your organization so that you can ensure the effective growth of your business. Most of the candidates make up their minds about the company on how they are treated during a recruitment process.However, if you are wondering how to write a rejection letter, here are some helpful tips to write a rejection letter. Make sure you check out a number of candidate rejection letter sample to make the entire writing process easy and simple.Tips on how to write a rejection letter
Send Rejection Letter Via Email
Always send rejection letter via email or mail, but never consider handwritten. Prefer to write the letter in company's letterhead only.
Include Contact Information of the Candidate
While writing rejection letter, make sure you address the candidate by their names, email address, phone number and the like. If possible, try to make it a bit personalized.
Rejection letters must include a "Thank you" note appreciating their interest, time and effort.
Give a Compliment If Possible
It is always good to mention a compliment, only if you have any such to mention. You can write something encouraging like "Your qualifications are really impressive."
Reason for Not Getting the Position
Mention the reason why he or she has not been selected for the position. Generally, the reason is provided in a way that the position has been acquired by another person whose qualifications and skills better suit the position. There is nothing wrong in saying that the position is filled.
A Small Detail About Company Profile
At this point, you can describe some procedures of the company regarding its recruitment process such as keeping the resumes of the candidates notifying that you may offer the opportunity to apply for a position in the future.
Wish Them Luck for Their Future Endeavours
You must wish best of luck to the candidates who have not been selected for a particular position. This sort of tone helps to create a positive feeling in them.
Signature of the Hiring Authority
The signature of the hiring authority should be placed at the bottom of the rejection letter.Other important things to considerWhile writing rejection letters, always keep in mind that you need to be kind, honest and tactful. After all, it is a letter after rejection where you need to write a brief in a tactful manner, not making it too lengthy on why they have not been chosen for the position.Once you are done with writing rejection letters, be sure to send it to the candidates as quickly as possible. However, it should not be so fast that applicants feel you have not given them enough considerations. If they receive rejection letters on reaching home just after completing the interview, it may seem too fast to take any decision.
Types of Rejection Letters
Rejection letters have been categorized into three different categories namely,
Interview rejection letter
Declining a job offer letter
Applicant rejection letter
Now let's discuss them in brief –
Interview Rejection Letter
No one can ever deny the fact that writing a rejection letter is one of the most annoying aspects of the hiring authority. However, a nicely-written rejection letter can help to boost your brand presence and foster the professional image of the company in the industry. Here, are few tips on writing an interview rejection letter –
Give it a personalized look
Address each interviewed applicant as an individual rather than anonymous. It is an important step to keep your relationship established and intact. Spell name and other information of the candidate accurately so that the candidate receiving the letter must consider it as a mark of respect.
Keep your tone positive and direct
When it comes writing rejection letters, it is important that you must get to the point directly without making it too lengthy and boring. Start the first paragraph with an unsuccessful tone and then follow up with a viable reason for rejection. You must keep in mind that transparency is important in this respect.
An interview rejection letter should serve as an influential tool for the rejected candidates. Write a paragraph mentioning their negative points and attributes on which they must work to improve themselves professionally.
Declining a Job Offer Letter
If you find that a job offer is not good for you, but you liked the status of the company, you can turn down the proposal by sending a declining job offer letter via email. It is one of the best means of communication between you and your employer. Here are a few tips on how to write declining a job offer letter. Let's have a look at them –
Plan  what you will write in the letter
You need to draft a plan before start writing a letter. You need to choose a presentation format through which you will start your opening paragraph. A nicely thought out message helps to leave a positive impact on your resume.
No matter how you establish your communication with the company, your tone should be positive and courteous.
If you have received another generous offer, avoid mentioning details about the position. The employer should get only the impression that you are quite impressed with the professional image of the company and consider the offer.
Application Rejection Letter
It is an obvious fact that no candidate will prefer to get a rejection letter or email from an employer. But sometimes, we face certain constraints in our jobs that lead to rejection. However, establishing proper communication with candidates is one of the vital steps in the recruitment process. But how can you establish this sort of communication, here are a few tips –
Always keep your tone gentle and simple. Always keep a respectful tone to the candidates and wish them all the very best in their future endeavor.
State the reason for their rejection clearly without making any lengthy paragraph.
Give a personalized look to the letter by mentioning candidate's name, address and contact information.
Check out Candidate Rejection Letter Sample Online
Being a hiring authority, you may have many tasks to do other than recruiting candidates. If you find writing job rejection letters a tiring and time-consuming task, take the help of the internet to get it done easily and in less possible time.You will get a number of rejection letter samples online along with some professional templates that you can download from your desktop or laptop and fill the blanks as per your requirements.So, build a professional image of your company with these customized rejection letter templates!