Home

>

Thank You Letter Template
Thank You Letter Template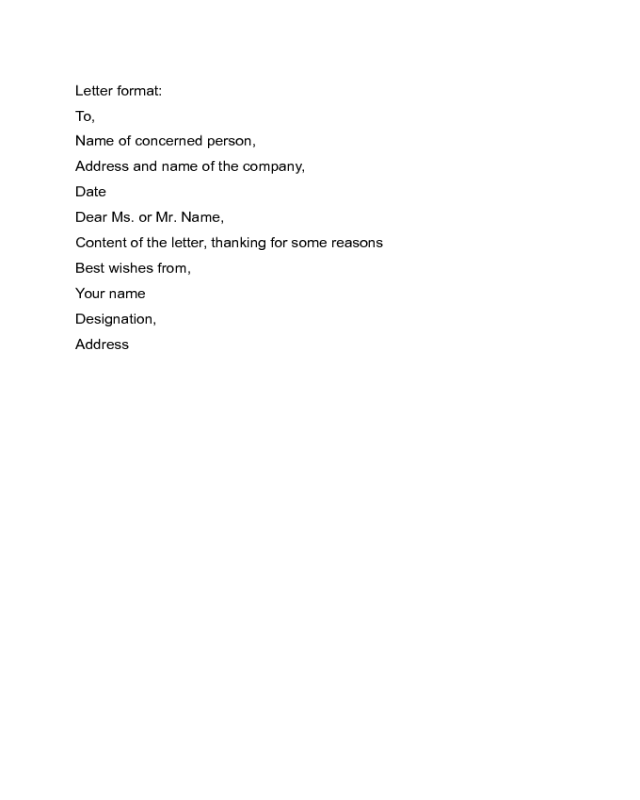 Certain courtesies in present times have become more of a general requirement of the corporate world.  Previously, it was merely an act of gratitude that was to be used by individuals in regards to someone's act of kindness. However, with the corporate fever on, what is important is that, these thank you cards have reached another level of requirement.There are a number of corporate requirements in present times that make such cards almost a daily requirement. Additionally, these are seen as prospects to ensure that a person is part of the corporate scenario. So, why stay behind? Get a special thank you card template to express it all!
What is a thank you letter?
Technically speaking, a thank you letter is a formulated letter of gratitude that is presented on certain occasions in order to ensure that your feelings and sense of acknowledgement is put forth before another person.In most cases, this is quite a professional letter that is sent to a number of people. Hence, it is essential that the format and presentation of the letter is done in an ideal manner.Confused? Not to worry! Check out the series of thank you cards templates that are available at your disposal to ensure that yours is the one to reckon.
Different aspects that are dwelt on within a thank you letter
Since, thank you messages are a formal way to express one's gratitude, it is important that there should be certain important aspects well stated in these letters.
Courtesies are to be well framed.
Reasons for stating this note of thanks should be well explained.
There should be a tone of politeness on the whole showing your sense of acknowledgement to that concerned person.
In case you are stuck in regards to framing a perfect thank you letter, it is best that you check out a number of templates that are available. These templates are specifically made in a manner that is acceptable in the corporate domain, thereby ensuring that one can strictly concentrate on the contents of the letter rather than actually deciding on an actual framework.
Why is a thank you card so important?
Isn't that person so less courteous? Well, that is a common comment that one can hear in a number of scenarios wherein such formal thank you notes are of utmost importance.In such places, it becomes very important that a standard note of courtesy be maintained, and thereby people are acknowledged for their gestures that they might have shown on certain occasions. Hence, in such a scenario, it is important that a person makes use of letter of appreciation templates that adequately expresses that note of thanks in a unique manner.
Unique reasons that make this card inevitable
There are a number of reasons that ensure that these cards are a perfect requirement of that time. So, it is important that in those moments the manner of this note should be an ideal one.
All those birthday and anniversary celebrations bring in a host of gifts. What about expressing your gratitude? With these thank you cards you can surely find an ideal way to express your sense of gratitude.
So have you been given a surprise party for your promotion at work or your birthday? Did you enjoy yourself to the fullest? Time for a note of thanks! Send in thank you messages that could surely express your gratitude in best manner. If you are in doubt regarding how to frame it, you can surely seek help from a number of templates that are available at your disposal.
In case you wish to express your appreciation to an acquaintance, or a friend for some guidance they have provided, this thank you card can be of great help!Time for you to check out what these formal templates have to offer!
Types of thank you letters
This is quite a tricky situation to be into! Any person would question as to what could be the difference in certain types of thanks? However, with a variety of occasions there are surely a number of varieties in which this note of thanks is stated.These letters are different from each other by virtue of their unique set of features and modes of expressing this note of appreciation.
Business thank you letter
Heading a corporate organisation? Showing your employees, clients, vendors, business partners and colleagues a sense of gratitude by means of this card is the best way to ensure that not only do you maintain a sense of bonding, but also induce them to work harder.
Scholarship thank you letter:
So you had applied for a specific course at an esteemed university? Finally got it? Well, time to put forth a note of thanks! This note ensures that you are grateful for this chance and would surely make the best use of the offered options for betterment of university and yourself.
Post interview thank you letter:
This is a letter of thanks sent to employer for giving you that opportunity.
Appreciation letter:
Has your junior done a great piece of work? Or being in the management it is your responsibility to ensure that your workers are well rewarded for their efforts? Well, with such letters of appreciation, you can definitely ensure that your juniors are motivated to work for betterment of the company.Is it quite a hectic schedule, planning and noting important aspects of this letter, and formatting in a correct manner? Time for you check out specially formatted letter of appreciation templates that could actually help to reduce workload to a great extent, and ensure that you are to only note down your words of appreciation within a set format.
When to send these thank you letters
Are you wondering whether the place that you want to send this letter to is the ideal place or not? Well, thank you letters are letters of appreciation that hold a huge importance both for sender and receiver. Not just it shows your upbringing rather, following a perfect and standard format, helps establish your position in a better manner within that specific circle.How about sending a note of thanks post an interview? You can take this chance to express your regards in return of the opportunity that has been given to you. Apart from this, it provides a hint to that employer regarding your interest in that job.Also, it can be a great idea to express your sense of acknowledgment after attending a house party. A thank you letter could be a great idea!Tired of composing such letters? Why not get some templates online to help you compose them? Easier and better mode surely!
How to write a thank you letter?
In case you have decided to write a thank you letter with a personal touch, it is essential that a specific acceptable format be followed. This ensures in putting forth your message in an ideal manner.
This is surely the most important aspect that is to be taken into consideration. An occasion where a particular letter is to be given needs to be apt for that letter. This would not only help in clinching the issue, but also ensure that you are treated as a person from different league.
Ensure reader of the letter's purpose:
This is very important and the very introductory line should state your intention to thank that person. Hence, the point of view of the letter to a great extent changes.
Personalization of the letter
Still wondering as to how to write a thank you letter? Well, make it sure that you use a personal touch in the letter. This would ensure your primary aim of expressing gratitude to that person in a better manner.Confused regarding ways to frame a proper letter of appreciation? How about getting templates downloaded? They are an easier way and surely one of the best modes that could help you ensure that your note of thanks reaches concerned person in an ideal manner and with a deep message!
Specific aspects of a business thank you letter
Since, there are a number of reasons for framing a letter of thanks; hence, it is important that while sending off such a letter to your juniors for appreciating their participation, a mode should be followed to ensure maintenance of its proper structure.
Eco-friendly modes should be applied while sending this letter. It should be written on printtable paper, with set of instructions as to how to make the best use of this card.
It is best that a gift accompanies these letters of thanks. This helps in sending the message in a sweet manner. Additional gift card can be a great thought.
In case you are a bit tired about conceptualising these letters, in that case, templates can be a great option. The basic framework is already set against which messages are to be written to ensure that the letter becomes an ideal one.
Specific ways to write an ideal thank you letter after interview
Did the interview go well? Are you looking forward to that job? Why not let the employer feel your interest. Post the interview; send a note of thanks to the employer stating your gratitude regarding being given a chance with this company.Since, this is an ideal letter for stating how you feel post this interview, it is best that certain details are followed to make this letter exceptional.
Since it is a note of thanks, it is best that a personalised tone is applied for it. Also, a card could do greater wonders.
Thank the employer for giving you this fantastic opportunity. Also, ensure that a personal detail that might have been mentioned should be included within this.
Convey to them what being part of their team means to you. This would help in ensuring your difference from others.
It is important that this message be sent within a period of 24 hours. It is best that thank you letter be sent rather than mails, as they are more effective.
In case you are facing a problem regarding composing such letters, thank you cards templates are a great option.
Why a template is so important?
With templates one can surely ease this process of sending greetings to the other person in a great manner. Since, they are easily available at people's disposal; hence, such templates are a great option.
Parting note
For most people a minimal note of appreciation is what it takes to ensure that they put you in a league in comparison different from others. Apart from notes expressing your sense of sincerity, this shows that you are actually interested in that specific job, and value both company and employer in regards to that job.What are you waiting for? Get some of the thank you letter templates now itself!