Fillable Printable Open House Feedback Form - Winnipeg
Fillable Printable Open House Feedback Form - Winnipeg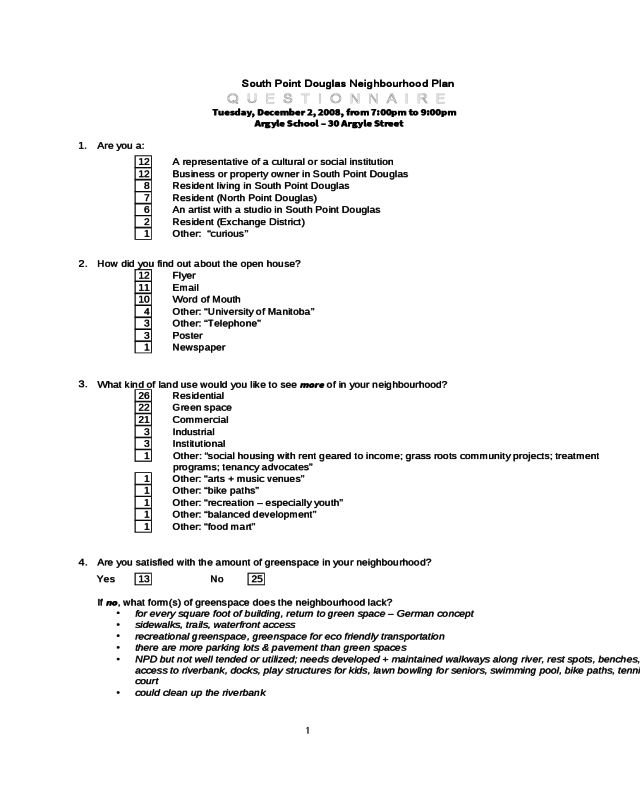 Open House Feedback Form - Winnipeg

South Point Douglas Neighbourhood Plan
Q U E S T I O N N A I R E
Tuesday, December 2, 2008, from 7:00pm to 9:00pm
Argyle School – 30 Argyle Street
12 A representative of a cultural or social institution
12 Business or property owner in South Point Douglas
8 Resident living in South Point Douglas
7 Resident (North Point Douglas)
6 An artist with a studio in South Point Douglas
2 Resident (Exchange District)
1 Other: "curious"
2.
How did you find out about the open house?
12 Flyer
11 Email
10 Word of Mouth
4 Other: "University of Manitoba"
3 Other: "Telephone"
3 Poster
1 Newspaper
3.
What kind of land use would you like to see
more
of in your neighbourhood?
26 Residential
22 Green space
21 Commercial
3 Industrial
3 Institutional
1 Other: "social housing with rent geared to income; grass roots community projects; treatment
programs; tenancy advocates"
1 Other: "arts + music venues"
1 Other: "bike paths"
1 Other: "recreation – especially youth"
1 Other: "balanced development"
1 Other: "food mart"
4.
Are you satisfied with the amount of greenspace in your neighbourhood?
Yes 13 No 25
If
no

, what form(s) of greenspace does the neighbourhood lack?
•
for every square foot of building, return to green space – German concept
•
sidewalks, trails, waterfront access
•
recreational greenspace, greenspace for eco friendly transportation
•
there are more parking lots & pavement than green spaces
•
NPD but not well tended or utilized; needs developed + maintained walkways along river, rest spots, benches,
access to riverbank, docks, play structures for kids, lawn bowling for seniors, swimming pool, bike paths, tennis
court
•
could clean up the riverbank
1

•
waterfront greenspace like Steve Juba Park
•
tree/plants on sidewalks, mini parks; sitting areas
•
community gardens, parks, natural growth areas
•
areas to sit & enjoy the outdoors – walking paths; lit areas to congregate & meet others (park-type areas)
•
There is ample greenspace in riverbank, bike trail and undeveloped lots but all of limited program possibility –
no playground/park for example; i.e. not family-oriented
•
Yes in NPD. SPD needs walkways, encouragement to pedestrian/cycle traffic, transit as well as green space
including paths around the point connecting other existing paths
•
parks / if existing "vacant" land is developed there will be little greenspace
•
more parks to encourage family activity
•
well lit parks, usable riverbank space, continuous walkways
•
parks, orchards, community gardens, riverbank wildlife area
•
recreation areas
•
The Waterfront Drive should continue east and join with Higgins at the new Louise Bridge
•
soccer pitch
•
developed linear riverbank parkway, town common green; lot and lots of trees
•
just more of it
•
too many run down factories + rental homes that are not looked after
•
clean, tranquil, secure sectors
•
I am satisfied with the amount, but not the quality of local greenspace
•
all
5.
What is special about the neighbourhood that requires protection or enhancement:
•
The heritage buildings (housing, comm. & industrial); the small blocks; old trees
•
old centre of the city
•
cultural diversity
•
riverbank central location (but inaccessible)
•
the cultural & historical value
•
affordable housing, social programs, small business
•
the history – the structures – the story
•
The housing, the people, the arts community, small businesses, the riverbank
•
some of old bldgs.
•
riverbank
•
historic – CPR Station, firehall, churches; no gentrification – work with community to support homeless,
prostitutes etc.
•
old buildings, history, warehouses
•
the people – "no gentrification" – work with community to build strong community with those who are already
there! not just "homeowners"
•
existing residential/studio neighbourhood population. Heritage industrial architecture
•
NPD: little thru traffic, riverbank; SPD: heritage structures, riverbank
•
big trees; low income housing
•
a few heritage buildings, old warehouses + brick buildings, trees
•
residential, greenbelt at riverside
•
The neighbourhood is home to many poor people who are likely not counted as current residents. Planning
should start with them and should seek to house and provide services for them.
•
Central residential area; historic area
•
heritage building – both commercial & residential; affordable; multi-cultural
•
Buildings come and go the water / riverbank should be enhanced
•
river/woods
•
location close to Forks, etc.; downtown bus routes easily accessible; can easily walk to downtown
•
aboriginal/cultural/artistic
•
The riverbank should be left to its natural state and not manicured as Juba Park etc.
•
greenspace, cachet
2

•
heritage bldgs need to be preserved
•
it is one of the oldest neighbourhoods with great potential along the river
•
the greenspace – the informal evolution to date
•
It is a beautiful little village in the middle of the city.
•
The perception of the area doesn't match the reality.
•
public and private property
•
affordable housing, limited traffic
•
low taxes, heritage buildings, riverbank
6.
What do you feel is your neighbourhood's biggest concern?
15 Restrictive zoning
14 Crime/safety
13 Vehicular traffic
12 Preservation of community assets
12 Incompatible industries
2 Other: "hotels
2 Other: "lack of affordable housing/non-market"
1 Other: "bad/suburban design
1 Other: "lack of investment"
1 Other: "racism, economic exploitation"
1 Other: "derelict and abandoned buildings"
1 Other: "poor road + traffic planning"
1 Other: "petty vandalism"
1 Other: "more residents"
Comments:
•
used to have a lumber company with 2 trucks they locked up at night; now we have a trucking company 24
hr/day
•
perception of crime problem
•
opportunity for the community to develop the "character" of this neighbourhood as part of Winnipeg
•
Some people stay in transitional shelter because they don't want to leave the area!
•
existing residential+ industrial bldgs at risk
•
All of SPD should be mixed residential-commercial with transit + green space. It is completely obsolete as a
manufacturing, cold storage etc. area. Trucks!
•
More so than existing crime rates, I am more concerned about increased policing and BIZ patrols being an
oppressive force.
•
support of ab. programming
•
sustaining lifestyle
•
A major roadway is required for future + present populace.
7.
Did you find this meeting valuable and informative?
Yes 29 No 3
If
no

, how do you think it might have been improved?
•
more public dialog + consideration; people that live here that did not attend
•
could have had a "board" paper to record people's questions
•
I would have liked to learn more details about how the planning process will proceed and how residents can get
involved.
•
mix up people/stakeholders
•
the meeting could have been much better with a couple of microphones and a good free for all town hall
session
3

8.
Are there other issues on which the secondary plan should be concentrating?
Yes 12 No 3
If yes, please describe:
•
Design standards. I am more bothered by offensive design than I am by offensive land uses.
•
working with other levels of gov't to secure funding for more public housing.
•
there should be more focus on resolving the issues behind the reasons why there has been little or no
revitalization to a center community of Winnipeg; whether this has anything to do w/ city zoning, ownership, etc.
•
a real mixture of housing: by age, socio-economic, density; real mixture – no enclaves; rail line for rapid transit
•
gentrification + preserving the earth
•
recognize people who live in non-traditional residences i.e. – shelters – in parks – in abandoned buildings by
river – where will they go
•
mix of resident/income types
•
listen to the people who live and work here
•
very important to review traffic flow and road networks
•
protection of existing businesses
•
social/public housing, not-for-profit housing, co-op housing, rent geared to income housing
•
owner of the southern most point
•
bring transportation expert next time
•
moving cars through area
•
affordable housing for inner City of Winnipeg
•
There should be a review of the homeless services so they mesh with infrastructure and other area changes.
Example: some services are located on the east side of Main but available meal services are located on the west
side. So they start to move at the peak times as commuters.
•
traffic bridges housing marginalized populations
Note: more than one box could be checked for any question.
4