OPM Form 1749
DELEGATED EXAMINING
ACTION REVIEW
U.S. Office of Personnel Management
DEActioncklst_06.01.10.doc
Page 1 of 7
Agency: Location:
OPM-Led
NOAC/Nature of Action:
Selectee(s):
Effective Date:
LAC/Legal Authority:
Title, Pay Plan/Series/Grade:
MCO
Y
Top Ten
Y
Organization:
SF-52 or Request Date:
______/______/_______
Announcement Number:
Category
Rating
Y
Open Date:
Close Date:
______/_____
_/______
Certificate Number:
Date Certificate Issued:
_____/_____/______
Total # of Certificates Issued:
______ at Grade(s) ___ ___________
# Applied:
# Qualified:
Date Certificate Returned:
______/______/______
Date of Panel or Rating:
______/______/______
# VP Qualified: _________
Breakdown:
GS-( )
CPS __
GS-( ) CPS __
CP ___ XP __
TP ___ _ _
GS-( ) CPS __
CP ___ XP __
TP ___ _ _
# VP _____
GS-( ) ____
GS-( ) ____
GS-( ) ____
GS-( ) ____
# NV _____
GS-( ) ____
GS-( ) ____
____ )
# VP _____
GS-
( ) ____
GS-
( ) ____
GS-( ) ____
# NV _____
GS-( ) ____
GS-(
) ____
GS-( ) ____
# VP Applications
Reviewed:
#VP Applications
Properly Adjudicated:
VP Properly Adjudicated
Veterans referred in
INSTRUCTIONS:
Use this checklist in conjunction with the Delegated Examining Program Review checklist and the
Delegated Examining Operations Handbook (DEOH). Delegated examining authority applies to filling temporary,
term, and permanent competitive positions (see DEOH 2-A).
Y
A. HIRING REFORM INITIATIVES
(Hiring Reform data collected below will be used as

baseline and trend data only
and should not be included in evaluation reports. No required or recommended actions should be generated for JOAs
that close before November 1, 2010.
A1. JOA is 5 pages or less
A2. JOA is written in plain language, free of Federal jargon,
with meaningful definition(s) of qualifying specialized
experience specific to the position advertised
A3. Applicants may apply by submitting a resume and cover
letter or by completing a simple, plain language application
A4. KSA narrative responses or essay-style questionnaires
are not required at time of initial application
A5. Application requirements are reasonable so as not to
pose unnecessary burdens to the applicants (e.g.,
officia
l
college transcript is not required at time of application)
A6. Explanation of what applicant can expect next (e.g., what
happens after application has been submitted, expected
timeframe for selection/job offer)
A7. Agency provides timely notification to applicants about
status at key points of the hiring process (e.g., application
received; meets/does not meet minimum eligibility and
qualification requirements; referred/not referred on Certificate
of Eligibles; selected/not selected).
Notifications may be combined (minimum of two notifications
unless applicant is ineligible).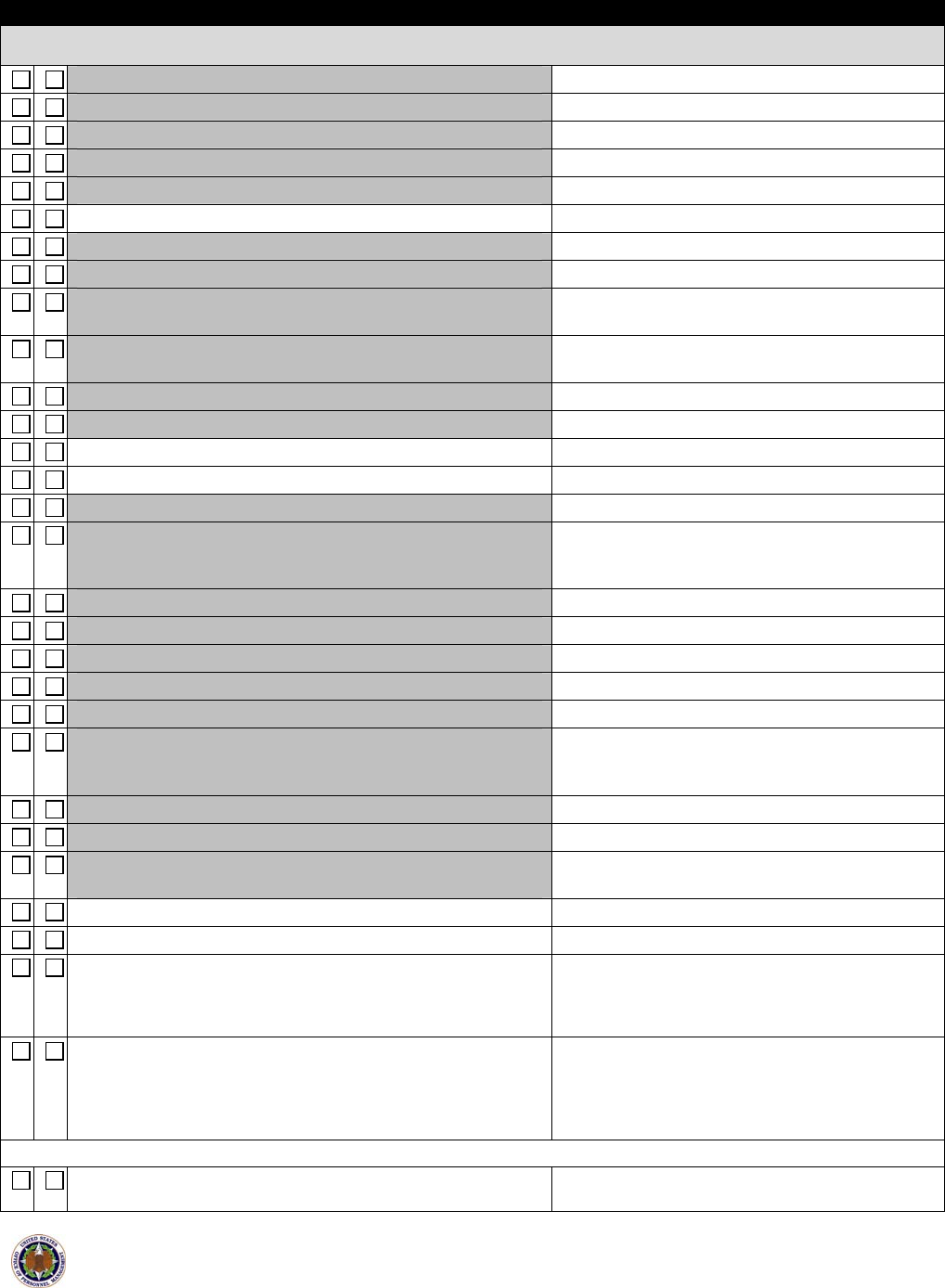 DELEGATED EXAMINING
ACTION REVIEW
U.S. Office of Personnel Management
DEActioncklst_06.01.10.doc
Page 2 of 7
B.
JOA CONTENTS AND USE OF LINKS (Required information is highlighted. Information contained in links
should be reviewed for accuracy and completen
ess) [5 U.S.C. 3327 and 3330,

5 CFR 330.707, E.O. 13078]
B1. Agency name
B2. Announcement number
B3. Title of the position
B4. Series, pay plan, and grade (or pay rate)
B5. Entrance pay
B6. Promotion potential
B7. Opening date
B8. Closing date
B9. Cut-off dates or how application receipt will be
controlled
B10. Type of appointment (i.e., permanent, term, or
temporary, including NTE dates)
B11. Duty location
B13. Citizenship requirement

[5 CFR 338.101]
B14. Selective Service requirement [5 CFR 300.701]
B15. Brief description of duties
B16. Qualification requirements for each grade level
(including KSAs/competencies and selective placement
factors)
B17. Basis of rating (how candidates will be evaluated).
B18. Quality categories defined for category rating
B19. What to file
B20. Instructions on how to apply
B21. How to claim veterans' preference
B22. Agency definition of well-qualified and how
CTAP/ICTAP candidates may apply, inclu ding proof of
eligibility
B24. Reasonable accommodation statement
B25. Procedures for obtaining additional information (e.g.,
P.O.C., e-mail address, telephone number)
B26. Employee benefits
B27. Special conditions w
hen one announcement is used
B28. Additional items (physical requirements, gender
restriction, part-time or inte
rmittent employment, shift work,
unusual tours of duty, travel requirements, minimum/ma ximum
entry age, mandatory inte
rview, etc.) [DEOH 6-A]
B29. For positions restricted to
preference eligibles (custo dian,
messenger, guard, elevator oper
ator) - whether applications
will be accepted from non-preference elig ibles and, if so, that
they will not be considered if vete
rans are available [5 U.S.C.
C. RECRUITMENT ACTIVITIES
Recruitment activities are consistent with the goal of b uil ding
and maintaining a divers e Federal workforce [5 CFR 720.204]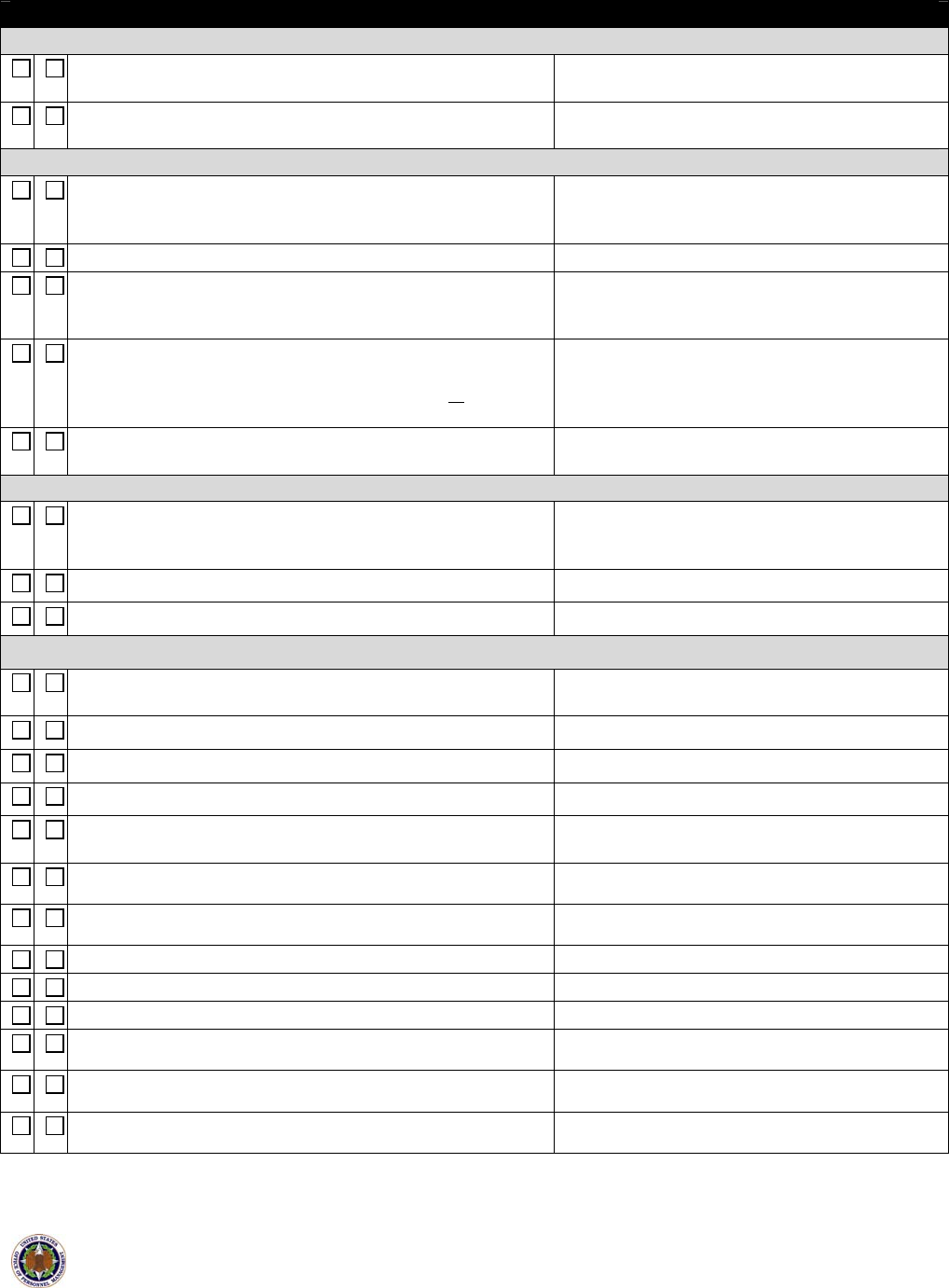 DELEGATED EXAMINING
ACTION REVIEW
U.S. Office of Personnel Management
DEActioncklst_06.01.10.doc
Page 3 of 7
D. PUBLIC NOTICE REQUIREMENTS [5 U.S.
C. 3327; DEOH 3-B; 5 CFR 330.102 & 330.707(a)]
Job announced on USAJOBS, including those filled from
standing inventories or automated system
Announcements are open consistent with the policies the
agency has established
E. APPLICATION ACCEPTANCE PROCEDURES [DEOH 4-A]
The DEU follows any agency-wide policy and procedures
for accepting and processing applications from all
applicants, including status applicants
Postmarks from mailed applications are annotated
Late applications are appropriately accepted or rejected.
For extensions, response dates are given to applicants
who request application materials by the closing date
Incomplete applications are considered in accordance
with agency policy. In the absence of such policy,
consideration is based on information provided
or
requests for more information are sent to applicants
The DEU prohibits use of Government franked envelopes
[18 U.S.C. 1719]
F. CLEARANCE OF APPLICABLE
PRIORITY PLACEMENT PROGRAMS
CTAP [5 CFR 330.608] or for DoD only: DoD Priority
Placement Program authorized by OPM in lieu of
CTAP [5 CFR 330.601(c) and DoD 1400.20-1-M]
G. EXAMINING FILE CONTENTS
Request for referral of certificate of eligibles (SF 39, SF 52
or other method used in accordance with agency policy)
Applicable qualification standard
Justification for selective placement factor(s) [DEOH 5-B]
In cases of gender restriction, documentation of OPM
approval [5 CFR 332.407]
Rating plan/assessment tool(s) and transmutation table
Occupational questionnaire
(point values match rating plan)
Application forms for name requests [DEOH 6-B]
OMB-approved supplemental application form, if used
Eligibility and qualification determinations
Ratings of applicants
Tie breaking method, if used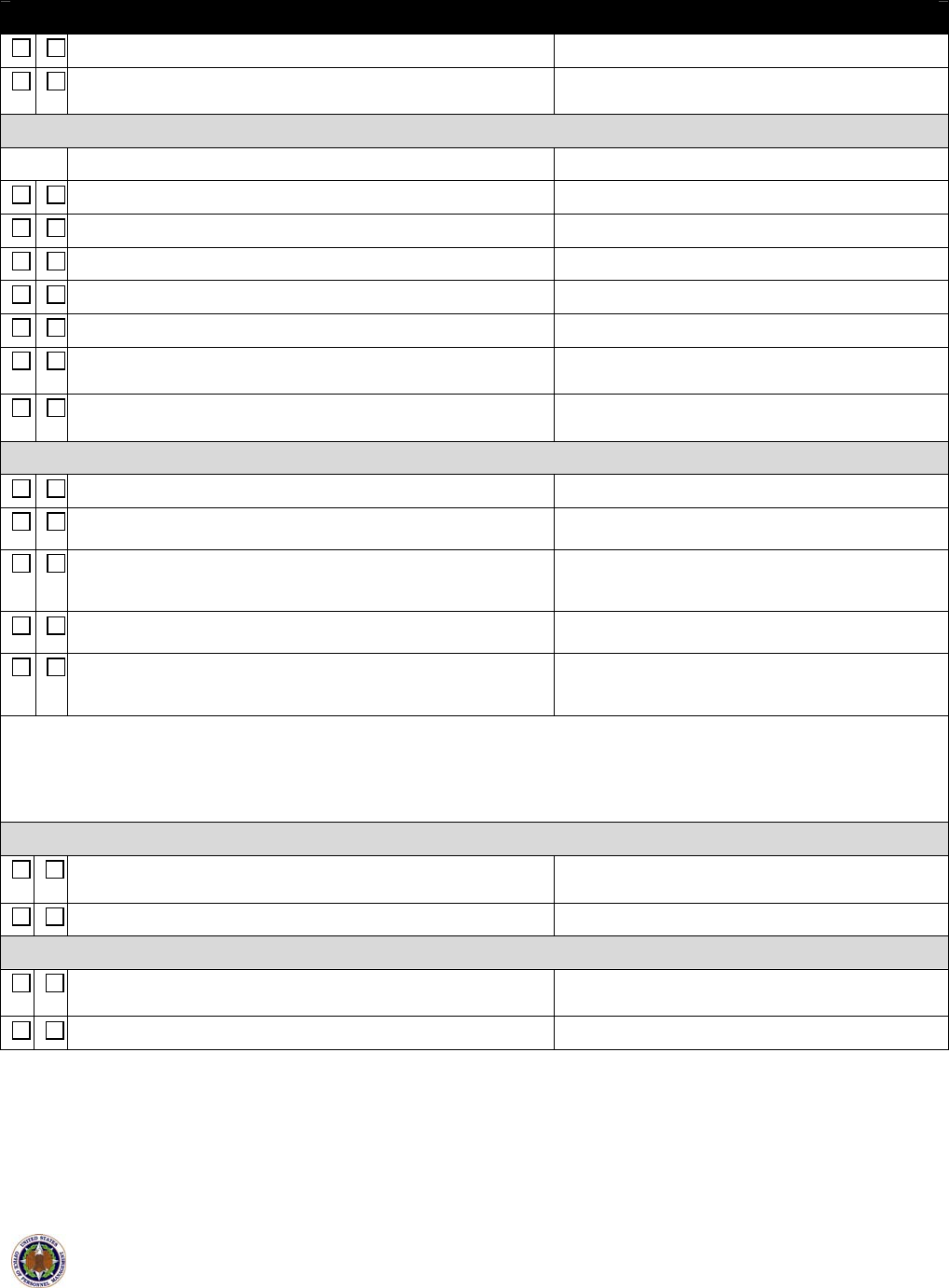 DELEGATED EXAMINING
ACTION REVIEW
U.S. Office of Personnel Management
DEActioncklst_06.01.10.doc
Page 4 of 7
Y N REVIEW ITEM COMMENTS
Certificate(s) of eligibles
Case files can be reconstructed for audit purposes (copy of
the selectee's application in file is recommended)
H. JOB ANALYSIS AND RATING PLAN/ASSESSMENT TOOL
Job analysis identifies the following [5 CFR 300.103(a)]
1. Basic duties and responsibilities
2. KSAs/competencies required to perform the duties
3. Factors important in evaluating candidates
4. One or more SMEs involved in job analysis
Acceptable rating plan is used [DEOH 5-B]
Rating plan/assessment tool is consistent with job analysis
[5 CFR 300.103(b)]
SMEs/HR professionals who participated in the
development of rating plan/assessment tool are identified
I. REVIEW OF APPLICATIONS
Applications are reviewed for legally required information
Applicant is a citizen or national of the United States
[ 8 U.S.C 1408; 5 CFR 7.3(a); 5 CFR 338.101(a)]
Date of birth (when age is a factor for certain law
enforcement, firefighter, air traffic controller, and other
positions) [5 U.S.C. 3307 and 5 CFR 338.601]
OF 306 verifies Selective Service registration prior to
appointment
[5 U.S.C. 3328 and 5 CFR part 300, subp art G]
Qualification determinations are accurate (superior
academic achievement is documented if it is the basis for
eligibility) [5 CFR 338.301 and DEOH 5-B]
Note
:

Original signatures on app lications are not required.
DoD only – retired members of the Armed Forces may be appoint

ed to positio ns in the civil service in or under DoD during
the 180 days immediat ely after retirement or when still in a
terminal leave status without r

egard to obtaining authorization
under 5 U.S.C. 3326(b)(1) [
DoD Memorandu m 24 September 2001, Appointment

of Retired Members of the Armed Forces
to Positions in the Department of Defense]
J. ASSESSMENT OF CANDIDATES
Rating/quality category placement determinations are
accurate in accordance with KSAs and rating plan
Reconsideration of rating decisions handled properly
Veterans' preference is properly adjudicated [5 U.S.C.
2108 and 3309; DEOH 4-B]
Documentation required is consistent with agency policy
DELEGATED EXAMINING
ACTION REVIEW
U.S. Office of Personnel Management
DEActioncklst_06.01.10.doc
Page 5 of 7
L. CERTIFICATION AND SELECTION PROCEDURES
Certificate of Eligibles contains the following:
1.
Certificate number, including the FY (a system is in
place to identify certificates)
2. Title, series, grade, and duty location of position
3. Names of certified eligibles and addresses/phone
numbers if applications are not sent with certificate
4. Numerical rating/quality category of each eligible
certified, including veteran's preference points when
applicable (N/A for category rating), and appropriate
veterans' preference symbols.
5. Signature of issuing official
6. Issue date of certificate
7. Due date of certificate
Order of certification is proper [5 U.S.C. 3313; 5 CFR
330.705; DEOH 6-B or 5 U.S.C 3319; 5 CFR 337.303;
DEOH 5-B]
For category rating, all eligibles in the highest quality
category are referred to the selecting official (5 U.S.C.
3319; 5 CFR 337; DEOH 5-B]
For category rating, proper procedures are followed if
merging categories (merging is optional and may be done
only before a certificate is issued if there are fewer than 3
eligibles in the highest quality category and/or when fewer
than 3
available
eligibles remain in the highest quality
category. All preference eligibles are placed at the top of
the newly merged category) [DEOH 5-B])
Tie breakers are used properly [DEOH 6-B]
Supplemental certificates are issued properly [DEOH 6-B]
Selections are from the highest three eligibles available for
appointment [5 CFR 332.404-405] or from eligibles in the
highest quality category [5 CFR 337]
Selections are consistent with ranking certification [5
U.S.C. 3318 and 3319; 5 CFR 332.404-405; DEOH 6-C]
Selecting official properly documents actions (selections,
declinations, etc.) and signs and dates the returned
certificate as documentation for the file [DEOH 6-C]
Selecting officials return certificates promptly after making
selections [DEOH 6-C]
Pass overs of preference eligibles and/or objections are
handled properly [5 U.S.C. 3312 and 3318; 5 CFR
Certificates are audited upon return in accordance with
agency's policy [DEOH 6-C]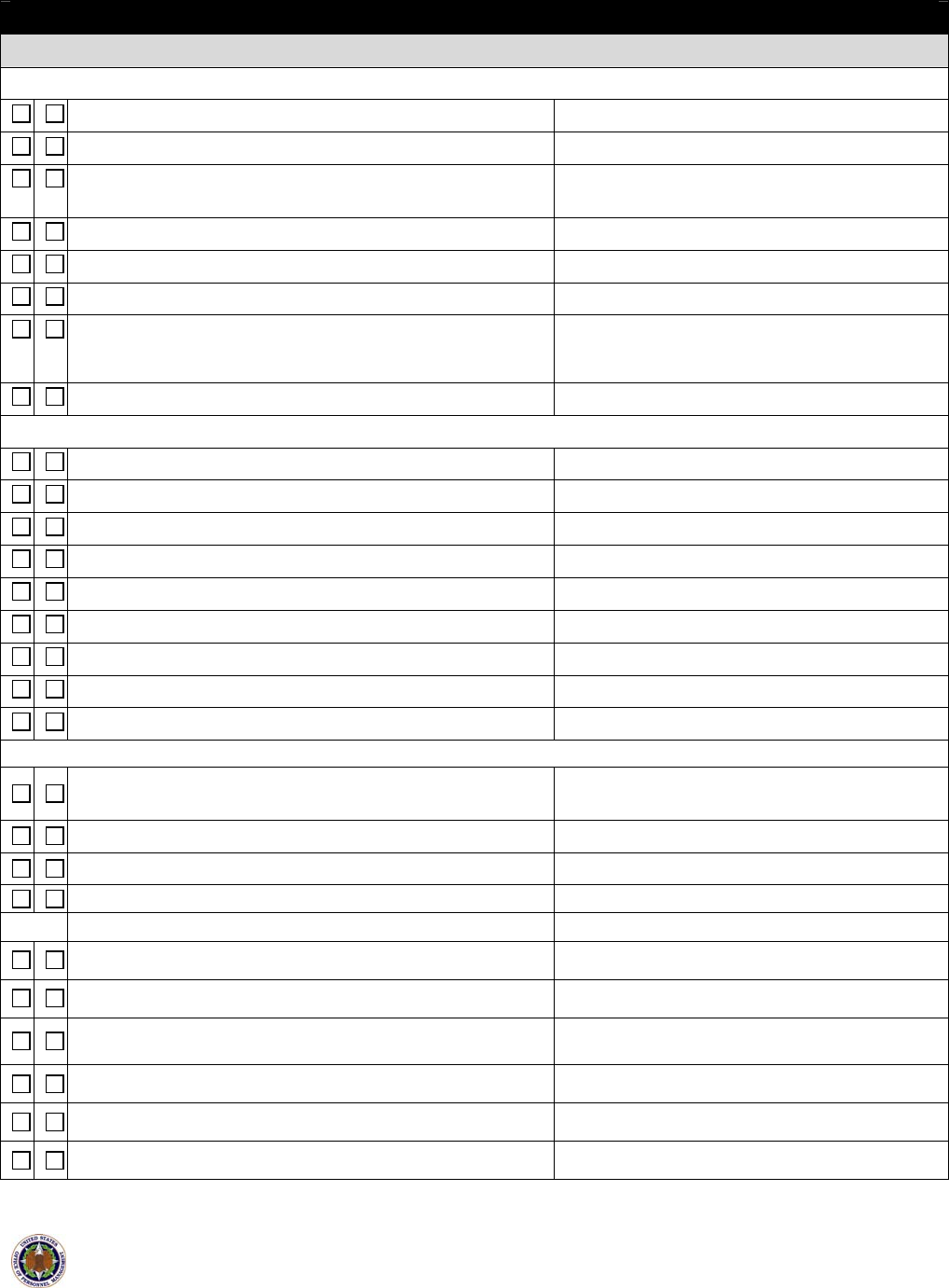 DELEGATED EXAMINING
ACTION REVIEW
U.S. Office of Personnel Management
DEActioncklst_06.01.10.doc
Page 6 of 7
Y N REVIEW ITEM COMMENTS
M. NOTIFICATION OF PERSONNEL ACTION(S)
Codes and authorities on SF 50/SF 52 are correct:
Legal authority and nature of action codes
Veterans' preference
VP for RIF (block 26) and Annuitant Indicator (block 28)
reflect military retiree status
Tenure group
FEGLI
Retirement plan
Pay determination is proper (for
superior qualifications
appt. pay rate determinant (block 29) is 7 (or 8) on initial
SF 50 but reverts back to 0 (or 6) for subsequent actions)
Qualification standard on SF 52 if other than OPM
Remarks entered on SF 50 are correct
:
Service counting towards career tenure
Date appointment affidavit signed
Full performance level of the position
Eligibility for life insurance/health benefits
Creditable military service
Frozen service
Previous retirement coverage
Retirement plan
Credit for non-Federal or active duty uniformed service for
leave purposes
Rate of pay remark if using pay-setting flexibilities
Reason for temporary appointment (reason stated)
Conditions of temporary employment remark
Forms filed chronologically on
right (long-term)
side of OPF:
Resume/application for Federal employment
SF 61 (Appointment Affidavit), unless conversion action
OF 306 (Declaration of Federal Employment), signed twice
by appointee and dated by HR office
SF 50 (Notification of Personnel Action)
SF 144 (Statement of Prior Federal Employment)
Health and life insurance forms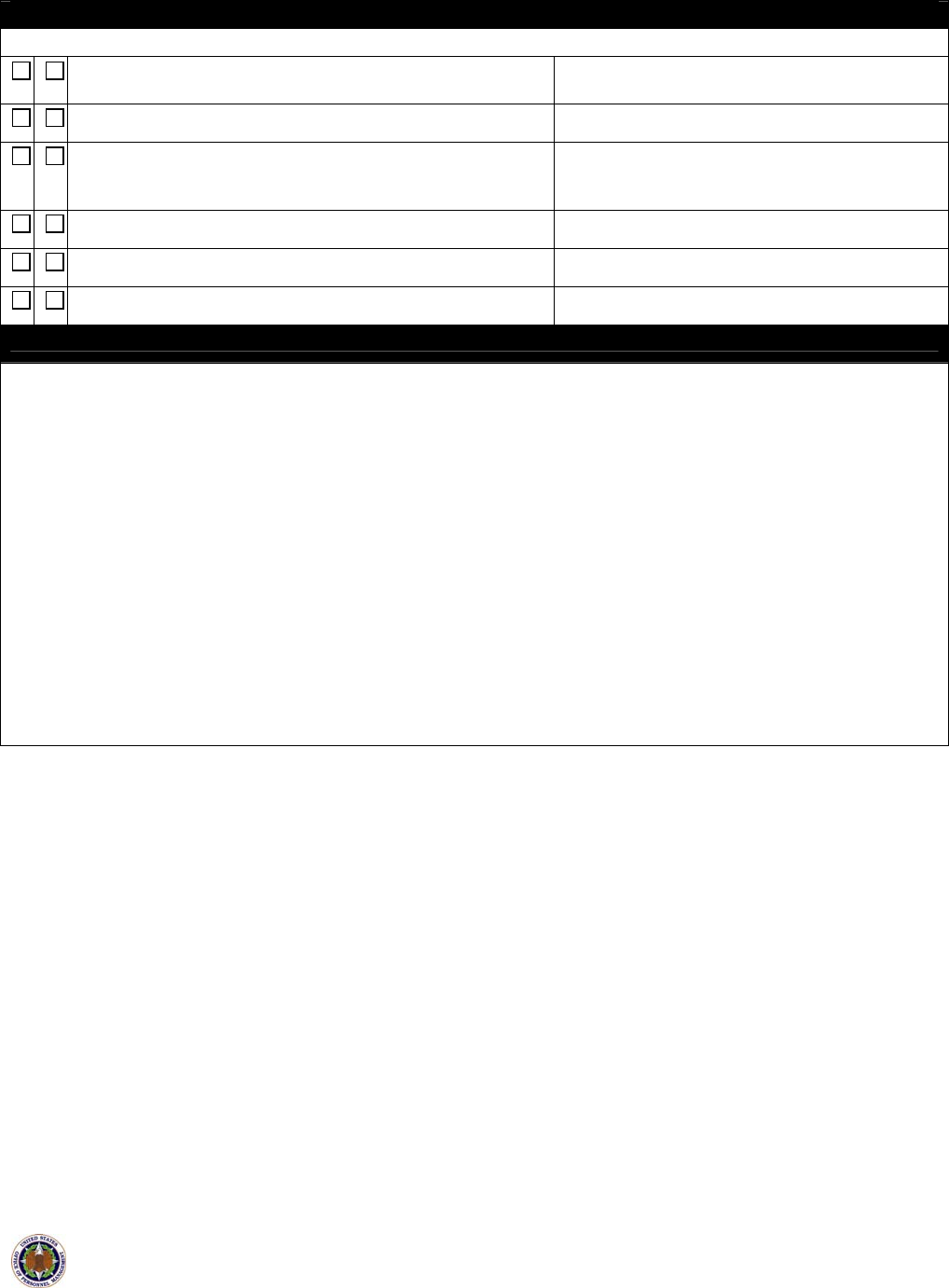 DELEGATED EXAMINING
ACTION REVIEW
U.S. Office of Personnel Management
DEActioncklst_06.01.10.doc
Page 7 of 7
Y N REVIEW ITEM COMMENTS
DD 214 (Certificate of Release or Discharge from Active
Duty) copy that includes
character of service
SF 15 (Application for 10-Point Veteran Preference)
VA letter or active service retirement orders certifying
service connected disability (with no medical information or
properly sanitized)
Certification of Completed Investigation Notice
Retirement forms
Transcripts when education was used for qualifications
OTHER COMMENTS
Reviewer/Title:
______________________________________________
Date: ____________________