Fillable Printable Rent Increase Letter Template
Fillable Printable Rent Increase Letter Template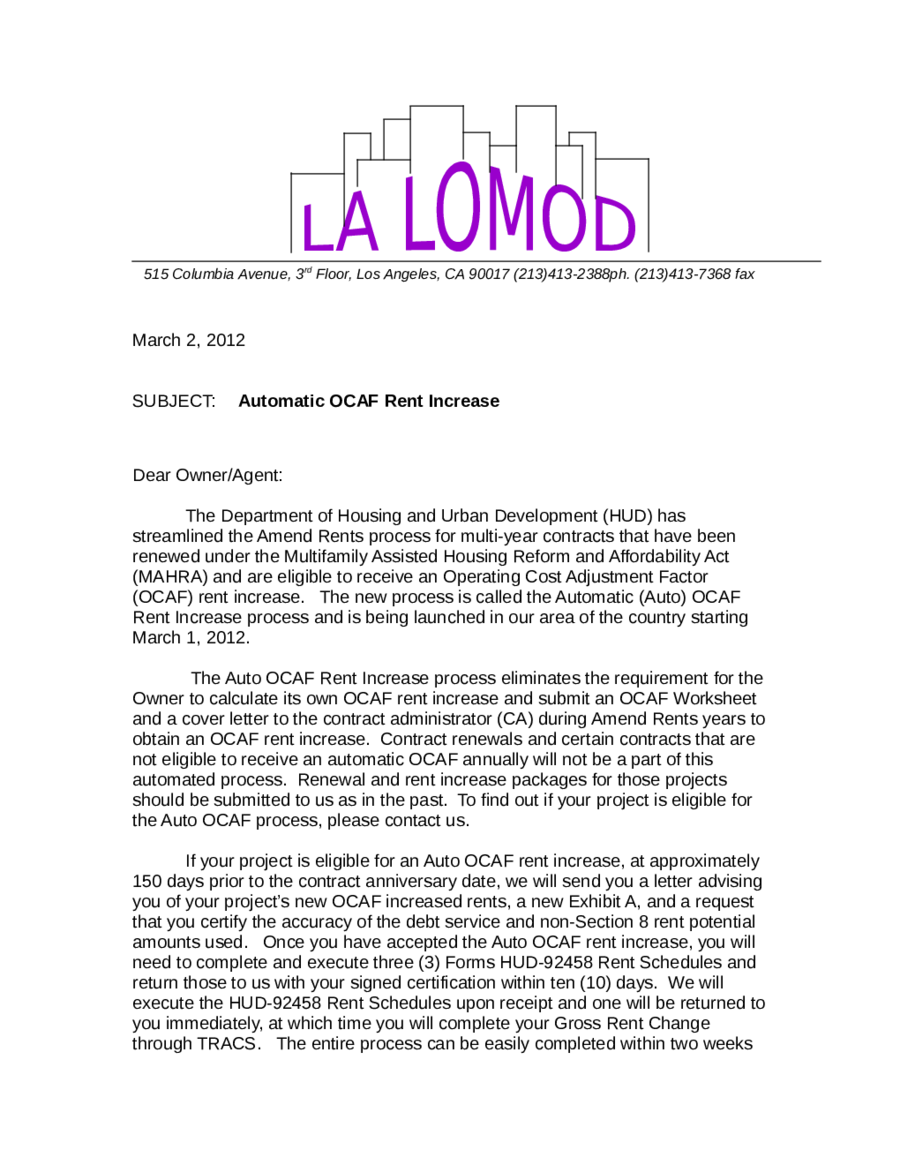 Rent Increase Letter Template

515 Columbia Avenue, 3
rd
Floor, Los Angeles, CA 90017 (213)413-2388ph. (213)413-7368 fax
March 2, 2012
SUBJECT:
Automatic OCAF Rent Increase
Dear Owner/Agent:
The Department of Housing and Urban Development (HUD) has
streamlined the Amend Rents process for multi-year contracts that have been
renewed under the Multifamily Assisted Housing Reform and Affordability Act
(MAHRA) and are eligible to receive an Operating Cost Adjustment Factor
(OCAF) rent increase. The new process is called the Automatic (Auto) OCAF
Rent Increase process and is being launched in our area of the country starting
March 1, 2012.
The Auto OCAF Rent Increase process eliminates the requirement for the
Owner to calculate its own OCAF rent increase and submit an OCAF Worksheet
and a cover letter to the contract administrator (CA) during Amend Rents years to
obtain an OCAF rent increase. Contract renewals and certain contracts that are
not eligible to receive an automatic OCAF annually will not be a part of this
automated process. Renewal and rent increase packages for those projects
should be submitted to us as in the past. To find out if your project is eligible for
the Auto OCAF process, please contact us.
If your project is eligible for an Auto OCAF rent increase, at approximately
150 days prior to the contract anniversary date, we will send you a letter advising
you of your project's new OCAF increased rents, a new Exhibit A, and a request
that you certify the accuracy of the debt service and non-Section 8 rent potential
amounts used. Once you have accepted the Auto OCAF rent increase, you will
need to complete and execute three (3) Forms HUD-92458 Rent Schedules and
return those to us with your signed certification within ten (10) days. We will
execute the HUD-92458 Rent Schedules upon receipt and one will be returned to
you immediately, at which time you will complete your Gross Rent Change
through TRACS. The entire process can be easily completed within two weeks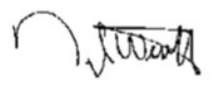 and can provide you with your rent increase in time to process by your project's
contract anniversary date.
For projects that receive utility allowances, you are still required to
complete a Utility Analysis annually at the time of the annual rent adjustment in
the manner described in HUD Multifamily Asset Management and Project
Servicing Handbook 4350.1, Chapter 7. Please have this completed and
submitted to us at least 150 days prior to your project's contract anniversary
date. This will ensure timely processing of your Auto OCAF rent increase.
We and the Department of Housing and Urban Development are excited
about bringing this streamlined process to you and welcome your feedback.
Please submit any comments you may have to us so that we may pass them
along to HUD.
If you have any questions relating to the Auto OCAF process, please
contact Director and President Nancy Wesoff at (213) 413-7366 or Assistant
Director Erin Ferguson at (213) 413-2353.
Sincerely,
LA LOMOD Corporation
Nancy Wesoff
Director of Contract Administration
2