Fillable Printable Rent Increase Request Letter Sample
Fillable Printable Rent Increase Request Letter Sample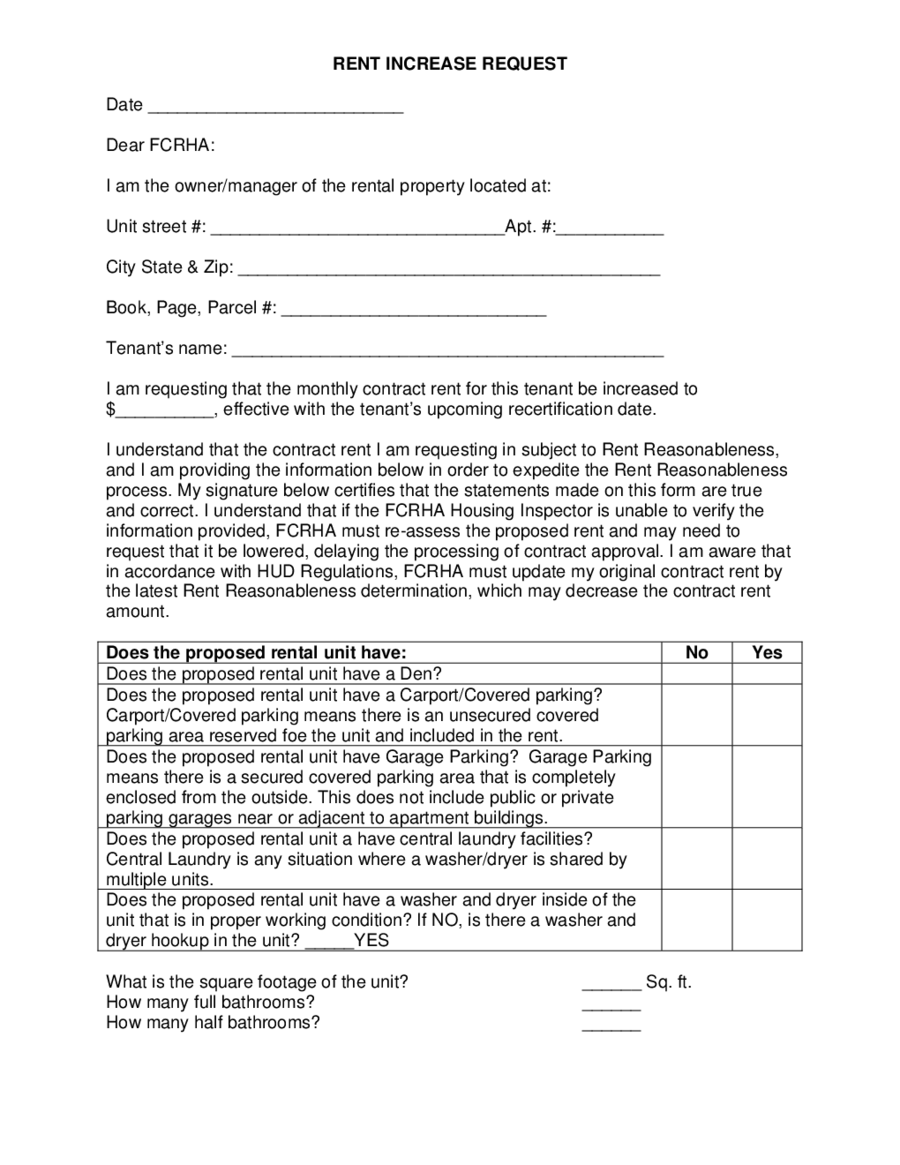 Rent Increase Request Letter Sample

Date __________________________
Dear FCRHA:
I am the owner/manager of the
rental property located at:
Unit street #: _____________
_________________Ap

t. #:___________
City State & Zip: ____
_______________________________________
Book, Page, Parcel
#: ______________

_____________
Tenant's name: __________
__________________________________
I am requesting that the mont
hly contract rent for th

is tenant be increased to
$__________, effective with
the tenant's upcoming re
certification date.
I understand that the contract
rent I am requesting in subj
ect to Rent Reasonableness,
and I am providing the information below in or
der to expedite the Rent Reasonableness
process. My signature below certifies that
the statements made on this form are true
and correct. I understand that if
the FCRHA Housing Inspector is unable to verify the
information provided, FCRHA must re-a
ssess the proposed rent and may need to
request that it be lowered, delaying the processing of contra
ct approval. I am aware that
in accordance with HUD Regulations, FCRHA mu
st update my original contract rent by
the latest Rent Reasonableness determination, which may
decrease the contract rent
amount.
Does the proposed rental unit have:
No
Yes
Does the proposed rental unit have a Den?
Does the proposed rental unit
have a Carport/Covered parking?
Carport/Covered parking means t
here is an unsecured covered
parking area reserved foe the
unit and included in the rent.
Does the proposed rental unit have
Garage Parking? Garage Parking
means there is a secured covered parking area that is completely
enclosed from the outside. This d
oes not include public or private
parking garages near or adjacent
to apartment buildings.
Does the proposed rental unit a have central laundry facilities?
Central Laundry is any situation w
here a washer/dryer is shared by
Does the proposed rental unit have a
washer and dryer inside of the
unit that is in proper working cond
ition? If NO, is there a washer and
dryer hookup in the unit? _____YES
What is the square footage of
the unit? ______ Sq. ft.
How many full bathrooms? ______
How many half bathrooms? ______