Fillable Printable Rental Bond Direct Credit & Email Notification State of Agreement
Fillable Printable Rental Bond Direct Credit & Email Notification State of Agreement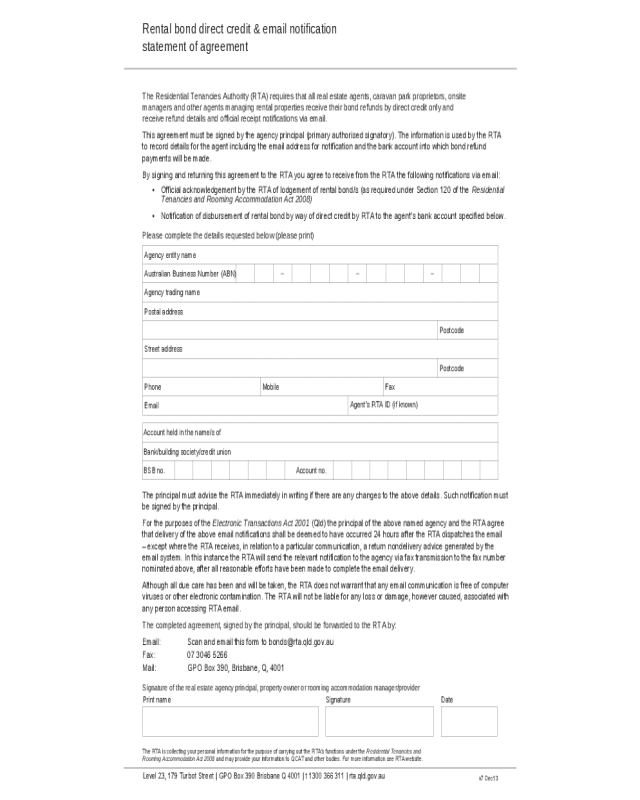 Rental Bond Direct Credit & Email Notification State of Agreement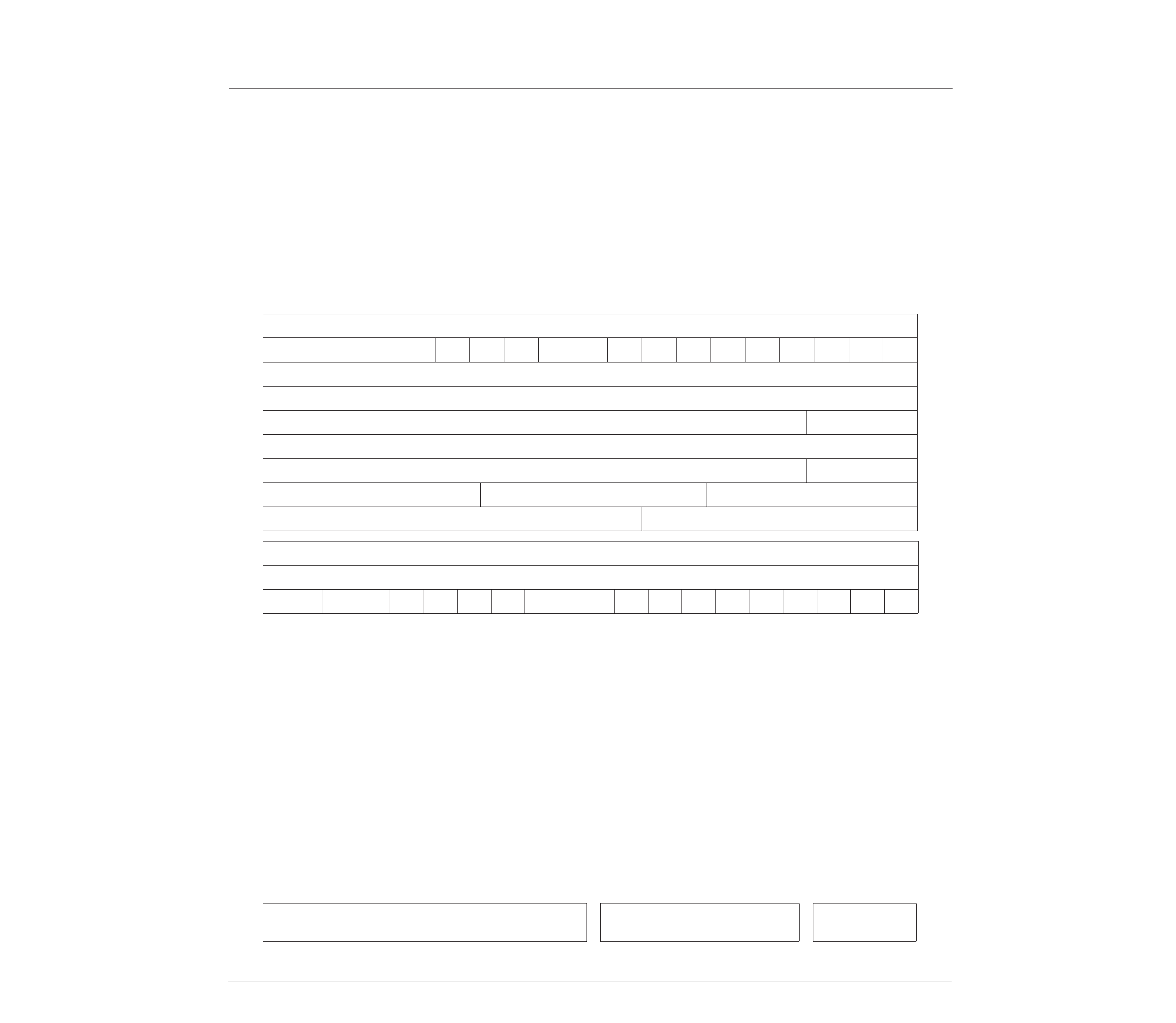 v7 Dec13
Level 23, 179 Turbot Street | GPO Box 390 Brisbane Q 4001 | t 1300 366 311 | rta.qld.gov.au
The RTA is collecting your personal information for the purpose of carrying out the RTA's functions under the
Residential Tenancies and
Rooming Accommodation Act 2008
and may provide your information to QCAT and other bodies. For more information see RTA website.
Rental bond direct credit & email notification
statement of agreement
The Residential Tenancies Authority (RTA) requires that all real estate agents, caravan park proprietors, onsite
managers and other agents managing rental properties receive their bond refunds by direct credit only and
receive refund details and official receipt notifications via email.
This agreement must be signed by the agency principal (primary authorised signatory). The information is used by the RTA
to record details for the agent including the email address for notification and the bank account into which bond refund
payments will be made.
By signing and returning this agreement to the RTA you agree to receive from the RTA the following notifications via email:
•
Official acknowledgement by the RTA of lodgement of rental bond/s (as required under Section 120 of the
Residential
Tenancies and Rooming Accommodation Act 2008)
•
Notification of disbursement of rental bond by way of direct credit by RTA to the agent's bank account specified below.
Please complete the details requested below (please print)
Agency entity name
Australian Business Number (ABN)
Agency trading name
Postal address
Postcode
Street address
Postcode
Email
Agent's RTA ID (if known)
Account held in the name/s of
Bank/building society/credit union
The principal must advise the RTA immediately in writing if there are any changes to the above details. Such notification must
be signed by the principal.
For the purposes of the
Electronic Transactions Act 2001
(Qld) the principal of the above named agency and the RTA agree
that delivery of the above email notifications shall be deemed to have occurred 24 hours after the RTA dispatches the email
– except where the RTA receives, in relation to a particular communication, a return nondelivery advice generated by the
email system. In this instance the RTA will send the relevant notification to the agency via fax transmission to the fax number
nominated above, after all reasonable efforts have been made to complete the email delivery.
Although all due care has been and will be taken, the RTA does not warrant that any email communication is free of computer
viruses or other electronic contamination. The RTA will not be liable for any loss or damage, however caused, associated with
any person accessing RTA email.
The completed agreement, signed by the principal, should be forwarded to the RTA by:
Mail:
GPO Box 390, Brisbane, Q, 4001
Signature of the real estate agency principal, property owner or rooming accommodation manager/provider
Print name
Signature
Date