Fillable Printable Request for a Certificate of Eligibility
Fillable Printable Request for a Certificate of Eligibility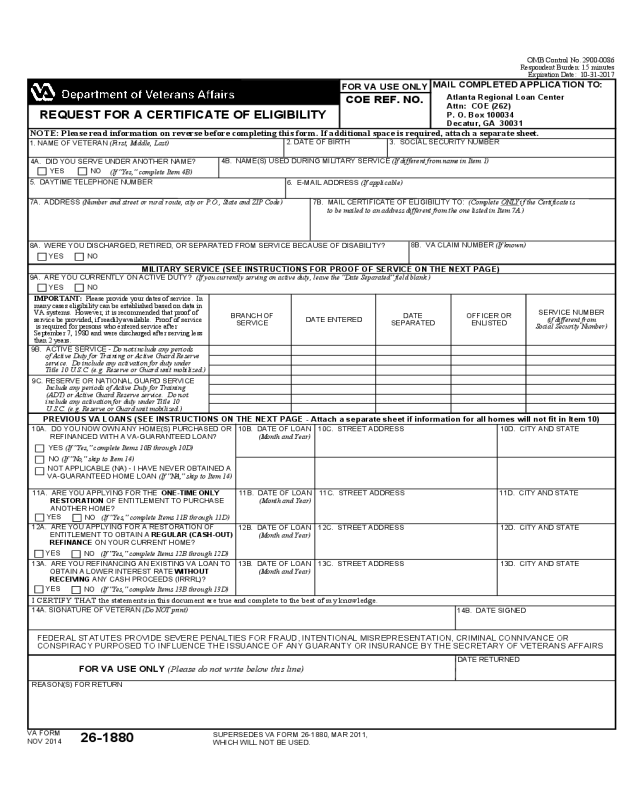 Request for a Certificate of Eligibility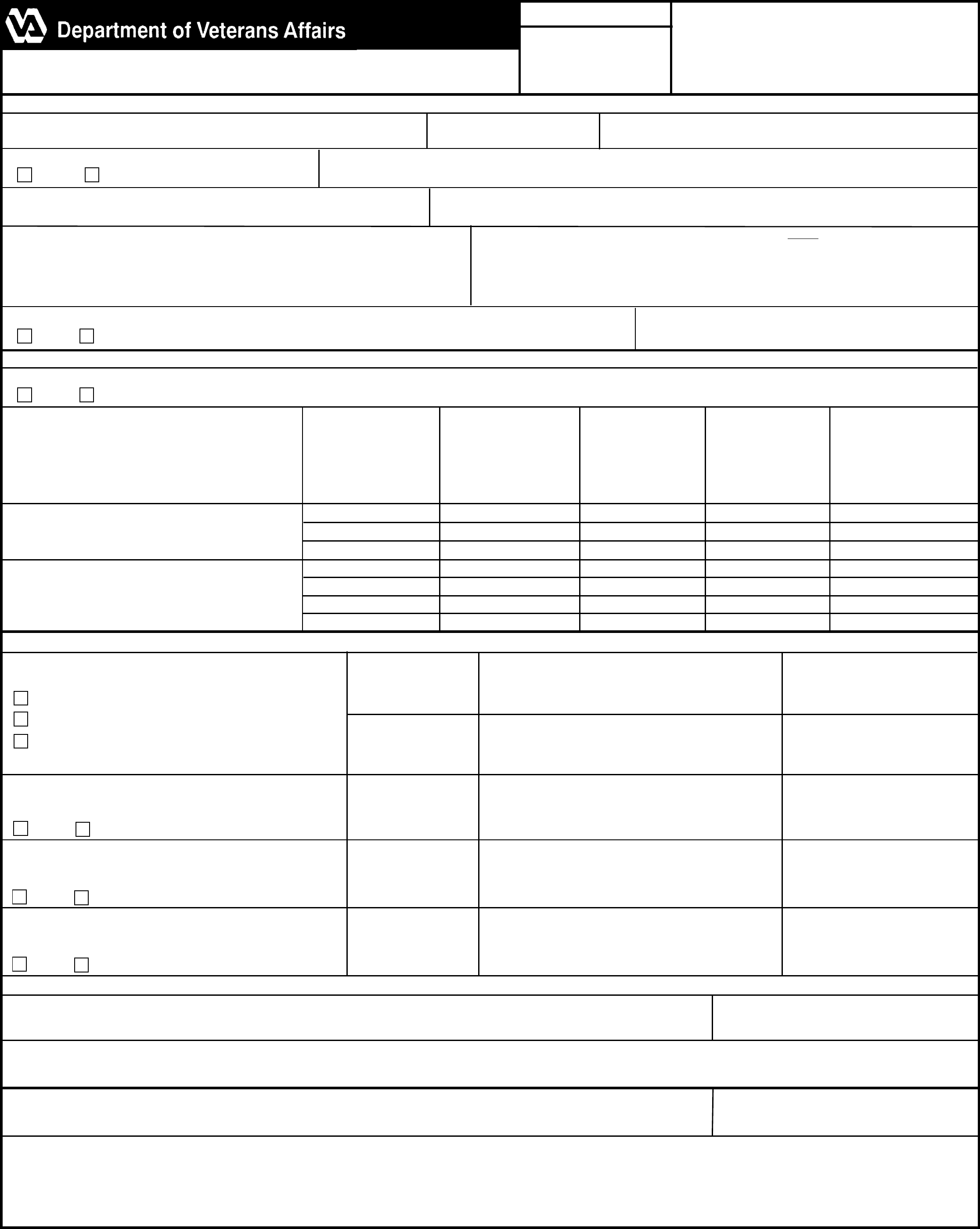 OMB Control No. 2900-0086
Respondent Burden: 15 minutes
Expiration Date: 10-31-2017
REQUEST FOR A CERTIFICATE OF ELIGIBILITY
FOR VA USE ONLY
COE REF. NO.
MAIL COMPLETED APPLICATION TO:
Atlanta Regional Loan Center
Attn: COE (262)
P. O. Box 100034
Decatur, GA 30031
NOTE: Please read information on reverse before completing this form. If additional space is required, attach a separate sheet.
1. NAME OF VETERAN
(First, Middle, Last)
2. DATE OF BIRTH
3. SOCIAL SECURITY NUMBER
4A. DID YOU SERVE UNDER ANOTHER NAME?
(If "Yes," complete Item 4B)
4B. NAME(S) USED DURING MILITARY SERVICE
(If different from name in Item 1)
5. DAYTIME TELEPHONE NUMBER
6. E-MAIL ADDRESS
(If applicable)
7A. ADDRESS
(Number and street or rural route, city or P.O., State and ZIP Code)
7B. MAIL CERTIFICATE OF ELIGIBILITY TO:
(Complete ONLY if the Certificate is
to be mailed to an address different from the one listed in Item 7A.)
8A. WERE YOU DISCHARGED, RETIRED, OR SEPARATED FROM SERVICE BECAUSE OF DISABILITY?
8B. VA CLAIM NUMBER
(If known)
MILITARY SERVICE (SEE INSTRUCTIONS FOR PROOF OF SERVICE ON THE NEXT PAGE)
9A. ARE YOU CURRENTLY ON ACTIVE DUTY?
(If you currently serving on active duty, leave the "Date Separated" field blank.)
IMPORTANT:
Please provide your dates of service. In
many cases eligibility can be established based on data in
VA systems. However, it is recommended that proof of
service be provided, if readily available. Proof of service
is required for persons who entered service after
September 7, 1980 and were discharged after serving less
than 2 years.
9B. ACTIVE SERVICE -
Do not

include any periods
of Active Duty for Training or Active Guard Reserve
service.
Do
include any activation for duty under
Title 10 U.S.C. (e.g. Reserve or Guard unit mobilized.)
BRANCH OF
SERVICE
DATE ENTERED
DATE
SEPARATED
OFFICER OR
ENLISTED
SERVICE NUMBER
(if different from
Social Security Number)
9C. RESERVE OR NATIONAL GUARD SERVICE
Include any periods of Active Duty for Training
(ADT) or Active Guard Reserve service.
Do not
include any activation for duty under Title 10
U.S.C. (e.g. Reserve or Guard unit mobilized.)
PREVIOUS VA LOANS (SEE INSTRUCTIONS ON THE NEXT PAGE - Attach a separate sheet if information for all homes will not fit in Item 10)
10A. DO YOU NOW OWN ANY HOME(S) PURCHASED OR
REFINANCED WITH A VA-GUARANTEED LOAN?
YES
(If "Yes," complete Items 10B through 10D)
NO
(If "No," skip to Item 14)
NOT APPLICABLE (NA) - I HAVE NEVER OBTAINED A
VA-GUARANTEED HOME LOAN
(If "NA," skip to Item 14)
10B. DATE OF LOAN
10C. STREET ADDRESS
10D. CITY AND STATE
11A. ARE YOU APPLYING FOR THE
ONE-TIME ONLY
RESTORATION
OF ENTITLEMENT TO PURCHASE
ANOTHER HOME?
YES
NO
(If "Yes," complete Items 11B through 11D)
11B. DATE OF LOAN
11C. STREET ADDRESS
11D. CITY AND STATE
12A. ARE YOU APPLYING FOR A RESTORATION OF
ENTITLEMENT TO OBTAIN A
REGULAR (CASH-OUT)
REFINANCE
ON YOUR CURRENT HOME?
YES
NO
(If "Yes," complete Items 12B through 12D)
12B. DATE OF LOAN
12C. STREET ADDRESS
12D. CITY AND STATE
13A. ARE YOU REFINANCING AN EXISTING VA LOAN TO
OBTAIN A LOWER INTEREST RATE
WITHOUT
RECEIVING
ANY CASH PROCEEDS (IRRRL)?
YES
NO
(If "Yes," complete Items 13B through 13D)
13B. DATE OF LOAN
13C. STREET ADDRESS
13D. CITY AND STATE
I CERTIFY THAT the statements in this document are true and complete to the best of my knowledge.
14A. SIGNATURE OF VETERAN
(Do NOT print)
14B. DATE SIGNED
FEDERAL STATUTES PROVIDE SEVERE PENALTIES FOR FRAUD, INTENTIONAL MISREPRESENTATION, CRIMINAL CONNIVANCE OR
CONSPIRACY PURPOSED TO INFLUENCE THE ISSUANCE OF ANY GUARANTY OR INSURANCE BY THE SECRETARY OF VETERANS AFFAIRS
FOR VA USE ONLY
(Please do not write below this line)
DATE RETURNED
REASON(S) FOR RETURN
VA FORM
NOV 2014
26-1880
SUPERSEDES VA FORM 26-1880, MAR 2011,
WHICH WILL NOT BE USED.

INSTRUCTIONS FOR VA FORM 26-1880
PRIVACY ACT NOTICE
- VA will not disclose information collected on this form to any source other than what has been authorized under the Privacy Act of
1974 or Title 38, Code of Federal Regulations 1.576 for routine uses (for example: the authorized release of information to Congress when requested for statistical
purposes)
identified
in
the
VA
system
of
records,
55VA26,
Loan
Guaranty
Home,
Condominium
and
Manufactured
Home
Loan
Applicant
Records,
Specially
Adapted Housing Applicant Records, and Vendee Loan Applicant Records - VA, and published in the Federal Register. Your obligation to respond is required in
order to determine the qualifications for a loan.
RESPONDENT BURDEN
- This information is needed to help determine a veteran's qualifications for a VA guaranteed home loan. Title 38, U.S.C., section
3702, authorizes collection of this information. We estimate that you will need an average of 15 minutes to review the instructions, find the information, and
complete this form. VA cannot conduct or sponsor a collection of information unless a valid OMB control number is displayed. You are not required to respond to a
collection of information if this number is not displayed. Valid OMB control numbers can be located on the OMB Internet Page at
www.reginfo.gov/public/do/PRAMain
. If desired, you can call 1-800-827-1000 to get information on where to send comments or suggestions about this form.
A. YOUR IDENTIFYING INFORMATION
Item 1 - Tell us your complete name,
as you would like it to appear on your Certificate of Eligibility (COE).
Item 4B - If you served under another name, provide the name as it appears on your discharge certificate (DD Form 214).
Item 7 - You can have your Certiticate of Eligibility sent to you at your current mailing address, or directly to your lender, or to any mailing address you provide in
Item 7B.
Item 8B - In most cases, your VA claim number is the same as your Social Security Number. If you are not sure of your VA claim number, leave this field blank.
B. MILITARY SERVICE
Item 9 -
NOTE
- Cases involving other than honorable discharges will usually require further development by VA. This is necessary to determine if the service was
under other than dishonorable conditions.
Item 9A - If you are currently serving on regular active duty, eligibility can usually be established based on data in VA systems. However, in some situations you may
be
asked
to
provide
a
statement
of
service
signed
by,
or
by
direction
of,
the
adjutant,
personnel
officer,
or
commander
of
your
unit
or
higher
headquarters.
The
statement may be in any format; usually a standard or bulleted memo is sufficient. It should identify you by name and social security number, and provide: (1) your
date of entry on your current active duty period and (2) the duration of any time lost (or a statement noting there has been no lost time). Generally this should be on
military letterhead.
Item 9B -
Active Service
(not including Active Duty Training or Active Guard Reserve service)
- the best evidence to show your service is your discharge certificate
(DD Dorm 214) showing active duty dates and type of discharge. If you were separated after October 1, 1979, the DD214 was issued in several parts (copies). We are
required to have a copy showing the character of service (Item 24) and the narrative reason for separation (Item 28). We prefer the MEMBER-4 copy, however, we can
accept any copy that contains these items. The copy number is shown on the bottom right of the form. We don't need the original; a photocopy is acceptable. Any
Veterans Services Representative in the nearest Department of Veterans Affairs office or center will assist you in securing necessary proof of military service.
Item 9C -
National Guard Service:
You may submit NGB Form 22, Report of Separation and Record of Service, or NGB Form 23, Retirement Points Accounting, or
their equivalent. We are required to have a copy showing character of service.
Selected Reserve Service (Including Active Duty Training and Active Guard Reserve)
- You may submit (Including Active Training and Active Guard Reserve) -
You may submit a copy of your latest annual retirement points statement and evidence of honorable service. There is no single form used by the Reserves similar to
the DD Form 214 or NGB Form 22. The following forms are commonly used, but others may be acceptable:
Army Reserve
DARP FM 249-2E
Naval Reserve
NRPC 1070-124
Marine Corps Reserve
NA VMC 798
Coast Guard Reserve
CG 4174 or 4175
If you are still serving in the Selected Reserves or the National Guard, you must include an original statement of service signed by, or by the direction of, the adjutant,
personnel officer, or commander of your unit or higher headquarters showing your date of entry and the length of time that you have been a member of the Selected
Reserves. At least 6 years of honorable service must be documented.
C. PREVIOUS LOANS
Items 10 through 14. Your eligibility is reusable depending on the circumstances. Normally, if you have paid off your prior VA loan and no longer own the home, you
can have your used eligibility restored for additional use. Also, on a one-time only basis, you may have your eligibility restored if your prior VA loan has been paid in
full
but
you
still
own
the
home.
Normally
VA
receives
notification
that
a
loan
has
been
paid.
In
some
instances,
it
may
be
necessary
to
include
evidence
that
a
previous VA loan has been paid in full. Evidence can be in the form of a paid-in-full statement from the former lender, a satisfaction of mortgage from the clerk of
court in the county where the home is located, or a copy of the HUD-1 settlement statement completed in connection with a sale of the home or refinance of the prior
loan. Many counties post public documents (like the satisfaction of mortgage) online.
Item 11A.
One-Time Restoration.
If you have paid off your VA loan, but still own the home purchased with that loan, you may apply for a one-time only restoration
of your entitlement in order to purchase another home that will be your primary residence. Once you have used your one-time restoration, you must sell all homes
before any other entitlement can be restored.
Item 12A.
Regular (cash-out) Refinance.
You may refinance your current VA or non-VA loan in order to pay off the mortgage and/or other liens of record on the
home. This type of refinance requires an appraisal and credit qualifying.
Item 13A.
Interest Rate Reduction Refinancing Loan (IRRRL).
You may refinance the balance of your current VA loan in order to obtain a lower interest rate, or
convert a VA adjustable rate mortgage to a fixed rate. The new loan may not exceed the sum of the outstanding balance on the existing VA loan, plus allowable fees
and closing costs, including VA funding fee and up to 2 discount points. You may also add up to $6,000 of energy efficiency improvements into the loan.
A certificate
of eligibility is not required for IRRRL.
Instead, a Prior Loan Validation, obtained through our online system WebLGY can be used in lieu of COE. Presently, this
application is only available to lenders. In WebLGY, a lender can select Eligibility from the tollbar and then Prior Loan Validation. Enter the veteran's Social Security
Number and Last Name. The system will then, in most cases, pull up the veteran's active loan information. Print the prior Loan Validation screen and use it in lieu of
the COE.
VA FORM 26-1880, NOV 2014