Fillable Printable Request for Divorce Decree - Texas
Fillable Printable Request for Divorce Decree - Texas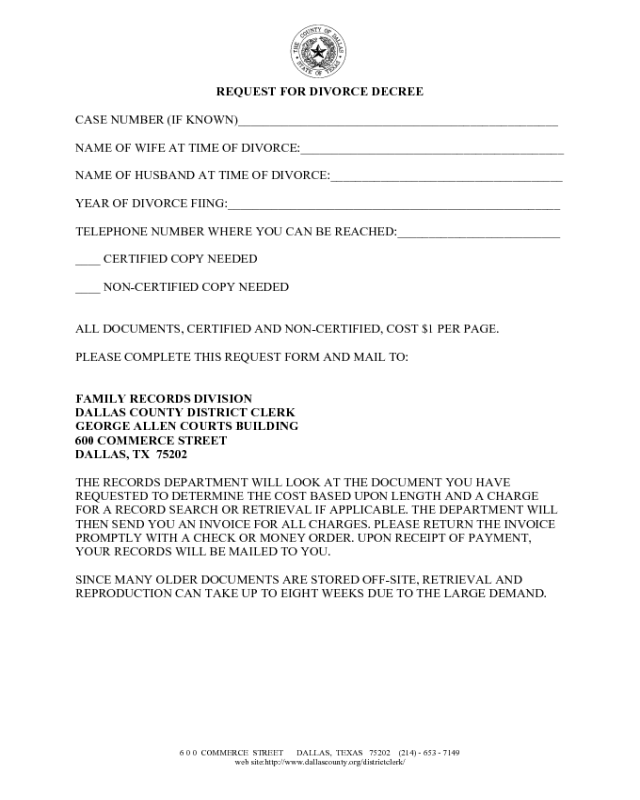 Request for Divorce Decree - Texas

6 0 0 COMMERCE STREET DALLAS, TEXAS 75202 (214) - 653 - 7149
web site:http://www.dallascounty.org/districtclerk/
REQUEST FOR DIVORCE DECREE
CASE NUMBER (IF KNOWN)___________________________________________________
NAME OF WIFE AT TIME OF DIVORCE:__________________________________________
NAME OF HUSBAND AT TIME OF DIVORCE:_____________________________________
YEAR OF DIVORCE FIING:_____________________________________________________
TELEPHONE NUMBER WHERE YOU CAN BE REACHED:__________________________
____ CERTIFIED COPY NEEDED
____ NON-CERTIFIED COPY NEEDED
ALL DOCUMENTS, CERTIFIED AND NON-
CERTIFIED, COST $1 PER PAGE.
PLEASE COMPLETE THIS REQUEST FORM AND MAIL TO:
FAMILY RECORDS DIVISION
DALLAS COUNTY DISTRICT CLERK
GEORGE ALLEN COURTS BUILDING
600 COMMERCE STREET
DALLAS, TX 75202
THE RECORDS DEPARTMENT WILL L
OOK AT THE DOCUMENT YOU HAVE
REQUESTED TO DETERMINE THE COST
BASED UPON LENGTH AND A CHARGE
FOR A RECORD SEARCH OR RETRIEVAL
IF APPLICABLE. THE DEPARTM ENT WILL
THEN SEND YOU AN INVOICE FOR ALL C
HARGES. PLEASE RETURN THE INVOICE
PROMPTLY WITH A CHECK OR MONEY
ORDER. UPON RECEIPT OF PAYMENT,
YOUR RECORDS WILL BE MAILED TO YOU.
SINCE MANY OLDER DOCUMENTS ARE
STORED OFF-SITE, RETRIEVAL AND
REPRODUCTION CAN TAKE UP TO EIGH
T WEEKS DUE TO THE LARGE DEMAND.