Fillable Printable Request for Virginia Registration of a Child Custody and/or Visitation Determination from Another State
Fillable Printable Request for Virginia Registration of a Child Custody and/or Visitation Determination from Another State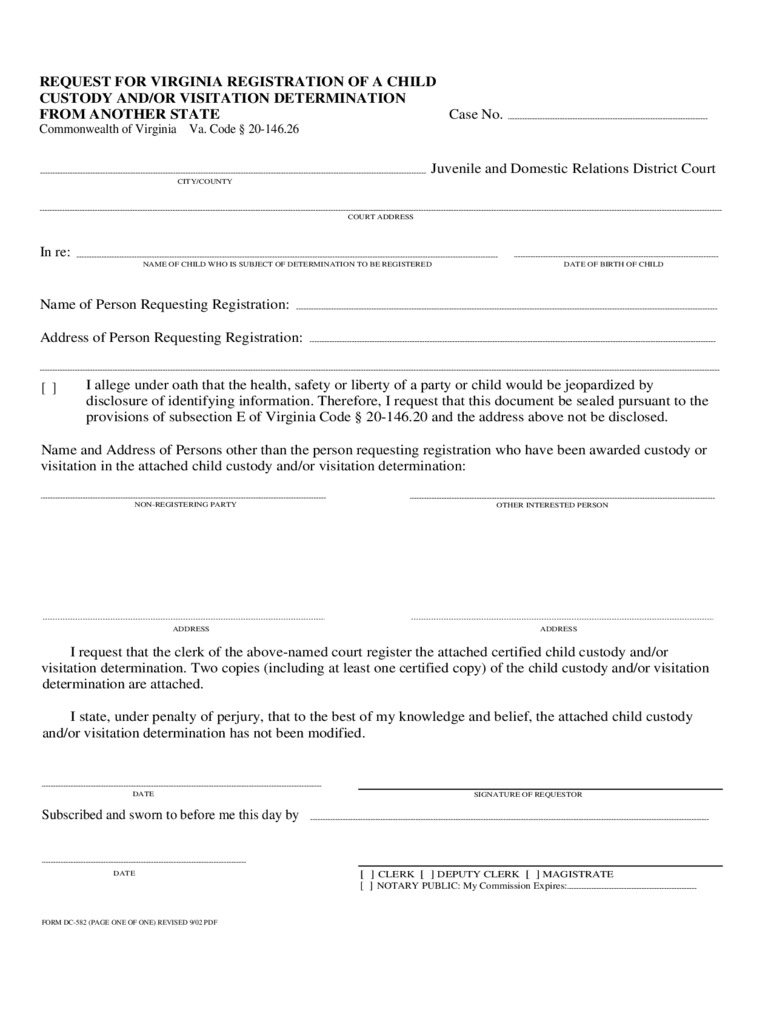 Request for Virginia Registration of a Child Custody and/or Visitation Determination from Another State REQUEST FOR VIRGINIA REGISTRATION OF A CHILD
CUSTODY AND/OR VISITATION DETERMINATION
FROM ANOTHER STATE
Case No.
Commonwealth of Virginia Va. Code § 20-146.26
Juvenile and Domestic Relations District Court
CITY/COUNTY
COURT ADDRESS
In re:
NAME OF CHILD WHO IS SUBJECT OF DETERMINATION TO BE REGISTERED DATE OF BIRTH OF CHILD
Name of Person Requesting Registration:
Address of Person Requesting Registration:
I allege under oath that the health, safety or liberty of a party or child would be jeopardized by
disclosure of identifying information. Therefore, I request that this document be sealed pursuant to the
provisions of subsection E of Virginia Code § 20-146.20 and the address above not be disclosed.
[ ]
Name and Address of Persons other than the person requesting registration who have been awarded custody or
visitation in the attached child custody and/or visitation determination:
NON-REGISTERING PARTY
OTHER INTERESTED PERSON
ADDRESS
ADDRESS
I request that the clerk of the above-named court register the attached certified child custody and/or
visitation determination. Two copies (including at least one certified copy) of the child custody and/or visitation
determination are attached.
I state, under penalty of perjury, that to the best of my knowledge and belief, the attached child custody
and/or visitation determination has not been modified.
DATE
SIGNATURE OF REQUESTOR
Subscribed and sworn to before me this day by
[ ]
CLERK
[ ]
DEPUTY CLERK
[ ]
MAGISTRATE
DATE
[ ]
NOTARY PUBLIC: My Commission Expires:
FORM DC-582 (PAGE ONE OF ONE) REVISED 9/02 PDF