Fillable Printable Request for Volunteers Sample
Fillable Printable Request for Volunteers Sample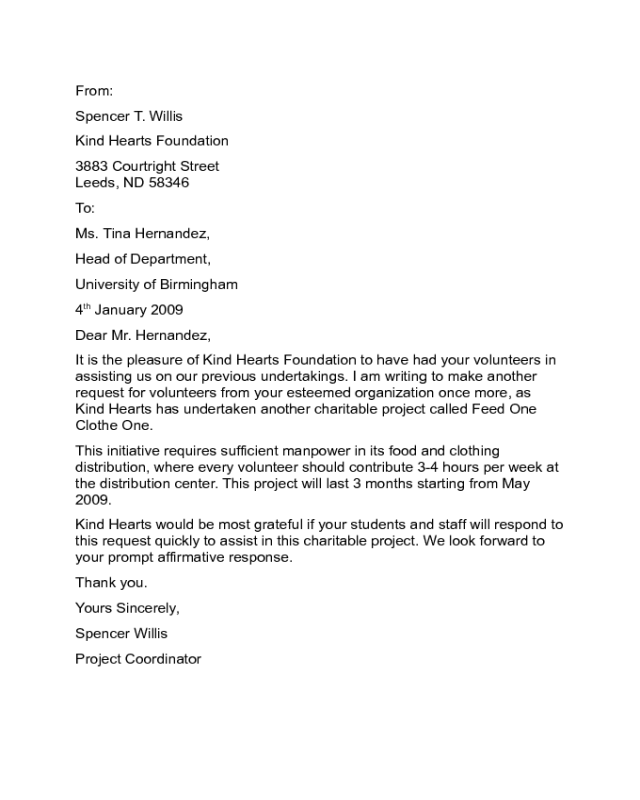 Request for Volunteers Sample
From:
Spencer T. Willis
Kind Hearts Foundation
3883 Courtright Street
Leeds, ND 58346
To:
Ms. Tina Hernandez,
Head of Department,
University of Birmingham
4
th
January 2009
Dear Mr. Hernandez,
It is the pleasure of Kind Hearts Foundation to have had your volunteers in
assisting us on our previous undertakings. I am writing to make another
request for volunteers from your esteemed organization once more, as
Kind Hearts has undertaken another charitable project called Feed One
Clothe One.
This initiative requires sufficient manpower in its food and clothing
distribution, where every volunteer should contribute 3-4 hours per week at
the distribution center. This project will last 3 months starting from May
2009.
Kind Hearts would be most grateful if your students and staff will respond to
this request quickly to assist in this charitable project. We look forward to
your prompt affirmative response.
Thank you.
Yours Sincerely,
Spencer Willis
Project Coordinator