Fillable Printable Resume Objective Statement Example
Fillable Printable Resume Objective Statement Example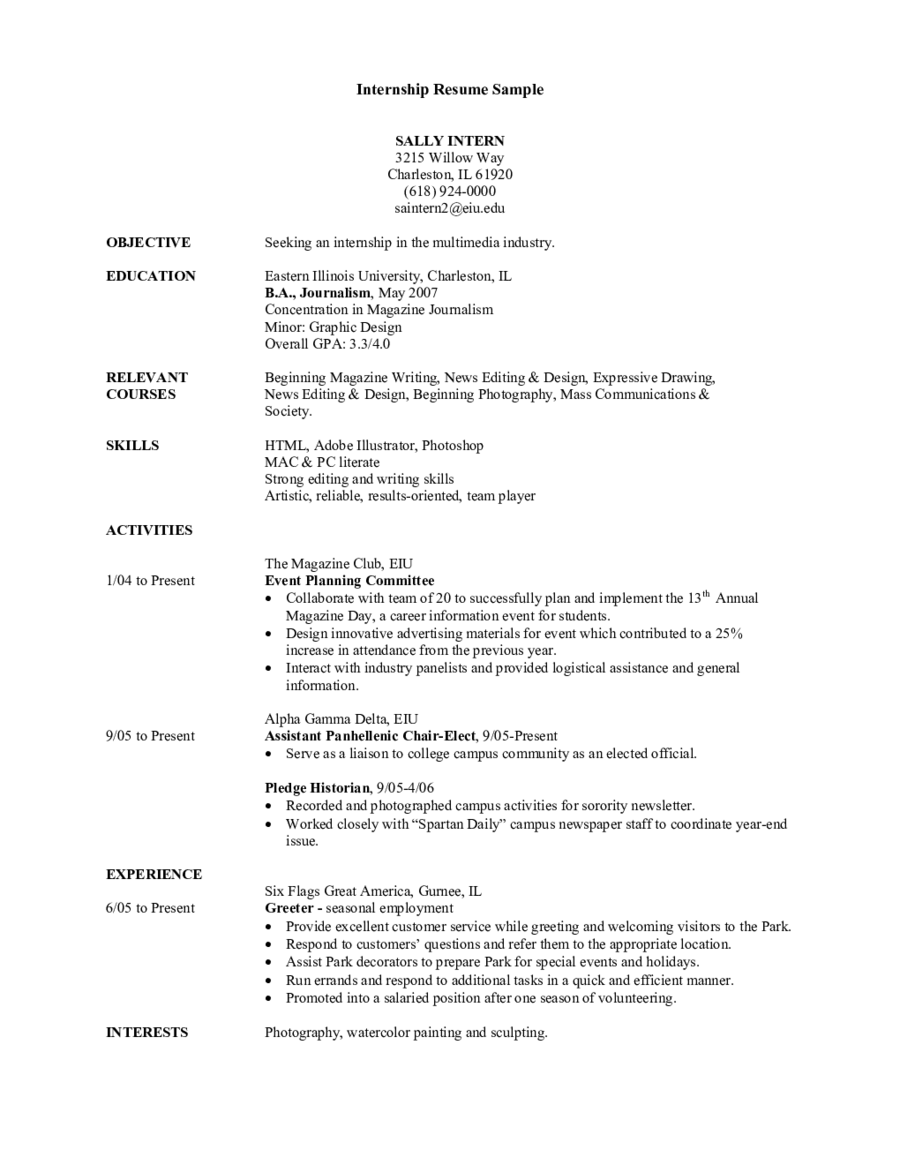 Resume Objective Statement Example
Internship Resume Sample
3215 Willow Way
Charleston, IL 61920
(618) 924-0000
OBJECTIVE
Seeking an internship in the multimedia industry.
EDUCATION
Eastern Illinois University, Charleston, IL
B.A., Journalism
, May 2007
Concentration in Magazine Journalism
Minor: Graphic Design
Overall GPA: 3.3/4.0
RELEVANT
Beginning Magazine Writing, News Editing & Design, Expressive Drawing,
COURSES
News Editing & Design, Beginning Photography, Mass Communications &
Society.
SKILLS
HTML, Adobe Illustrator, Photoshop
MAC & PC literate
Strong editing and writing skills
Artistic, reliable, results-oriented, team player
ACTIVITIES
The Magazine Club, EIU
1/04 to Present
Event Planning Committee
•
Collaborate with team of 20 to su

ccessfully plan and implement the 13
th
Annual
Magazine Day, a career inform
ation event for students.
•
Design innovative advertising materials for event which contributed to a 25%
increase in attendance from the previous year.
•
Interact with industry panelists and provided logistical assistance and general
information.
Alpha Gamma Delta, EIU
9/05 to Present
Assistant Panhellenic Chair-Elect
, 9/05-Present
•
Serve as a liaison to college campus

community as an elected official.
Pledge Historian
, 9/05-4/06
•
Recorded and photographed campus activities for sorority newsletter.
•
Worked closely with "Spartan Daily" campus

newspaper staff to coordinate year-end
issue.
Six Flags Great America, Gurnee, IL
6/05 to Present
Greeter -
seasonal employment
•
Provide excellent customer service while greeting and welcoming visitors to the Park.
•
Respond to customers' questions and refe

r them to the appropriate location.
•
Assist Park decorators to prepare Pa

rk for special events and holidays.
•
Run errands and respond to additional tasks in a quick and efficient manner.
•
Promoted into a salaried position af

ter one season of volunteering.
INTERESTS
Photography, watercolor painting and sculpting.