Fillable Printable Sample Motor Vehicle Bill of Sale Form - Colorado
Fillable Printable Sample Motor Vehicle Bill of Sale Form - Colorado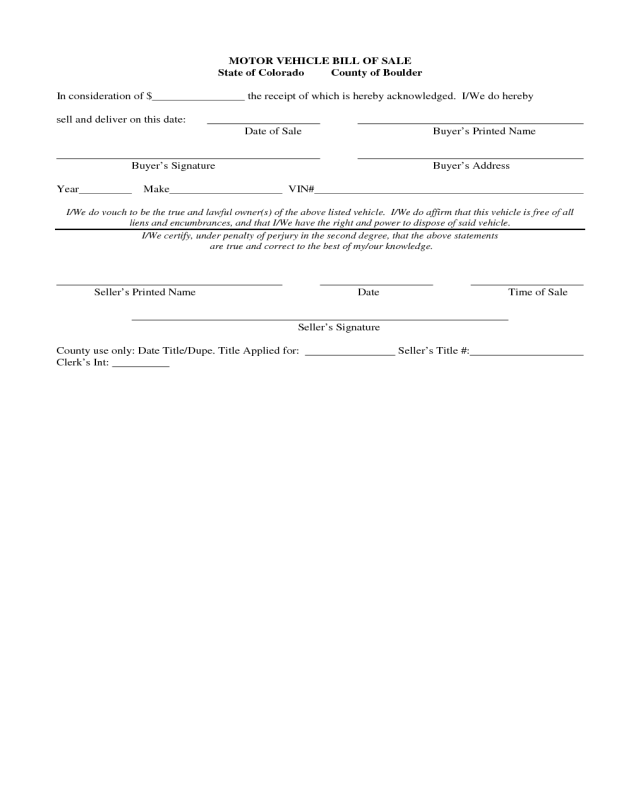 Sample Motor Vehicle Bill of Sale Form - Colorado

MOTOR VEHICLE BILL OF SALE
State of Colorado
County of Boulder
In consideration of $
the receipt of which is hereby acknowledged. I/We do hereby
sell and deliver on this date:
Date of Sale
Buyer's Printed Name
Buyer's Signature
Buyer's Address
I/We do vouch to be the true and lawful owner(s) of the above listed vehicle. I/We do affirm that this vehicle is free of all
liens and encumbrances, and that I/We have the right and power to dispose of said vehicle.
I/We certify, under penalty of perjury in the second degree, that the above statements
are true and correct to the best of my/our knowledge.
Seller's Printed Name
Date
Time of Sale
Seller's Signature
County use only: Date Title/Dupe. Title Applied for:
Seller's Title #: