Fillable Printable Sample Nursing Resume
Fillable Printable Sample Nursing Resume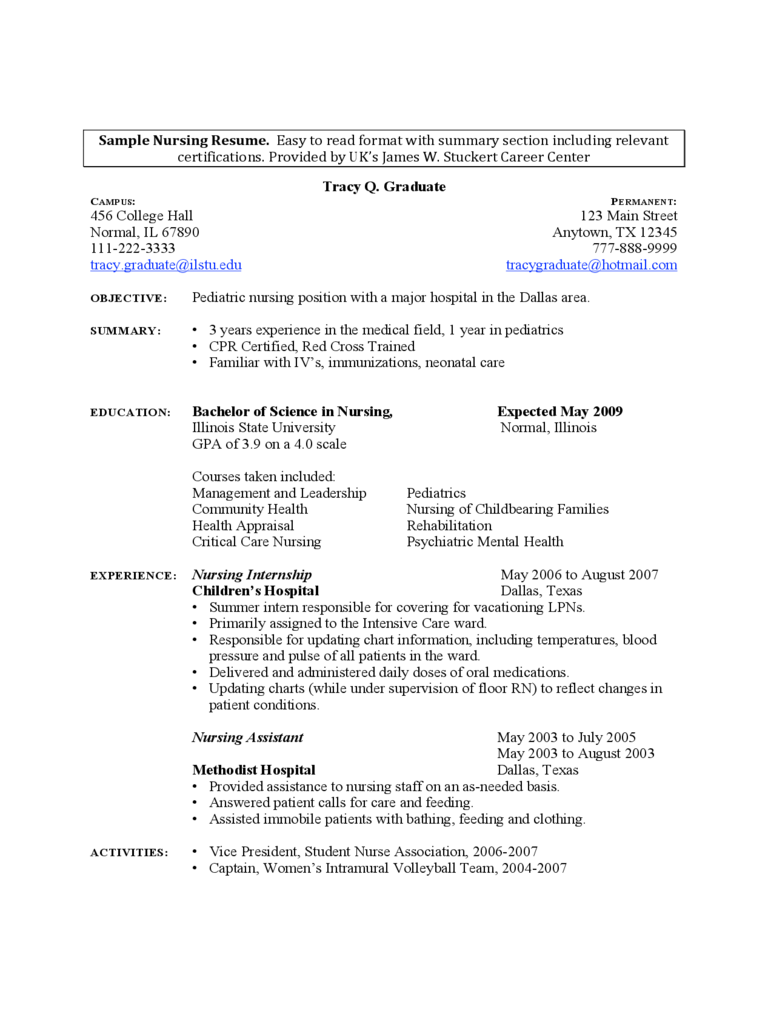 Sample Nursing Resume

Sample'Nursing'Resume.
!!Easy!to!read!format!with!summary!section!including!relevant!
certifications.!Provided!by!UK's!James!W.!Stuckert!Career!Center!
'
Tracy Q. Graduate
456 College Hall
Normal, IL 67890
111-222-3333
123 Main Street
Anytown, TX 12345
777-888-9999
OBJECTIVE:
Pediatric nursing position with a major hospital in the Dallas area.
SUMMARY:
•

3 years experience in the medical field, 1 year in pediatrics
•
CPR Certified, Red Cross Trained
•
Familiar with IV's, immunizations, neonatal care
EDUCATION:
Bachelor of Science in Nursing,

Expected May 2009
Illinois State University
Normal, Illinois
GPA of 3.9 on a 4.0 scale
Management and Leadership
Pediatrics
Community Health
Nursing of Childbearing Families
Health Appraisal
Rehabilitation
Critical Care Nursing
Psychiatric Mental Health
EXPERIENCE:
Nursing Internship

May 2006 to August 2007
Children's Hospital
Dallas, Texas
•
Summer intern responsible for covering for vacationing LPNs.
•
Primarily assigned to the Intensive Care ward.
•
Responsible for updating chart information, including temperatures, blood
pressure and pulse of all patients in the ward.
•
Delivered and administered daily doses of oral medications.
•
Updating charts (while under supervision of floor RN) to reflect changes in
patient conditions.
Nursing Assistant
May 2003 to July 2005
Methodist Hospital
Dallas, Texas
•
Provided assistance to nursing staff on an as-needed basis.
•
Answered patient calls for care and feeding.
•
Assisted immobile patients with bathing, feeding and clothing.
ACTIVITIES:
•

Vice President, Student Nurse Association, 2006-2007
•
Captain, Women's Intramural Volleyball Team, 2004-2007