Fillable Printable Sample Vehicle Bill of Sale Format
Fillable Printable Sample Vehicle Bill of Sale Format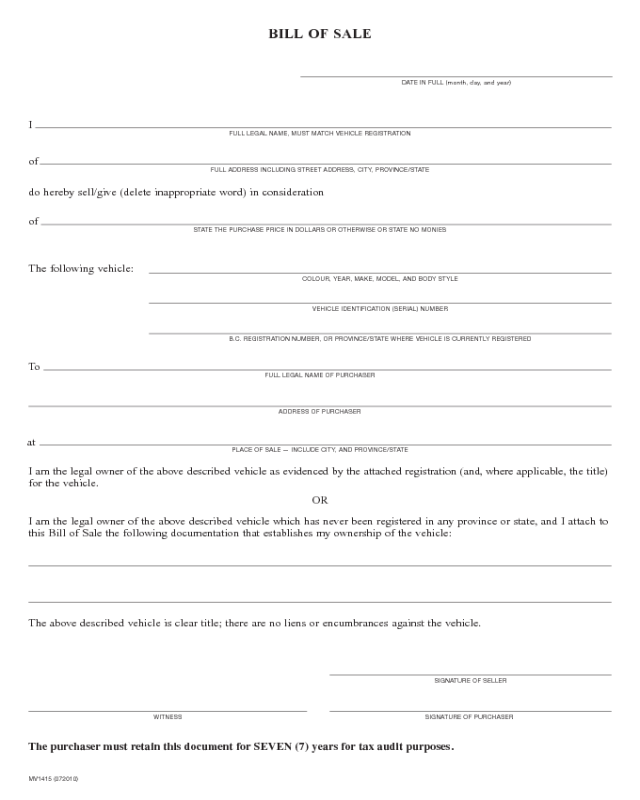 Sample Vehicle Bill of Sale Format
MV1415 (072010)
witness
signature of purchaser
signature of seller
The above described vehicle is clear title; there are no liens or encumbrances against the vehicle.
I am the legal owner of the above described vehicle as evidenced by the attached registration (and, where applicable, the title)
for the vehicle.
or
I am the legal owner of the above described vehicle which has never been registered in any province or state, and I attach to
this Bill of Sale the following documentation that establishes my ownership of the vehicle:
address of purchaser
full legal naMe of purchaser
B.c. registration nuMBer, or proVince/state where Vehicle is currently registered
Vehicle identification (serial) nuMBer
colour, year, Make, Model, and Body style
state the purchase price in dollars or otherwise or state no Monies
full address including street address, city, proVince/state
full legal naMe, Must Match Vehicle registration
date in full (month, day, and year)
To
of
of
I
The following vehicle:
do hereby sell/give (delete inappropriate word) in consideration
place of sale — include city, and proVince/state
at
The purchaser must retain this document for SEVEN (7) years for tax audit purposes.