Fillable Printable Spar Employment Application Form
Fillable Printable Spar Employment Application Form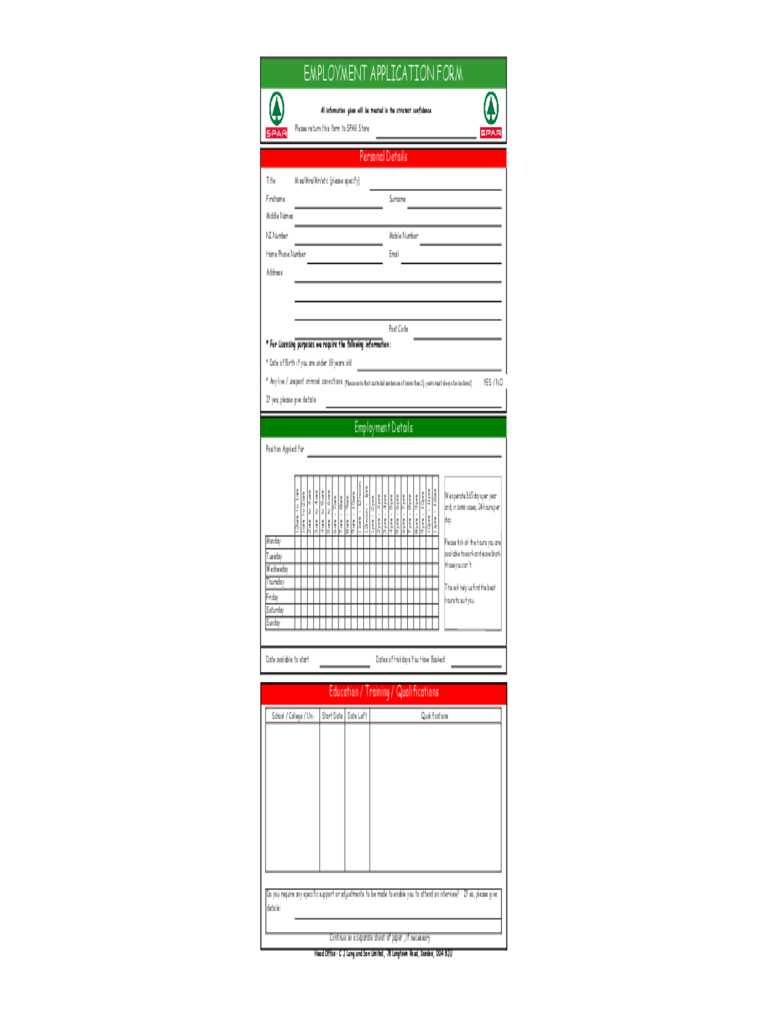 Spar Employment Application Form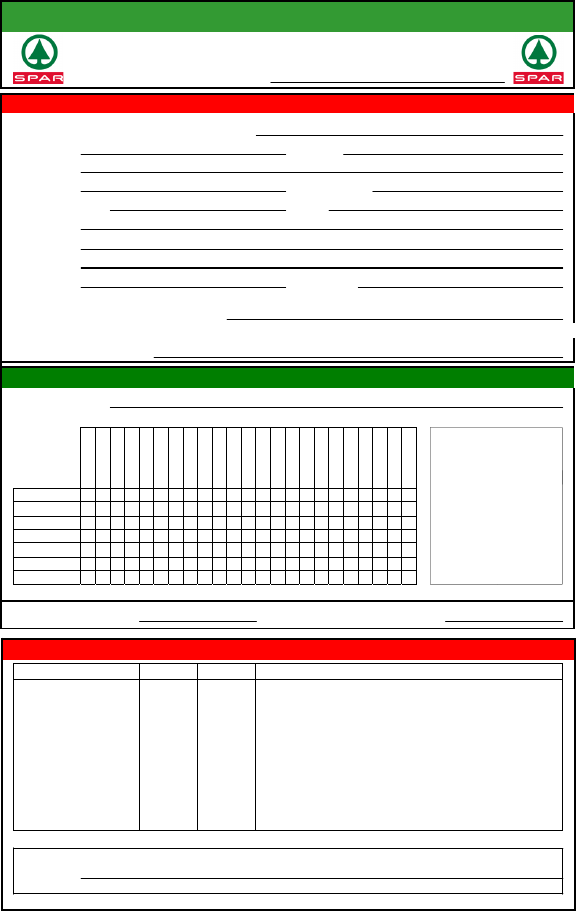 12am to
1am
1am to
2am
2am to
3am
3am to
4am
4am to
5am
5am to
6am
6am -
7am
7am -
8am
8am -
9am
9am -
10am
11am -
12noon
12noon -
1pm
1pm -
2pm
2pm -
3pm
3pm -
4pm
4pm -
5pm
5pm -
6pm
6pm -
7pm
7pm -
8pm
8pm -
9pm
9pm -
10pm
10pm -
11pm
11pm -
12am
FORM
All information given will be treated in the strictest
confidence
Please return this form to SPAR
Store
Personal
Deta
ils
Title
Miss/Mrs/Mr/etc (please
specify)
First name
Surname
Middle
Names
Number
Home Phone Number
Email
Address
Post
Code
* For
Licensing purposes
we
require
the
following
* Date of Birth if you are under 18 years
old
* Any live / unspent criminal convictions
(Please note that custodial sentences of more than 2½ years must always be declared)
YES /
NO
If yes, please give
details
Employment
Deta
ils
Position Applied
for
We operate 365 days per year
and, in
some
cases, 24 hours per
day.
Please tick
all the hours you are
available to work and leave blank
those you can't.
This will help us find the best
hours to suit you.
Date available to start
Dates of Holidays You Have
Booked
Education / Training / Qualifications
School / College /
Uni
Date
Do you require any specific support or adjustments to be made to enable you to attend an interview?
If so, please
give
details:
Continue
on a
separate sheet
of
paper
, if necessary
Head
Office:
C J Lang and Son
Limited,
78
Longtown
Road,
Dundee,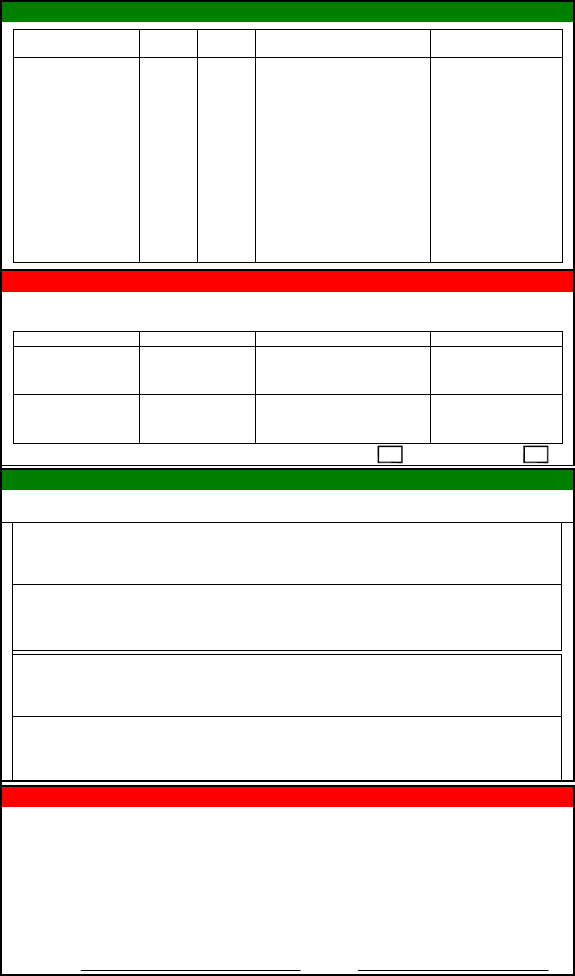 er Name &
Address
(most recent
first)
Start
Date
Date
Left
Role &
Responsibilities
Leaving
Contact
Name
Position
ment
Relationship
Employment Experience
Referenc
es
From the above list, please provide details of two employers whom we may contact for references. One must be
your
most recent
employer.
Please tick to indicate when we may request references for you:
Immediately

After job is
offered
Competence
Questions
Your behaviour in our store
is critical to Customer Service. The following questions will help us determine
your
suitability to meet our competency
standards:
1 Give an example of true team
work
2 Describe a shopping experience where you received excellent customer
service
3 How would
customer?
4 How can your body language have a positive impact on
others?
De
clar
ati
o
n
Employment with us will be subject to satisfactory references and possibly to a medical examination. If selected
for
interview, Government legislation requires that you brin
g with you documents to provide evidence that you are
allowed
to work in the UK e.g. a current UK Passport or Birth Certificate accompanied by a P60/P45 or UK Work
Permit.
Please bring the original documents and copies for our records. For further details please refer
to
www.ukba.homeoffice.gov.uk
Failure to disclose information, or pr
oviding false information in this application or at interview, could lead
to
termination of any employment with this
Company.
The facts set forth in this application for employment are, to the best of my knowledge, true and
complete.
Dated: