Fillable Printable Teaching CV Examples
Fillable Printable Teaching CV Examples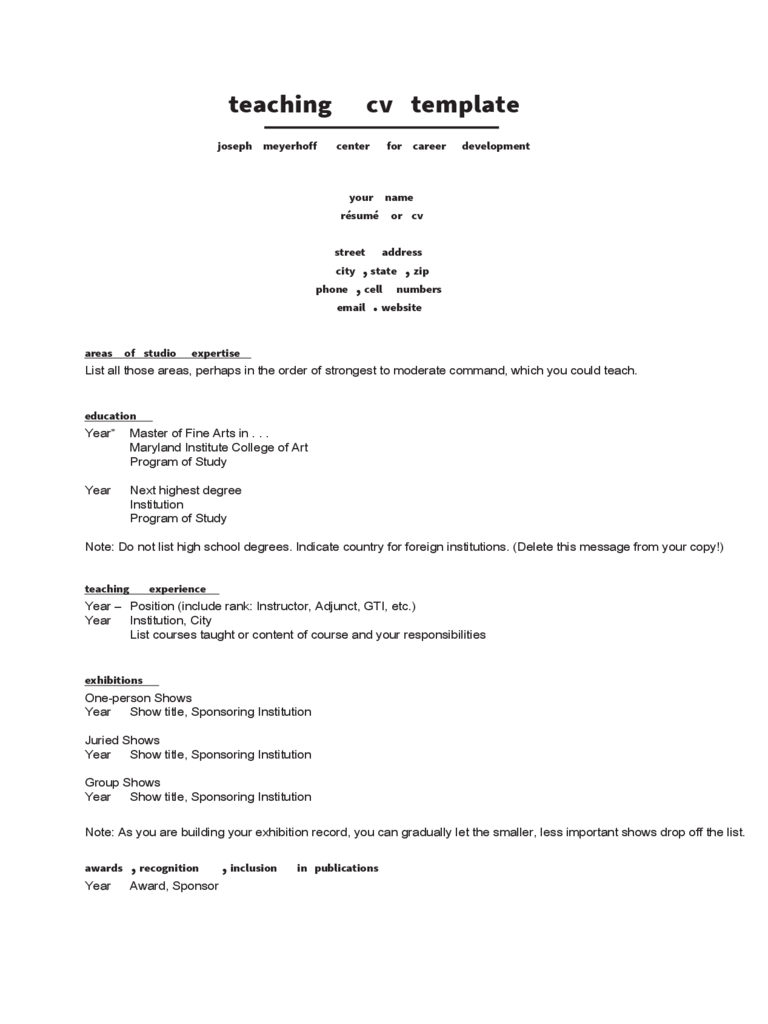 Teaching CV Examples

teaching
cv
template
résumé
or
cv
street
address
city
,
state
,
zip
phone
,
cell
numbers
email
.
website
areas
of
studio
expertise
List all those areas, perhaps in the order of strongest to moderate command, which you could teach.
education
Year*
Master of Fine Arts in . . .
Maryland Institute College of Art
Note: Do not list high school degrees. Indicate country for foreign institutions. (Delete this message from your copy!)
Year –
Position (include rank: Instructor, Adjunct, GTI, etc.)
List courses taught or content of course and your responsibilities
exhibitions
One-person Shows
Year
Show title, Sponsoring Institution
Juried Shows
Year
Show title, Sponsoring Institution
Group Shows
Year
Show title, Sponsoring Institution
Note: As you are building your exhibition record, you can gradually let the smaller, less important shows drop off the list.
awards
,
recognition
,
inclusion
in
publications
joseph
meyerhoff
center
for
career
development

additional
professional
experiences
Note: This "catch-all" category might include shows you've curated, articles you've published, websites you've created, arts
organizations in which you've participated, etc.
Final note: Most institutions/organizations will not read more than a page or two of your résumé. So if you have A LOT
of experience, do some judicious editing of your curriculum vitae (the document which articulates your entire professional
history) based on your knowledge of the type of school/organization to which you are applying. Because this is a "teach-
ing résumé," your teaching experience is listed first. If this résumé were to accompany your work in an exhibition, you
might delete "Areas of Studio Expertise" and place the exhibition record immediately after "Education."
Margins, Font choices, bold or italic text, and layout should suit your personal aesthetic while being very legible. This
template is merely a suggestion.
• Compiled by Stacey McKenna for
ED 5533 Philosophy & Pedagog y of Post-secondary Visual Arts Education
.
joseph
meyerhoff
center
for
career
development
teaching
cv
template

john
mica
AREAS OF STUDIO EXPERTISE
Graphic Design, Color & Design, Electronic Media, Programming for Artists, Electronics for
Artists, Digital Imaging, Ceramics, Drawing
EDUCATION
2012
M.F.A. Photographic and Electronic Media
Maryland Institute College of Art, Baltimore, MD
2004
B.A. Visual Communication Design
Eastern Washington University, Cheney, WA
B.A. Fine Art (Studio)
Eastern Washington University, Cheney, WA
2001
Associates of Fine Art
Spokane Falls Community College, Spokane, WA
TEACHING EXPERIENCE
2010 - 2011
Maryland Institute College of Art, Baltimore, MD
Elements of Visual Thinking
Provide a foundation and environment for investigating concepts and principles of visual organization, color,
and design. Use a wide range of approaches and media to help develop greater perceptual and conceptual
awareness and understanding. Assist in the primary advising for students for the entire freshman year.
Managed moodle content system for the class. Lead fieldtrips to the Baltimore Museum of Art and act as a liason
between the docents, faculty, and students. Tutor students in writing as well as slide/artist memerzation.
The Art of Electric Light
Assist in a learning environment that encourages the process of making, interactively, and narrativity using the
properties of light. Responsible for tutoring students that are not up to speed with the basic principles of
programming, electricity, and physical computing.
Direct discussion groups about media theory, apply various new media methods, and technologies, including
sound, electronics, net/web events, and beyond to the creation of participatory projects based on games,
gaming, and play. Work with individual students to create a secure foundation of object oriented programming and
how it applies to making art.
Electronic Media and Culture
Work with incoming freshman students to introduce the fundamental concepts of electronic media, digital art,
and design, along with an introduction to cultural and media literacy, theory, and technologies.
Served as the voice of the artist tempered against the voice of the historian (Instructor). Helped to guide the
class in discussions in the different historical/cultural understandings of the relationship of the creative - and cre
ating - self with other objects (nature) and other selves (society), and these differences are connected with a set
of larger fundamental questions about the purpose of human life.
2010 - 2011
Eastern Washington University, Cheney, WA
Responsible for creating and teaching a course on software skill development using Adobe Photoshop,
Illustrator and InDesign. Integrated a whole learning approach and taught all three programs in tandem as well as
introducing an industry type work environment in which I was the creative director and the students were the
artists/designers. I developed small modular projects that built upon each other and lead to the creation of a
1234 Eutaw Place #1
Baltimore, MD 21217
410.444.5555

Visual Communication and Design
Responsible for creating and teaching a course introducing students to visual communication design including
the theories, principles and practices of visual communication, concept development, design process and
design technology. Course was based around the ideas and concepts of Ellen Lupton's book
Graphic Design: The New Basics.
2008
SUBSTITUTE FACULTY - DIGITAL ART
Eastern Washington University, Cheney, WA
WORKSHOPS
2011
Processing Programing Environment
SOLO EXHIBITIONS
2011
There All Going to Laugh at You,
Gravity Gallery, Maryland Institute College of Art, Baltimore, MD
2011
Can You Hear Me Now?,
Gravity Gallery, Maryland Institute College of Art, Baltimore, MD
2010
No Reservations,
The Globe, Spokane, WA
2009
Changing Resolutions,
Baby Bar, Spokane, WA
2007
100 Pieces of Me,

Prago Argentine Cafe, Spokane, WA
2004
Calibrating the Eye for Beauty,
Far West Billiards & Gallery, Spokane, WA
JURIED EXHIBITIONS
Terrain 2008,
Terrain, Spokane, WA
GROUP EXHIBITIONS
2011
PEM Fall Show,
Maryland Institute College of Art, Baltimore, MD
Suggested Upgrades,
City Arts Gallery, Baltimore, MD
2012 MFA Candidate Show,
Maryland Institute college of Art, Baltimore, MD
2010
PEM Fall Show,
Maryland Institute College of Art, Baltimore, MD
2009
Intoxicated Dreams of Youth Year 3,
Spokane, WA
Group Show,
Baby Bar, Spokane, WA
2008
Devolve,
Far West Billiards, Spokane, WA
Intoxicated Dreams of Youth Year Two,

Spokane, WA
2007
Intoxicated Dreams of Youth,

Spokane, WA
2006
Group Exhibition,

The Spread, Spokane, WA
2004
17 Beginnings,
Brewster Hall, Cheney, WA
2001
Group Exhibition,

Crawford Gallery, Deer Park, WA
AWARDS, RECOGNITION, INCLUSION IN PUBLICATIONS
Certificate in College Teaching of Art
2001
Featured in student publication "The Wire Harp"
ADDITIONAL PROFESSIONAL EXPERIENCES
2011
Graduate Program Assistant
Technician for the Photographic and Electronic Media program
Graduate Student Union Representitive
Custom Web Application Development : Maryland Institute College of Art
higheredforms.org
2009
Curator, juror, and gallery install for Terrain 2009
2008 - 2011
Freelance Web Development

cover
letters
*Use heading from your resume
to include your contact information*
Date
Contact Person (Mr., Mrs., or Ms.)
Title
Company Name
Address
City, State, Zip
(Country if applicable)
Dear (Mr., Mrs., or Ms.),
Whenever possible, the cover letter should be directed to a specific person. This
improves the chances of your materials being reviewed by the proper person or committee. Research on the
organization's website or call to determine this information. Avoid using "To Whom it May Concern," and use
Hiring Manager or Selection Committee instead.
OPENING PARAGRAPH- The Introduction:
Introduce yourself and identify why you are contacting them. If
you are a student, include your department, year in school and MICA's name. In this first introduction, you want
to write Maryland Institute College of Art (MICA), and then use the shortened version for the rest of the letter.
Explain where you found out about the opportunity (on MICAnetwork, the organization's website, job search
website, magazine, etc.), and if you have been referred to this contact by another individual, identify him or her in
this paragraph.
SECOND PARAGRAPH - What You Know About Them:
This may seem silly, but the employer will be
impressed that you have done your homework about them. Research the company using their website and take
notes of projects or ideals that you are impressed with. Mention a few examples of and share why you see yourself
fitting in at their school. Of all of the jobs out there, why do you want to work for them?
THIRD PARAGRAPH - Your Contribution:
Highlight the relevant parts of your resume that most qualify you
for the position. Site specific teaching experiences and elements of your studio practice that demonstrate what you
will be bringing to the employer. Why are you the best person for the job? What unique strengths do you have
and how can they be utilized? Remember, this is not the time to restate your entire resume, just connect yourself
in a meaningful way to the school with what you can bring.
FINAL PARAGRAPH - The Connection:
Close your letter by thanking the prospective employer for their time
and consideration. Use the employer's name again and reiterate your enthusiasm for working for them. Indicate
what will happen next, stating you will follow up on the receipt of your materials and explore whether an interview
can be arranged at that time. Let them know the best way to get in touch with you. Make mention of all the
documents that you are attaching for their review- i.e. CV, Sample Syllabus, and Portfolio of Student Work If
your search is long distance, indicate when you will visit the area. If you plan to relocate or if you are best reached
at certain days/times, this is the place to say so. Remember, do whatever you say you are going to do here, mark it
on your calendar and follow up!
Sincerely,
Your name
(typed)
joseph
meyerhoff
center
for
career
development

statement
of
teaching
philosophy
suggested
outline
Usually, a Statement of Teaching Philosophy is requested when you submit a letter of application
for a teaching position at the college level.
The format is typically a single page document headed at the top with your name and underneath Statement of Teaching
Philosophy. It is usually single-spaced with a space between paragraphs, but it is more important that the document
reflects your own personal aesthetic, and be visually unified with the other documents in your Professional Teaching
Portfolio.
The following is a three-paragraph outline covering three questions colleges often want to know. Use these questions, as
well the recommended articles from the Chronicle of Higher Education to guide your thinking.
1. What do you understand about the process of teaching and learning in art?
Consider what you have learned over your years of being a student of art. Think about the course of your development
in art and those times when you really felt like you were learning and growing as an artist. Also reflect on your teaching
experiences in your GTI, or other teaching; and your reading(s) about research in adult learning. Any or all of these
might contribute to your statement regarding how one teaches and learns in a studio art context.
2. What kind of a teaching environment will you create for your students?
Reflect on the teaching environments that most resonate with you—either as a student, a teacher, or a Graduate
Teaching Intern. Think about how the instructor created that environment. Consider what kind of relationship you
want to have with your students, as well as what kind of relationships you hope they will have with one another.
Consider your readings on creativity, and whether any of the authors' theories or suggestions for nurturing creativity in
learners resonated with you.
3. What do you hope, in the end, your students will take away from your classes?
Given: some of your students will never take a studio art course after yours; other students will continue to study art for
the pleasure of it; still others will become serious enough to focus on studio art in order to develop a career in the visual
arts and/or maintain an art practice as a part of their life. What is it, above all, that you hope all of these students will
remember, understand, or embrace—based on their encounter with you as their studio instructor?
• Created by Dean Karen Carroll and faculty member Stacey McKenna of the Center for Art Education.
joseph
meyerhoff
center
for
career
development
teaching
philosophy
template

content
of
an
artist
statement
An artist statement for a teaching portfolio is a general introduction to you as an artist and the work you have already
made. The content of the artist statement you will write will become the foundation for further refinements as you and
your work continue to grow. A possible added benefit to writing this artist statement is that you will be able to easily adapt
it for immediate use in exhibition proposals and scholarship applications. The final statement should be no more than one
page single-spaced.
organization
for
an
artist
statement
in
your
teaching
portfolio
First paragraph:
Share an anecdote from your development as an artist sometime just before, or early on in, creating the
artwork accompanying your statement. Or, choose some other brief but personal introduction to you as an artist.
Second paragraph:
Describe the most important influences or developments leading to, or embedded in, the work
accompanying your statement. These influences might include any of the following:
•
important or influential people encountered in your life
•
artists whom you admire or artists working with similar themes
•
visual culture/pop culture
•
other fields of inquiry such as music, literature, science, philosophy, etc.
•
political, social, or cultural issues of concern to you
•
personal history or significant events in your life
Third paragraph:
Describe the most essential qualities of your current work, and reference examples, as appropriate, from
the six artworks that accompany your statement. (No need to mention all six artworks in your artist statement.) Qualities
you mention might include some or all of the following:
•
materials most often used
•
processes used for coming up with ideas or for constructing the work
•
theme(s) your work usually addresses
•
formal or aesthetic concerns (for example: color preferences, attention to surface or texture, rhythmic
organization, etc.)
•
concepts and/or meanings explored
writing
style
for
an
artist
statement
in
your
teaching
portfolio
*
An artist statement should be clear and direct. If appropriate to your work, you may choose a personal style, using the
emotional tone as a hook to grab your audience. The following excerpt is expressive in tone:
My painted figures confront you with sullen stares of disenchantment, alienation, and fear. Harsh bloody marks line
their faces, like war paint, wounds, or self-inflicted scarring.
Or, you may choose to write in a more reserved style, with a theoretical, academic, or analytic tone if it is an accurate
reflection of your work. For example:
I am interested in positioning my work as both painting and as signifier of style. A recent Art in America article by
Hal Foster reflects some of the conceptual basis of my work. Examining the current resurgence of abstract painting,
Foster found that it functions as simulation and, as such, recalls a style of art without engaging in the ideas and
conflicts inherent in that style.
joseph
meyerhoff
center
for
career
development
guidelines
for
writing
an
artist
statement

In any case, do not refer to yourself as "the artist." It is important that the artist statement feels as if it comes from you,
so the first person voice is essential. (First person voice means the writer uses "I" statements such as "In my work, I. . . ."
or "I believe that. . . ."). Likewise, use an active voice: "I installed the woven structure. . . ." not passive voice: "The woven
structure was installed. . . ."
Finally, after writing a draft, set it aside for a day or so. Then re-read and edit; you'll notice things to improve that you
just cannot see when you are in the middle of writing. Or, if you have a friend who writes well, ask them to proofread
your statement and make suggestions. Either way, you benefit greatly by NOT waiting until the night before to begin
your artist statement!
*The examples of tone and some other information in this document are synthesized from Margaret R. Lazzari's The
Practical Handbook for the Emerging Artist, 2nd edition. Thomson Learning, Inc., United States, 2002.Guidelines for
writing an Artist Statement: Teaching Portfolio
• Compiled by Stacey McKenna for
ED 5533 Philosophy & Pedagog y of Post-secondary Visual Arts Education

.
joseph
meyerhoff
center
for
career
development
guidelines
for
writing
an
artist
statement

course
identification
:
name
of
course
,
course
number
,
credits
information
on
meeting
dates
and
times
,
location
instructor
'
s
name
&
ways
to
reach
instructor
(
note
:
you
are
the
instructor
.)
Course Description:
Copy the description printed in the institutional bulletin or catalog. (If creating a new course, write
a new description using printed catalog course descriptions as a guide to format and content.)
Goals:
Write a short paragraph containing any goals the institution and/or department have that are especially relevant
to this course. Include your own particular vision as instructor, which might describe generally what you hope the course
will accomplish. As a part of this, you might identify behaviors, attitudes, knowledge, and skills you hope your students
will learn that you believe will benefit them as artists and/or human beings/citizens of the world. Goals need not be
assessable, so be ambitious. More information about generating ideas for goals will be made available to you.
Basic Plan for the Course:
In this section you should explain how the course is structured or designed. Sometimes this
is merely a brief statement in the syllabus,; other times it might be a detailed class-by-class outline. At this early stage in
developing your course, most of you might prefer the brief paragraph.
Evaluation:
The evaluation methods should be consistent with course goals; identify requirements and criteria for
evaluating the work.
Policy on Attending and Grading:
Refer to or quote from the institution's academic policies. State what you would like
students to do in case they have to miss class.
Policy on Class Cancellation:
Quote from or refer to the institutional policy or directions. Check your MICA Academic
Bulletin.
Materials:
Make a list of the primary materials required. (I like to include a budget as well, so the students can plan the
financial investment ahead of time.)
Reading/Reference Materials:
Make a list of required and/or recommended texts. (Notify the institution's bookstore a
month in advance to that any texts and materials will be in stock by the first week of classes.)
Additional Information:
Include any other information that will be helpful for students to know about the class: field
trips, responsibility for transportation, campus resources, etc.
required
information
on
mica
syllabi
ADA Compliance Statement
The LRC recommends the following statement for use on course syllabi:
Learning Resource Center ADA Compliance Statement Any student who feels s/he may need an accommodation based
on the impact of a disability should contact the instructor privately to discuss specific needs. Please contact the Learning
joseph
meyerhoff
center
for
career
development
syllabus
template

Resource Center at 410-225-2416, in Bunting 458, to establish eligibility and coordinate reasonable accommodations. For
additional information please refer to: http://www.mica.edu/LRC
Health and Safety Compliance From the Office of Environmental Health and Safety (EHS)
The Office works to provide EHS support for all members of the MICA community. The primary goal of the Office is
to be proactive in establishing a culture of safety in which each member of the community shares ownership responsibility
that allows each person to be involved in maintaining a healthy work and studying environment. EHS uses several
methods to achieve this objective.
First, the EHS office looks at the totality of the EHS requirements by combining campus needs with state and federal
requirements and clearly communicating the shared policies and procedures. Second, EHS identifies training needs
and develops guidelines for the use of equipment, material and procedures. Third, we ensure compliance with policies
through evaluations, inspections, and committees.
It is the responsibility of faculty and students to understand health and safety policies relevant to their individual activities
and to review MICA's Emergency Action Plan, as well as to participate in training, drills, etc. It is also each faculty
member's responsibility to coordinate with the EHS Office to ensure that all risks associated with their class activities are
identified and to assure that their respective classroom procedures mirror the EHS and Academic Department guidelines.
Each of the Academic Department's also publish EHS procedures and policies such as a dress code, the use of personal
protective equipment, fire safety, training, and how to properly dispose of chemical waste. Each of these policies and
procedures must be followed by all students and faculty. Most importantly, it is the responsibility of the faculty to
review, test, and assess each student's awareness of basic safety procedures, such as evacuation routes, use of chemicals,
fire prevention, and all other guidelines posted by the Environmental Health and Safety Office, (e.g., smoking policy,
independent studio policies, pet policy, disposing of hazardous and chemical waste, etc).
To become a member of the Faculty EHS Committee or for any questions relating to EHS, please contact Denelle
• Compiled by Stacey McKenna for
ED 5533 Philosophy & Pedagog y of Post-secondary Visual Arts Education

.
joseph
meyerhoff
center
for
career
development
syllabus
template