Fillable Printable Trampoline Waiver Sample Form
Fillable Printable Trampoline Waiver Sample Form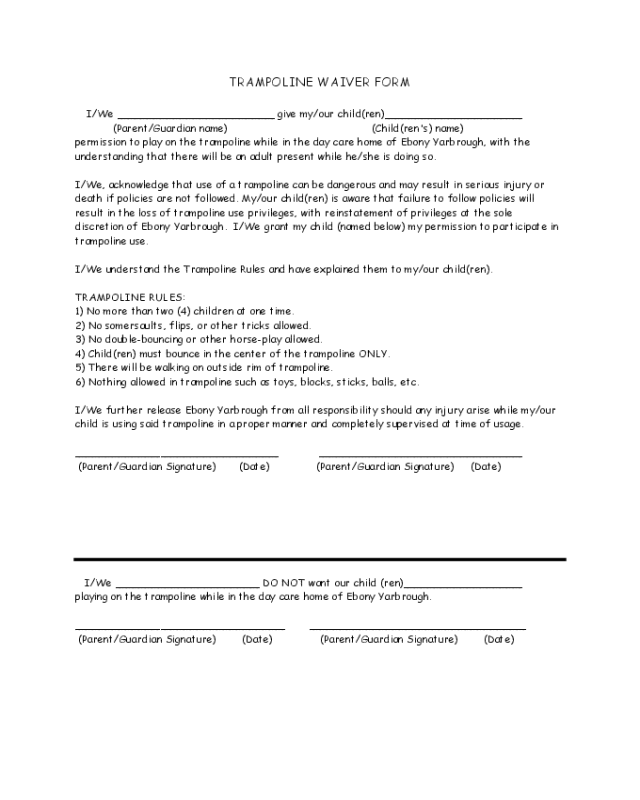 Trampoline Waiver Sample Form

TRAMPOLINE WAIVER FORM
I/We ________________________ give my/our child(ren)_____________________
(Parent/Guardian name) (Child(ren's) name)
permission to play on the trampoline while in the day care home of Ebony Yarbrough, with the
understanding that there will be an adult present while he/she is doing so.
I/We, acknowledge that use of a trampoline can be dangerous and may result in serious injury or
de
ath if policies are not followed. My/our child(ren) is aware that failure to follow policies will
result in the loss of trampoline use privileges, with reinstatement of privileges at the sole
discretion of Ebony Yarbrough. I/We grant my child (named below) my permission to participate in
trampoline use.
I/We understand the Trampoline Rules and have explained them to my/our child(ren).
TRAMPOLINE RULES:
1) No more than two (4) children at one time.
2) No somersaults, flips, or other tricks allowed.
3) No double-bouncing or other horse-play allowed.
4) Child(ren) must bounce in the center of the trampoline ONLY.
5) There will be walking on outside rim of trampoline.
6) Nothing allowed in trampoline such as toys, blocks, sticks, balls, etc.
I/We further release Ebony Yarbrough from all responsibility should any injury arise while my/our
child is using said trampoline in a proper manner and completely supervised at time of usage.
_______________________________ _______________________________
(Parent/Guardian Signature) (Date) (Parent/Guardian Signature) (Date)
I/We ______________________ DO NOT want our child (ren)__________________
playing on the trampoline while in the day care home of Ebony Yarbrough.
________________________________ _________________________________
(Parent/Guardian Signature) (Date) (Parent/Guardian Signature) (Date)