Fillable Printable Uniform Statutory Form Power of Attorney - California
Fillable Printable Uniform Statutory Form Power of Attorney - California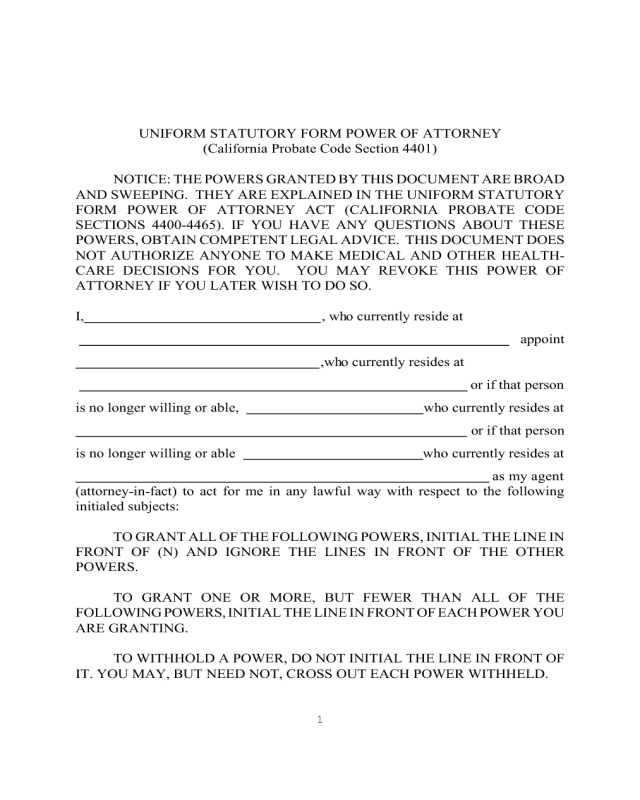 Uniform Statutory Form Power of Attorney - California

UNIFORM STATUTORY FORM POWER OF ATTORNEY
(California Probate Code Section 4401)
NOTICE: THE POWERS GRANTED BY THIS DOCUMENT ARE BROAD
AND SWEEPING. THEY ARE EXPLAINED IN THE UNIFORM STATUTORY
FORM POWER OF ATTORNEY ACT(CALIFORNIA PROBATE CODE
SECTIONS 4400-4465). IF YOU HAVE ANY QUESTIONS ABOUT THESE
POWERS, OBTAIN COMPETENT LEGAL ADVICE. THIS DOCUMENT DOES
NOT AUTHORIZE ANYONE TO MAKE MEDICAL ANDOTHERHEALTH-
CARE DECISIONSFORYOU. YOU MAY REVOKE THIS POWER OF
ATTORNEY IF YOU LATER WISH TO DO SO.
I, , who currently reside at
appoint
,who currently resides at
or if that person
is no longer willing or able, who currently resides at
or if that person
is no longer willing or able who currently resides at
asmy agent
(attorney-in-fact) toact for me in any lawfulway withrespectto the following
initialed subjects:
TO GRANT ALL OF THE FOLLOWING POWERS, INITIAL THE LINE IN
FRONT OF (N) AND IGNORE THE LINESIN FRONT OF THE OTHER
POWERS.
TO GRANT ONE OR MORE, BUT FEWER THAN ALL OF THE
FOLLOWING POWERS, INITIAL THE LINE IN FRONT OF EACH POWER YOU
ARE GRANTING.
TO WITHHOLD A POWER, DO NOT INITIAL THE LINE IN FRONT OF
IT. YOU MAY, BUT NEED NOT, CROSS OUT EACH POWER WITHHELD.
1
INITIAL
(A)Real Property transactions
(B)Tangible personal property transactions.
(C)Stock and bond transactions.
(D)Commodity and option transactions.
(E)Banking and other financial institution transactions.
(F)Business operating transactions.
(G)Insurance and annuity transactions.
(H)Estate, trust, and other beneficiary transactions.
(I)Claims and litigation.
(J)Personal and family maintenance.
(K)Benefitsfromsocialsecurity,medicare,medicaid,orother
governmental programs, or civil or military service.
(L)Retirement plan transactions.
(M) Tax matters.
(N)ALL OF THE POWERS LISTED ABOVE.
YOU NEED NOT INITIAL ANY OTHER LINES IF YOU INITIAL LINE
(N).
SPECIAL INSTRUCTIONS:
ON THE FOLLOWING LINES YOU MAY GIVE SPECIAL
INSTRUCTIONS LIMITING OR EXTENDING THE POWERS GRANTED TO
YOUR AGENT.
A.Thepowers grantedmy agent hereinshall only be effective uponmy
incapacity.
2
B.For purposes of this Power of Attorney,incapacity, shallbe determined
by twolicensedphysicians not related tome or any of my nominated
agents by blood or marriage pursuant toCalifornia Probate Code
Sections 4129 and 4405.
C.Myagent shall cooperate withmy lawfullyappointedagent for health
care under my Advance HealthCare Directive or any partymaking
health care decisionsfor me byreleasingfundsfrommy estate if
necessary to payfor any treatment or care lawfully designated bymy
agent for health care.
UNLESS YOU DIRECT OTHERWISE ABOVE, THIS POWER OF
ATTORNEY IS EFFECTIVE IMMEDIATELY AND WILL CONTINUE UNTIL IT
IS REVOKED.
This power of attorney will continue to be effective thoughIbecome
incapacitated.
STRIKE THE PRECEDING SENTENCE IFYOU DO NOT WANT THIS
POWER OF ATTORNEY TO CONTINUE IF YOU BECOME INCAPACITATED.
EXERCISE OF POWER OF ATTORNEY WHERE
MORE THAN ONE AGENT DESIGNATED
IF YOU APPOINTED MORE THANONE AGENT AND YOU WANT
EACH AGENT TO BE ABLE TO ACT ALONE WITHOUT THE OTHER AGENT
JOINING, WRITE THE WORD "SEPARATELY" IN THE BLANK SPACE
ABOVE. IF YOU DO NOT INSERT ANY WORD IN THE BLANK SPACE, OR IF
YOU INSERT THE WORD "JOINTLY," THEN ALL OF YOUR AGENTS MUST
ACT OR SIGN TOGETHER.
I agree thatanythirdparty who receives a copy of this documentmay actunder
it. Revocation of the power of attorney is not effective as to a third party until
the third party has actual knowledge of the revocation. I agree to indemnify the
///
3

thirdpartyfor any claims thatarise againstthe thirdparty because of reliance on this
power of attorney.
Signed this day of , 20 .
(your signature)
(your social security number)
State of California,
County of ______________
BY ACCEPTING OR ACTING UNDER THE APPOINTMENT, THE AGENT
ASSUMES THE FIDUCIARY AND OTHER LEGAL RESPONSIBILITIES OF AN
AGENT.
CERTIFICATE OF ACKNOWLEDGMENT
STATE OF CALIFORNIA )
COUNTY OF _________________ )
On ___________________, before me, ,
a notary public, personally appeared who proved
tome on the basisof satisfactory evidence tobe the personwhose name issubscribed
tothe within instrument and acknowledgedtome that he/she executedthe same in
his/her authorizedcapacity, and thatby his/her signature on the instrument the
person, or the entityuponbehalf of whichthe personactedexecuted the instrument.
Icertify under PENALTY OF PERJURY under the lawsof the State of California
that the foregoing paragraph is true and correct.
WITNESS my hand and official seal.
Signature____________________________________
4