Fillable Printable VA Form 0730b
Fillable Printable VA Form 0730b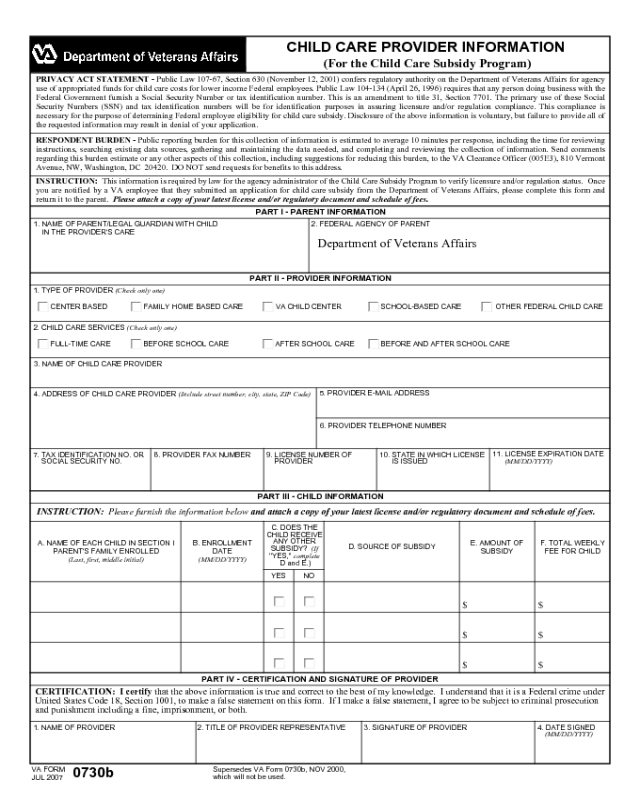 VA Form 0730b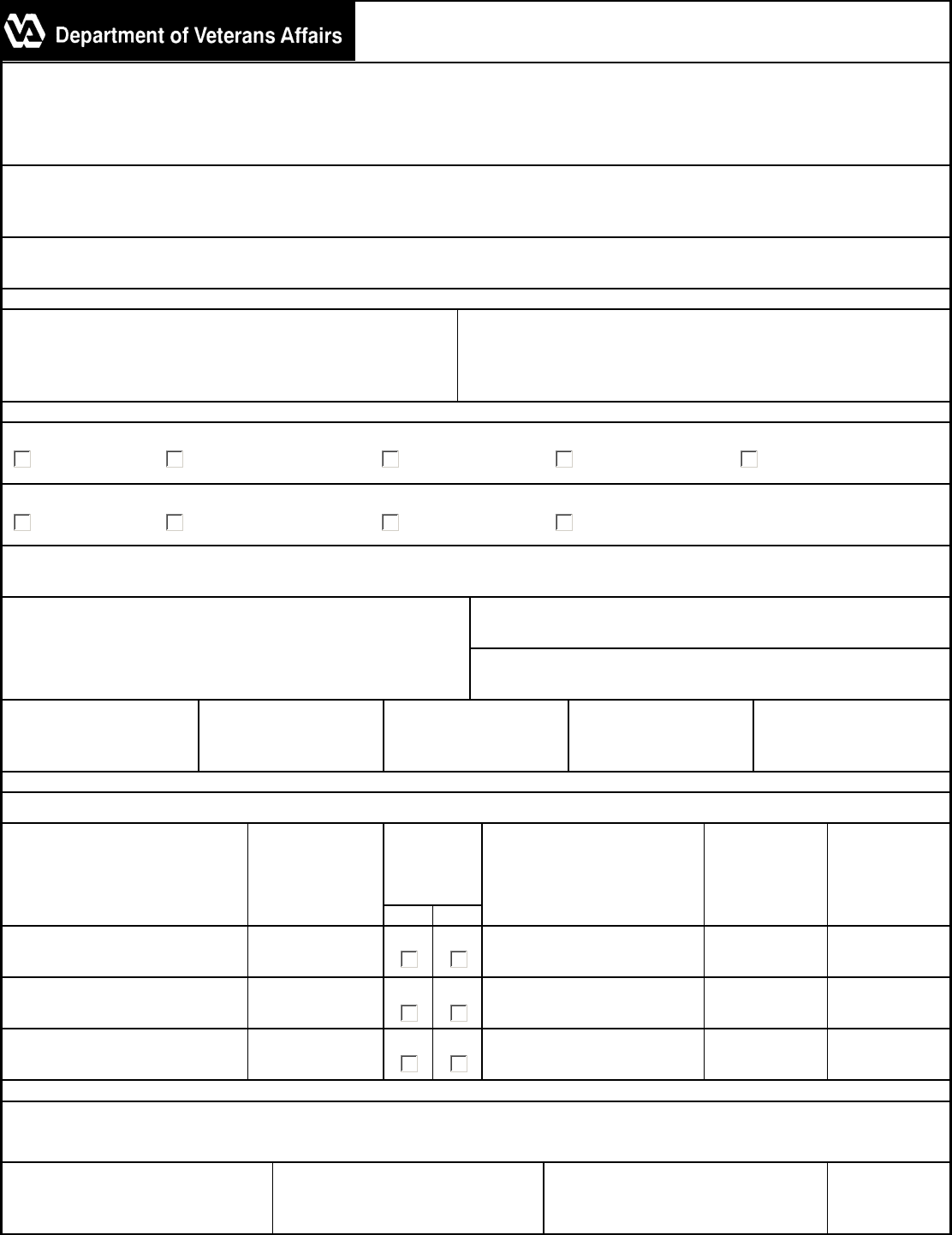 CHILD CARE PROVIDER INFORMATION
(For the Child Care Subsidy Program)
PRIVACY ACT STATEMENT -
Public Law 107-67, Section 630 (November 12, 2001) confers regulatory authority on the Department of Veterans Affairs for agency
use of appropriated funds for child care costs for lower income Federal employees. Public Law 104-134 (April 26, 1996) requires that any person doing business with the
Federal Government furnish a Social Security Number or tax identification number. This is an amendment to title 31, Section 7701. The primary use of these Social
Security
Numbers
(SSN)
and
tax
identification
numbers
will
be
for
identification
purposes
in
assuring
licensure
and/or
regulation
compliance.
This
compliance
is
necessary for the purpose of determining Federal employee eligibility for child care subsidy. Disclosure of the above information is voluntary, but failure to provide all of
the requested information may result in denial of your application.
RESPONDENT BURDEN -
Public reporting burden for this collection of information is estimated to average 10 minutes per response, including the time for reviewing
instructions, searching existing data
sources, gathering and maintaining the data needed, and
completing and reviewing the collection of information. Send comments
regarding this burden estimate or any other aspects of this collection, including suggestions for reducing this burden, to the VA Clearance Officer (005E3), 810 Vermont
Avenue, NW, Washington, DC 20420. DO NOT send requests for benefits to this address.
INSTRUCTION:
This information is required by law for the agency administrator of the Child Care Subsidy Program to verify licensure and/or regulation status. Once
you are notified by a VA employee that they submitted an application for child care subsidy from the Department of Veterans Affairs, please complete this form and
return it to the parent.
Please attach a copy of your latest license and/or regulatory document and schedule of fees.
PART I - PARENT INFORMATION
1. NAME OF PARENT/LEGAL GUARDIAN WITH CHILD
IN THE PROVIDER'S CARE
2. FEDERAL AGENCY OF PARENT
Department of Veterans Affairs
PART II - PROVIDER INFORMATION
1. TYPE OF PROVIDER
(Check only one)
CENTER BASED
FAMILY HOME BASED CARE
VA CHILD CENTER
SCHOOL-BASED CARE
OTHER FEDERAL CHILD CARE
2. CHILD CARE SERVICES
(Check only one)
FULL-TIME CARE
BEFORE SCHOOL CARE
AFTER SCHOOL CARE
BEFORE AND AFTER SCHOOL CARE
3. NAME OF CHILD CARE PROVIDER
4. ADDRESS OF CHILD CARE PROVIDER
(Include street number, city, state, ZIP Code)
5. PROVIDER E-MAIL ADDRESS
6. PROVIDER TELEPHONE NUMBER
7. TAX IDENTIFICATION NO. OR
SOCIAL SECURITY NO.
8. PROVIDER FAX NUMBER
9. LICENSE NUMBER OF
PROVIDER
10. STATE IN WHICH LICENSE
IS ISSUED
11. LICENSE EXPIRATION DATE
PART III - CHILD INFORMATION
INSTRUCTION:
Please furnish the information below
and attach a copy of your latest license and/or regulatory document and schedule of fees.
A. NAME OF EACH CHILD IN SECTION I
PARENT'S FAMILY ENROLLED
(Last, first, middle initial)
B. ENROLLMENT
DATE
C. DOES THE
CHILD RECEIVE
ANY OTHER
D and E.)
YES
NO
D. SOURCE OF SUBSIDY
E. AMOUNT OF
SUBSIDY
$
F. TOTAL WEEKLY
FEE FOR CHILD
$
PART IV - CERTIFICATION AND SIGNATURE OF PROVIDER
CERTIFICATION: I certify
that the above information is true and correct to the best of my knowledge. I understand that it is a Federal crime under
United States Code 18, Section 1001, to make a false statement on this form. If I make a false statement, I agree to be subject to criminal prosecution
and punishment including a fine, imprisonment, or both.
1. NAME OF PROVIDER
2. TITLE OF PROVIDER REPRESENTATIVE
3. SIGNATURE OF PROVIDER
4. DATE SIGNED
(MM/DD/YYYY)
VA FORM
JUL 2007
0730b
Supersedes VA Form 0730b, NOV 2000,
which will not be used.