Fillable Printable VA Form 10-0143A
Fillable Printable VA Form 10-0143A
VA Form 10-0143A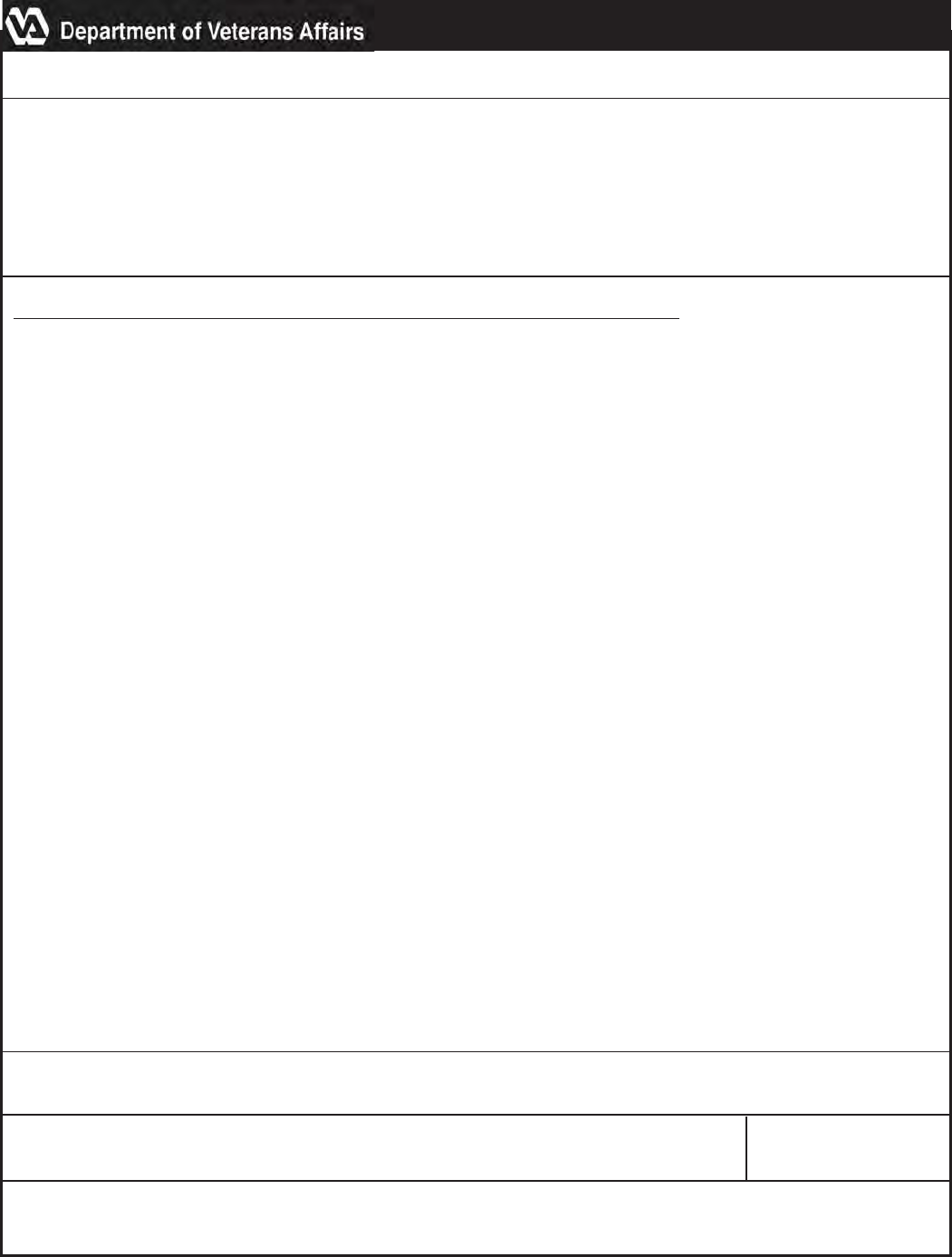 OMB Number: 2900-0160
Estimated Burden: 5 minutes
STATEMENT OF ASSURANCE OF COMPLIANCE WITH SECTION 504 OF
THE REHABILITATION ACT OF 1973
The Paperwork Reduction Act of 1995 requires us to notify you that this information collection is in accordance
with the clearance requirements of section 3507 of the Paperwork Reduction Act of 1995. We may not conduct or
sponsor, and you are not required to respond to, a collection of information unless it displays a valid OMB
number. We anticipate that the time expended by all individuals who must complete this form will average 5
minutes. This includes the time it will take to read instructions, gather the necessary facts and fill out the form.
Although completion of this form is required to obtain and retain this Federal grant, failure to complete the form
will have no impact on any other benefits to which you may be entitled.
(hereinafter called the "Signatory")
(Name and location of State Veterans Home )
HEREBY AGREES THAT
It will comply with section 504 of the Rehabilitation Act of 1973 (Pub. L. No. 93-112) and all regulations adopted
pursuant to such section, for instance, VA Regulations 7800 Series (38 CFR Section 18), to the end that no person
in the United States shall, on the ground of handicap, be excluded from participation in, be denied the benefits of,
or be otherwise subjected to discrimination under any program or activity of the Signatory receiving Federal
financial assistance or other benefits under statues administered by the VA; and HEREBY GIVES ASSURANCE
THAT it will immediately take any measures necessary to effectuate the agreement.
If any real property or structure thereon is provided or improved with the aid of the Federal financial assistance
extended to the Signatory by the VA, this assurance shall obligate the Signatory, or in the case of transfer of such
property, any transferee, for the period during which the real property or structure is used for a purpose for which
the Federal financial assistance is extended or for another purpose involving the provision of similar services or
benefits. In all cases this assurance shall obligate the Signatory for the period during which the Federal financial
assistance is extended to any of its programs by the VA.
THIS ASSURANCE is given in consideration of and for the purpose of obtaining Federal financial assistance,
including facilities furnished or payments made under Section 1741 of Title 38 USC. Federal financial assistance
is understood to include benefits paid directly to the Signatory, and/or benefits paid to a beneficiary contingent
upon such beneficiary being enrolled in a program offered by the Signatory.
The Signatory recognizes and agrees that such Federal financial assistance or other benefits will be extended in
reliance on the representations and agreements made in this assurance, and that the VA will withhold financial
assistance, facilities, or other benefits to ensure fulfillment of this assurance of compliance, and that the United
States shall have the right to seek judicial enforcement of this assurance. This assurance is binding on the
Signatory, its successors, transferees, and assignees. The person or persons whose signatures appear below are
authorized to sign this assurance.
SIGNATURE OF AUTHORIZED OFFICIAL
TITLE
MAILING ADDRESS
DATE
VA FORM
SEP 2006 (R)
10-0143A
EXISTING STOCK OF VA FORM 10-0143a, DATED SEP 1998, WILL BE USED.