Fillable Printable VA Form 10-10072B
Fillable Printable VA Form 10-10072B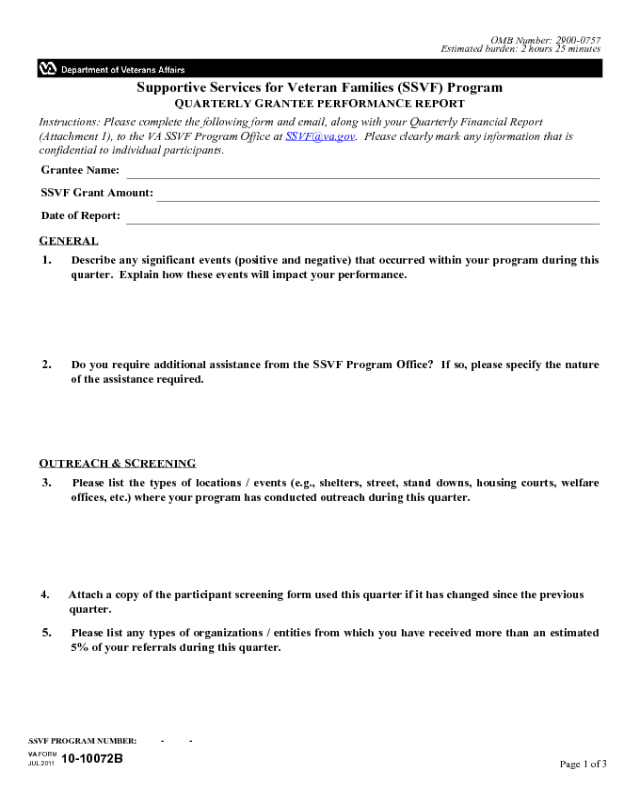 VA Form 10-10072B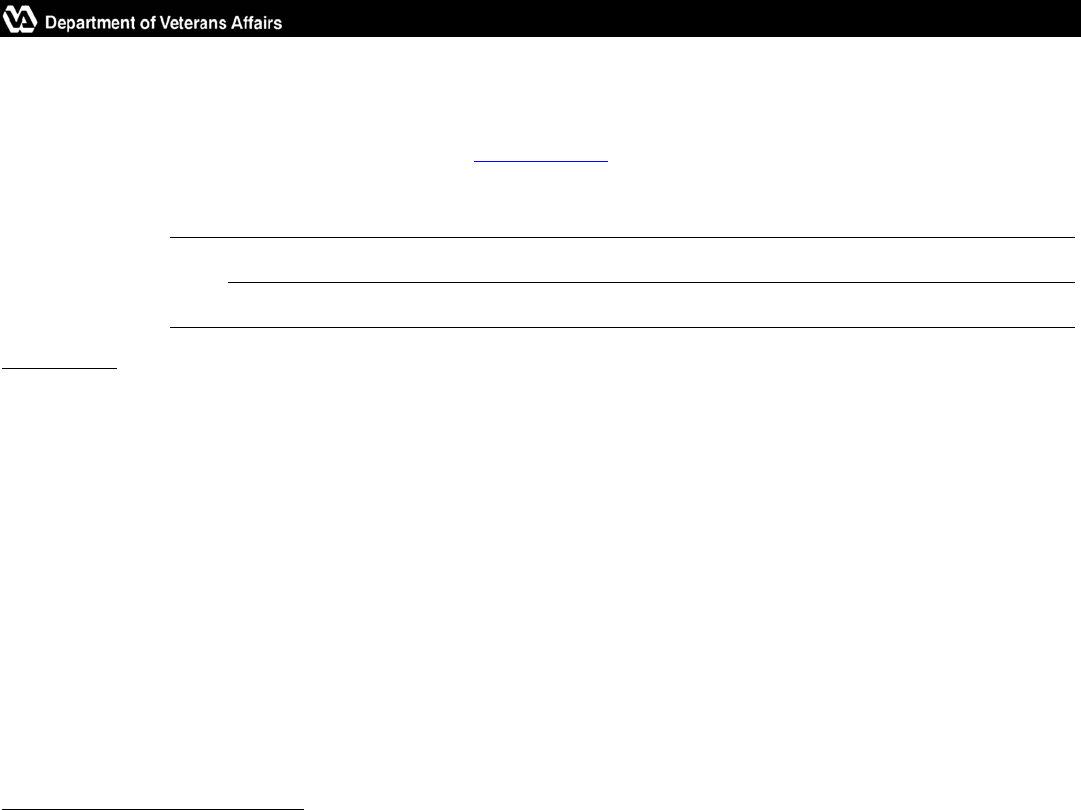 OMB Number: 2900-0757
Estimated burden: 2 hours 25 minutes
Supportive Services for Veteran Families (SSVF) Program
QUARTERLY GRANTEE PERFORMANCE REPORT
Instructions: Please complete the following form and email, along with your Quarterly Financial Report
(Attachment 1), to the VA SSVF Program Office at
[email protected]
. Please clearly mark any information that is
confidential to individual participants.
Grantee Name:
SSVF Grant Amount:
Date of Report:
GENERAL
1.
Describe any significant events (positive and negative) that occurred within your program during this
quarter. Explain how these events will impact your performance.
2.
Do you require additional assistance from the SSVF Program Office? If so, please specify the nature
of the assistance required.
OUTREACH & SCREENING
3.
Please list the types of locations / events (e.g., shelters, street, stand downs, housing courts, welfare
offices, etc.) where your program has conducted outreach during this quarter.
4.
Attach a copy of the participant screening form used this quarter if it has changed since the previous
quarter.
5.
Please list any types of organizations / entities from which you have received more than an estimated
5% of your referrals during this quarter.
SSVF PROGRAM NUMBER:
JUL 2011
10-10072B
Page 1 of 3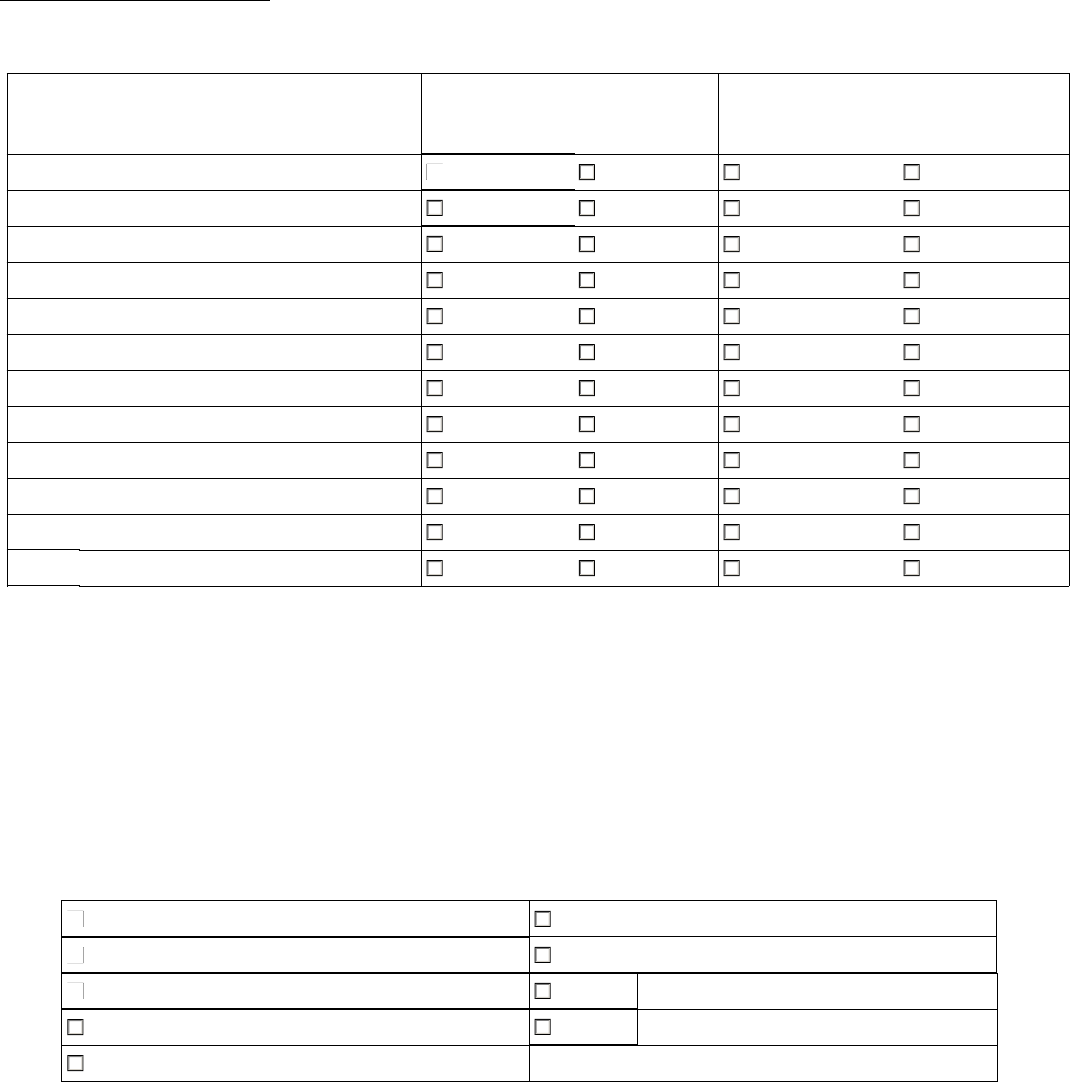 6.
How many ineligible individuals were screened this quarter? Describe generally how these situations
were handled and the program(s) to which individuals were referred.
SUPPORTIVE SERVICES
7. During this quarter, which of the following supportive services were provided by your program (either
directly or by referral)?
Type of Benefit/Service (See 38 CFR 62.33 for
definitions of these services)*
Grantee/program provided
benefit directly
(Yes/No)
Grantee/program assisted participants
in obtaining benefit through referrals to
other organizations (Yes/No)
Health care services
Yes
Daily living services
Yes
Personal financial planning services
Yes
Transportation services**
Yes
No
Yes
No
Income support services
Yes
No
Yes
No
Fiduciary and representative payee services
Legal services
Yes
No
Yes
No
Housing counseling, housing search
Yes
No
Yes
No
Other:
Other:
List
the
three
supportive
services
most
requested
by
participants
and
describe
how
your
program
delivered those supportive services.
9. During this quarter, which of the following other supportive services were provided by your program?
(see 38 CFR 62.33 and 38 CFR 62.34 for descriptions of these supportive services)
Rental Assistance
Utility-Fee Payment Assistance
Security or Utility Deposit Assistance
Moving Costs Assistance
Emergency Supplies Assistance
Child Care Financial Assistance
Transportation
Other:
Other:
SSVF PROGRAM NUMBER:
JUL 2011
10-10072B
Page 2 of 3

PARTICIPANTS
10.
Describe any issues that arose this quarter with respect to participant safety (e.g., domestic violence,
suicide risk, etc.) and indicate how those issues were handled.
PROGRAM GOALS AND OUTCOMES
11.
As this is a new initiative, VA is interested in learning about best practices in the field. Please describe
an interesting/notable participant case from this quarter (describe the household
composition, their
needs, the services provided, and the outcomes).
12.
Confirm

that

your

program's

data

for

100%

of

participants

has

been

exported

from

HMIS

and
uploaded to the SSVF Data Repository not less than on a monthly basis. If not, please explain why.
SSVF GRANT AGREEMENT COMPLIANCE
13.
Have you complied with all the terms of your supportive services grant agreement this quarter? If
SSVF PROGRAM NUMBER:
JUL 2011
10-10072B
Page 3 of 3