Fillable Printable VA Form 10-0491j
Fillable Printable VA Form 10-0491j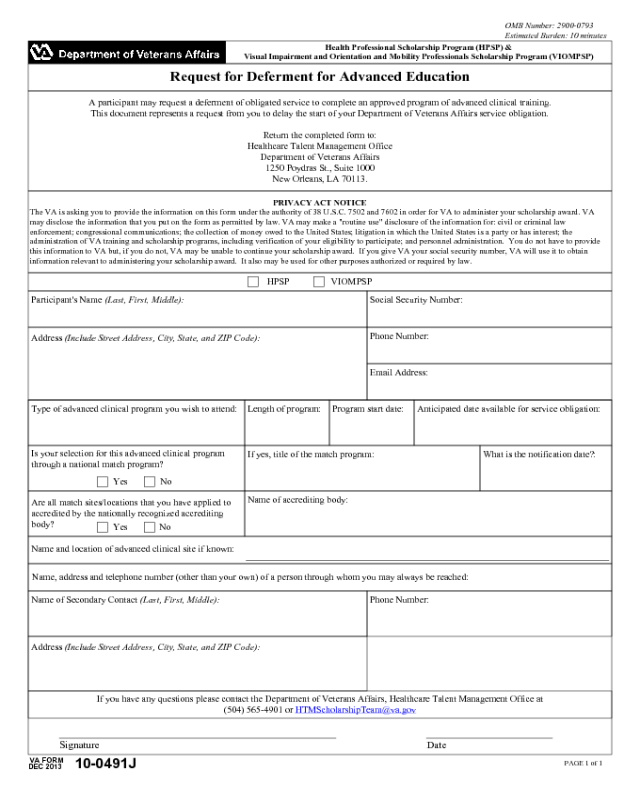 VA Form 10-0491j
Health Professional Scholarship Program (HPSP) &
Visual Impairment and Orientation and Mobility Professionals Scholarship Program (VIOMPSP)
Request for Deferment for Advanced Education
OMB Number: 2900-0793
Estimated Burden: 10 minutes
Participant's Name
(Last, First, Middle):
Social Security Number:
A participant may request a deferment of obligated service to complete an approved program of advanced clinical training.
This document represents a request from you to delay the start of your Department of Veterans Affairs service obligation.
Return the completed form to:
Healthcare Talent Management Office
Department of Veterans Affairs
1250 Poydras St., Suite 1000
New Orleans, LA 70113.
VIOMPSPHPSP
Name, address and telephone number (other than your own) of a person through whom you may always be reached:
Address
(Include Street Address, City, State, and ZIP Code):
If you have any questions please contact the Department of Veterans Affairs, Healthcare Talent Management Office at
Email Address:
Phone Number:
Type of advanced clinical program you wish to attend:
Length of program:
Anticipated date available for service obligation:
Name of Secondary Contact
(Last, First, Middle):
Phone Number:
Address
(Include Street Address, City, State, and ZIP Code):
Program start date:
Is your selection for this advanced clinical program
through a national match program?
If yes, title of the match program:
What is the notification date?:
NoYes
No
Yes
Are all match sites/locations that you have applied to
accredited by the nationally recognized accrediting
body?
Name of accrediting body:
Name and location of advanced clinical site if known:
PAGE 1 of 1
PRIVACY ACT NOTICE
The VA is asking you to provide the information on this form under the authority of 38 U.S.C. 7502 and 7602 in order for VA to administer your scholarship award. VA
may disclose the information that you put on the form as permitted by law. VA may make a "routine use" disclosure of the information for: civil or criminal law
enforcement; congressional communications; the collection of money owed to the United States; litigation in which the United States is a party or has interest; the
administration of VA training and scholarship programs, including verification of your eligibility to participate; and personnel administration. You do not have to provide
this information to VA but, if you do not, VA may be unable to continue your scholarship award. If you give VA your social security number, VA will use it to obtain
information relevant to administering your scholarship award. It also may be used for other purposes authorized or required by law.
10-0491J
DEC 2013
VA FORM