Fillable Printable VA Form 10-10HS
Fillable Printable VA Form 10-10HS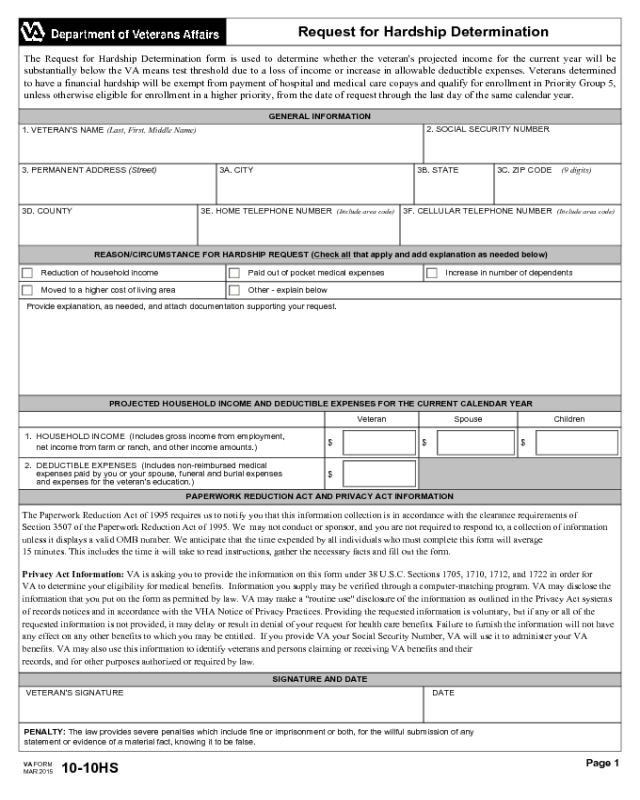 VA Form 10-10HS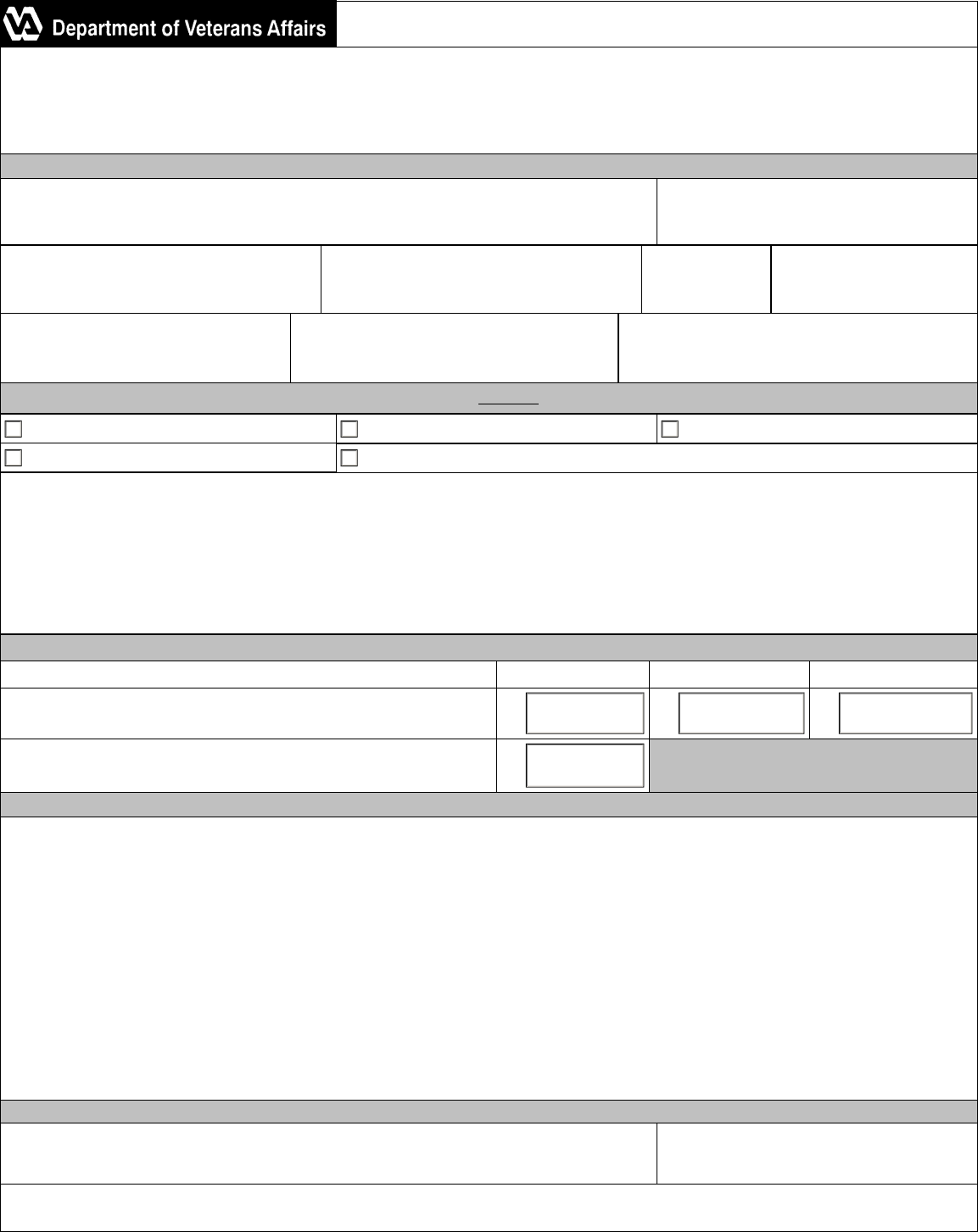 MAR 2015
10-10HS
Request for Hardship Determination
The
Request
for
Hardship
Determination
form
is
used
to
determine
whether
the
veteran's
projected
income
for
the
current
year
will
be
substantially below the VA means test threshold due to a loss of income or increase in allowable deductible expenses. Veterans determined
to have a financial hardship will be exempt from payment of hospital and medical care copays and qualify for enrollment in Priority Group 5,
unless otherwise eligible for enrollment in a higher priority, from the date of request through the last day of the same calendar year.
1. VETERAN'S NAME
(Last, First, Middle Name)
2. SOCIAL SECURITY NUMBER
GENERAL INFORMATION
3. PERMANENT ADDRESS
(Street)
3E. HOME TELEPHONE NUMBER
(Include area code)
3F. CELLULAR TELEPHONE NUMBER
(Include area code)
Provide explanation, as needed, and attach documentation supporting your request.
3D. COUNTY
REASON/CIRCUMSTANCE FOR HARDSHIP REQUEST (Check all that apply and add explanation as needed below)
Reduction of household income
Moved to a higher cost of living area
Paid out of pocket medical expenses
Other - explain below
Increase in number of dependents
PROJECTED HOUSEHOLD INCOME AND DEDUCTIBLE EXPENSES FOR THE CURRENT CALENDAR YEAR
ChildrenSpouseVeteran
1. HOUSEHOLD INCOME (Includes gross income from employment,
net income from farm or ranch, and other income amounts.)
PAPERWORK REDUCTION ACT AND PRIVACY ACT INFORMATION
PENALTY:
The law provides severe penalties which include fine or imprisonment or both, for the willful submission of any
statement or evidence of a material fact, knowing it to be false.
SIGNATURE AND DATE
The Paperwork Reduction Act of 1995 requires us to notify you that this information collection is in accordance with the clearance requirements of
Section 3507 of the Paperwork Reduction Act of 1995. We may not conduct or sponsor, and you are not required to respond to, a collection of information
unless it displays a valid OMB number. We anticipate that the time expended by all individuals who must complete this form will average
15 minutes. This includes the time it will take to read instructions, gather the necessary facts and fill out the form.
Privacy Act Information:
VA is asking you to provide the information on this form under 38 U.S.C. Sections 1705, 1710, 1712, and 1722 in order for
VA to determine your eligibility for medical benefits. Information you supply may be verified through a computer-matching program. VA may disclose the
information that you put on the form as permitted by law. VA may make a "routine use" disclosure of the information as outlined in the Privacy Act systems
of records notices and in accordance with the VHA Notice of Privacy Practices. Providing the requested information is voluntary, but if any or all of the
requested information is not provided, it may delay or result in denial of your request for health care benefits. Failure to furnish the information will not have
any effect on any other benefits to which you may be entitled. If you provide VA your Social Security Number, VA will use it to administer your VA
benefits. VA may also use this information to identify veterans and persons claiming or receiving VA benefits and their
records, and for other purposes authorized or required by law.
2. DEDUCTIBLE EXPENSES (Includes non-reimbursed medical
expenses paid by you or your spouse, funeral and burial expenses
and expenses for the veteran's education.)
$
Page 1

MAR 2015
10-10HS
Request for Hardship Determination, Continued
HARDSHIP DETERMINATION (to be completed by VA)
Hardship Granted:
(circle one)
COMMENTS
Document and/or attach any pertinent information impacting on the final decision.
VETERAN NOTIFICATION
If hardship not granted, provide Veteran with VA Form 4107VHA, YOUR RIGHTS TO APPEAL OUR DECISION.
PAGE 2
Date Veteran Notified:
Date:
VHA Staff Signature:
Date Veteran's electronic record updated in VA's information system:
NO State reason not granted in comments.
YES Hardship is granted
Note: The exemption is effective from the date the Veteran submitted the request until the last day of the
calendar year in which the request was made.