Fillable Printable VA Form 10-7078
Fillable Printable VA Form 10-7078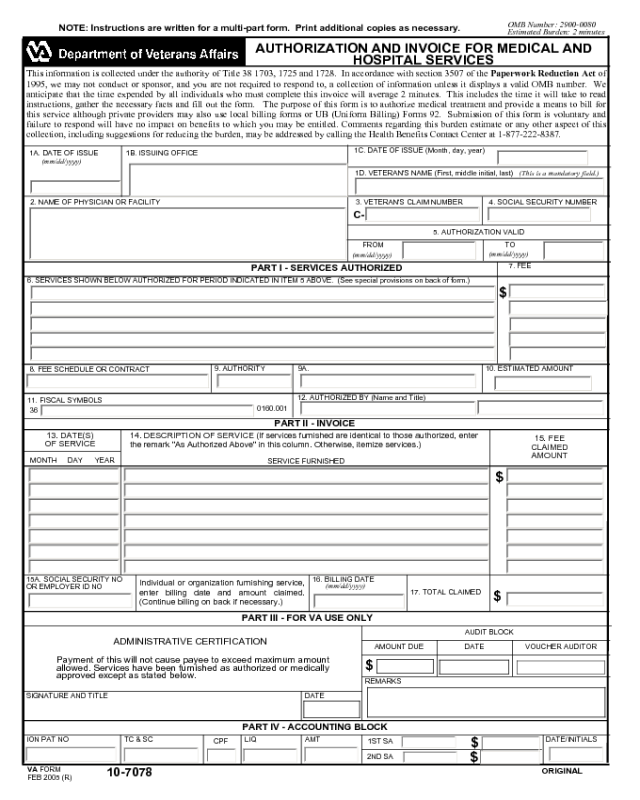 VA Form 10-7078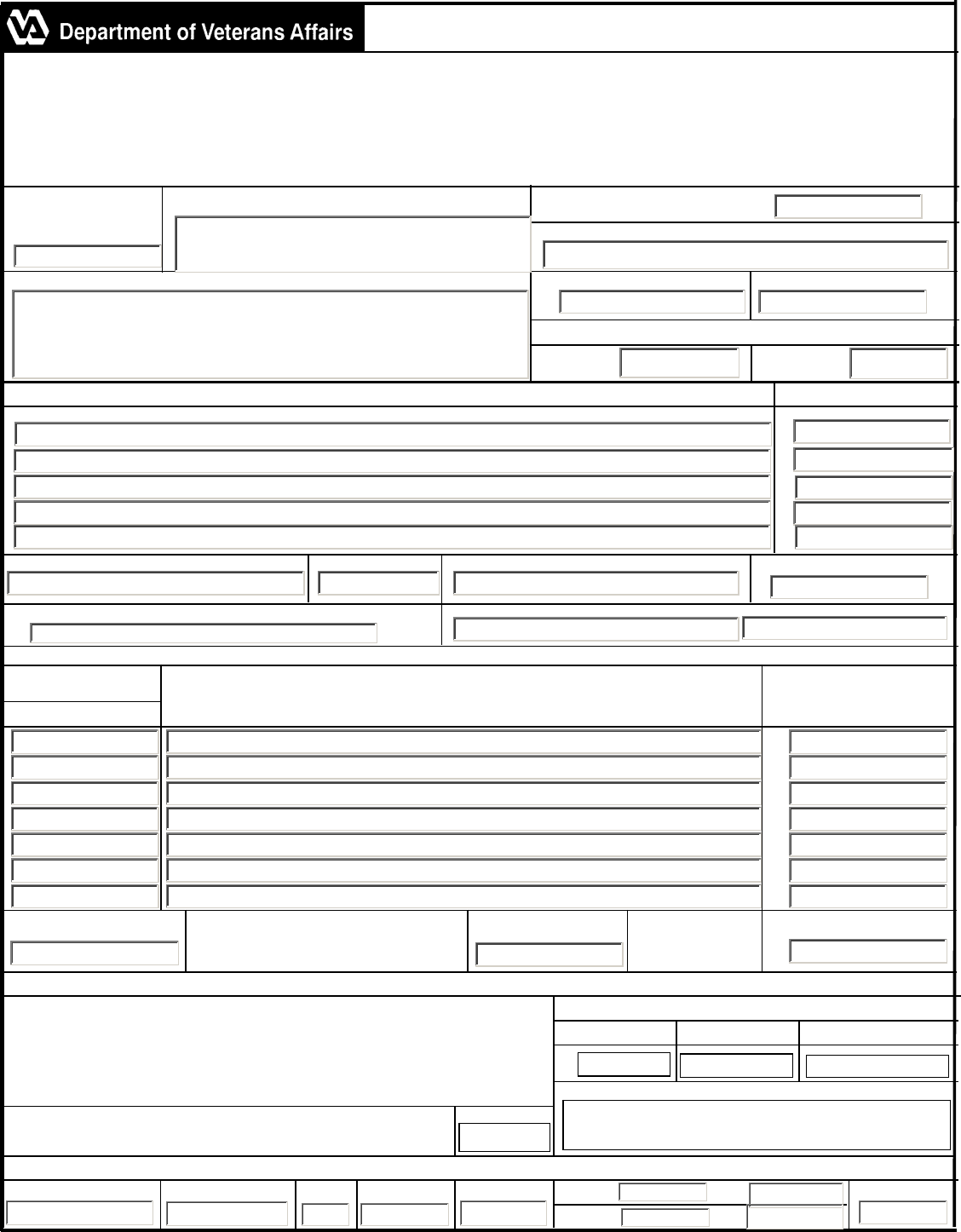 17. TOTAL CLAIMED
AUTHORIZATION AND INVOICE FOR MEDICAL AND
HOSPITAL SERVICES
8. FEE SCHEDULE OR CONTRACT
12. AUTHORIZED BY (Name and Title)
11. FISCAL SYMBOLS
36
0160.001
SERVICE FURNISHED
YEAR
MONTH
DAY
$
2ND SA
$
CPF
ORIGINAL
OMB Number: 2900-0080
Estimated Burden: 2 minutes
FEB 2005 (R)
10-7078
DATE/INITIALS
$
1ST SA
ION PAT NO
TC & SC
PART IV - ACCOUNTING BLOCK
REMARKS
$
AMOUNT DUE
VOUCHER AUDITORDATE
AUDIT BLOCK
Payment of this will not cause payee to exceed maximum amount
allowed. Services have been furnished as authorized or medically
approved except as stated below.
ADMINISTRATIVE CERTIFICATION
PART III - FOR VA USE ONLY
OR EMPLOYER ID NO
Individual or organization furnishing service,
enter
billing
date
and
amount
claimed.
(Continue billing on back if necessary.)
16. BILLING DATE
(mm/dd/yyyy)
$
13. DATE(S)
OF SERVICE
14. DESCRIPTION OF SERVICE (If services furnished are identical to those authorized, enter
the remark "As Authorized Above" in this column. Otherwise, itemize services.)
15. FEE
CLAIMED
AMOUNT
9. AUTHORITY
PART II - INVOICE
1C. DATE OF ISSUE (Month, day, year)
1D. VETERAN'S NAME (First, middle initial, last)
1A. DATE OF ISSUE
1B. ISSUING OFFICE
(This is a mandatory field.)
(mm/dd/yyyy)
3. VETERAN'S CLAIM NUMBER2. NAME OF PHYSICIAN OR FACILITY
C-
This information is collected under the authority of Title 38 1703, 1725 and 1728. In accordance with section 3507 of the
Paperwork Reduction Act
of
1995, we may not conduct or sponsor, and you are not required to respond to, a collection of information unless it displays a valid OMB number. We
anticipate that the time expended by all individuals who must complete this invoice will average 2 minutes. This includes the time it will take to read
instructions, gather the necessary facts and fill out the form. The purpose of this form is to authorize medical treatment and provide a means to bill for
this service although private providers may also use local billing forms or UB (Uniform Billing) Forms 92. Submission of this form is voluntary and
failure to respond will have no impact on benefits to which you may be entitled. Comments regarding this burden estimate or any other aspect of this
collection, including suggestions for reducing the burden, may be addressed by calling the Health Benefits Contact Center at 1-877-222-8387
.
4. SOCIAL SECURITY NUMBER
FROM
(mm/dd/yyyy)
5. AUTHORIZATION VALID
TO
(mm/dd/yyyy)
PART I - SERVICES AUTHORIZED
6. SERVICES SHOWN BELOW AUTHORIZED FOR PERIOD INDICATED IN ITEM 5 ABOVE. (See special provisions on back of form.)
7. FEE
$
NOTE: Instructions are written for a multi-part form. Print additional copies as necessary.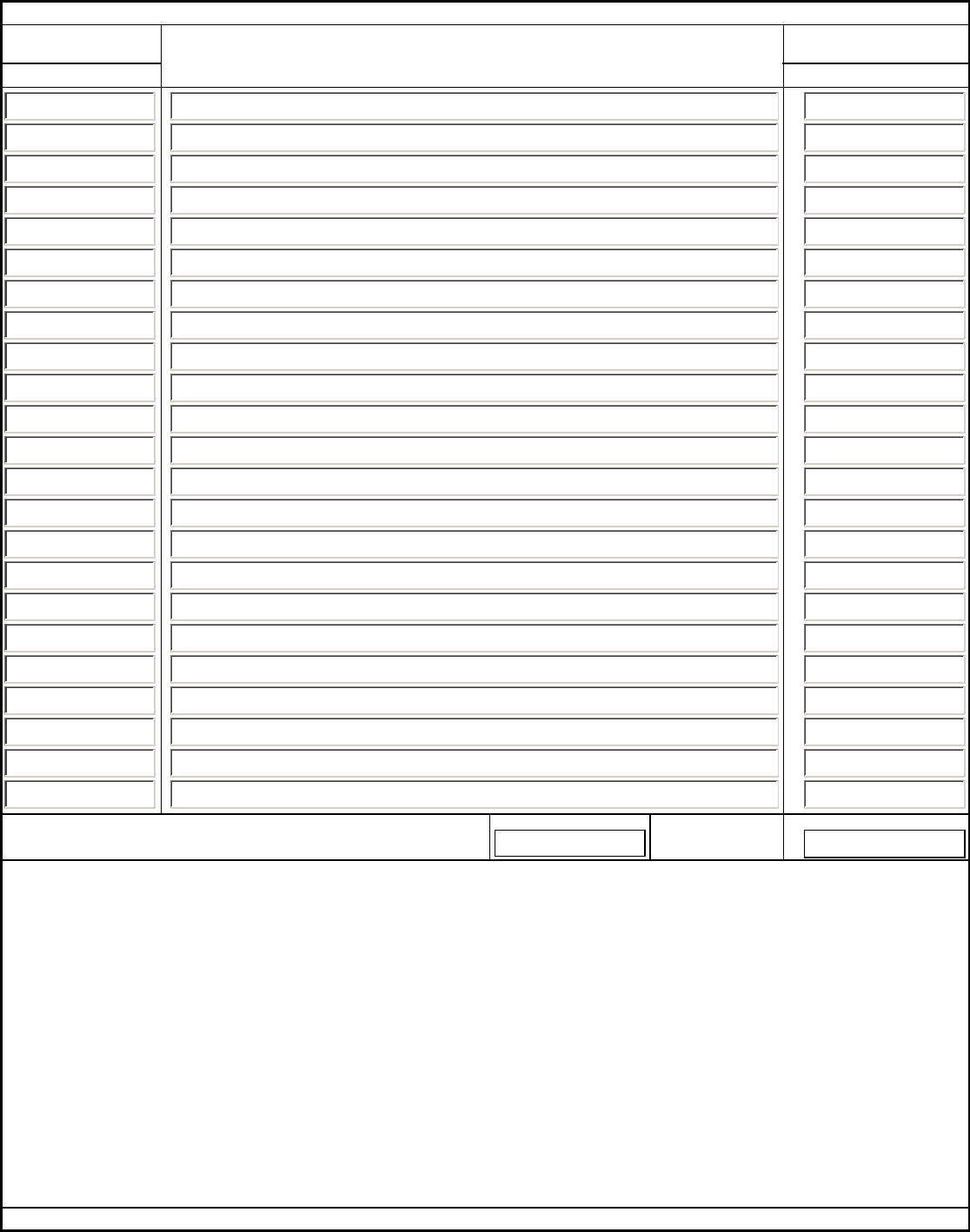 13. DATE(S)
OF SERVICE
AMOUNT
PART II - INVOICE (Continued)
15. FEE CLAIMED
14. DESCRIPTION OF SERVICE
*
ACCEPTANCE
OF
THIS
AUTHORIZATION
AND
PROVIDING
OF
SUCH
TREATMENT
OR
SERVICES
SUBJECTS
YOU,
THE PROVIDER OF CARE, TO THE PROVISIONS OF PUBLIC LAW 93-579, THE PRIVACY ACT OF 1974, TO THE EXTENT
OF THE RECORDS PERTAINING THE VA AUTHORIZED TREATMENT OR SERVICES OF THIS VETERAN.
Please enter total shown in 17A. Enter this
total in 17on front of form also.
*
*
16. BILLING DATE
17A. TOTAL
CLAIMED
*
SPECIAL PROVISIONS: Acceptance of this authorization to render service is governed by the following:
*
Fees or rates listed represent maximum allowance for services specified. In no event should charges be made to the VA in excess of
usual and customary charges to the general public for similar services.
Payment by VA is payment in full for authorized services
rendered.
Unless otherwise approved by VA, services are limited in type and extent to those shown on the authorization. If services are not
initiated for any reason, return a copy of the authorization to the issuing office with a brief explanation.
A copy of the Operative Report will be forwarded to the authorizing facility within 1 week following any major surgery.
A copy of the hospital summary will be forwarded to the authorizing facility within 10 work days following the release of the patient
from the hospital.
All questions relating to this authorization should be referred to the issuing VA Facility.
*
ORIGINAL
REVERSE
JUN 2007
$
$
10-7078

