Fillable Printable VA Form 40-0895-17
Fillable Printable VA Form 40-0895-17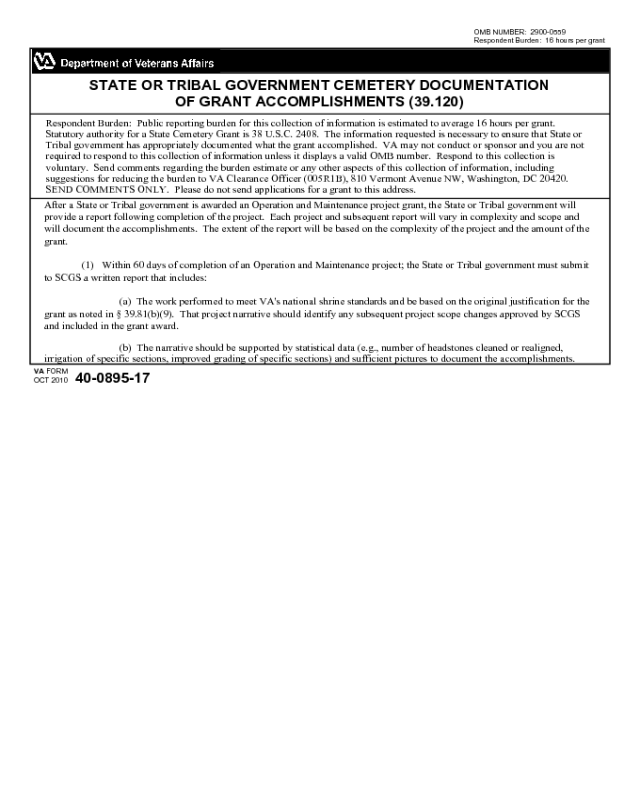 VA Form 40-0895-17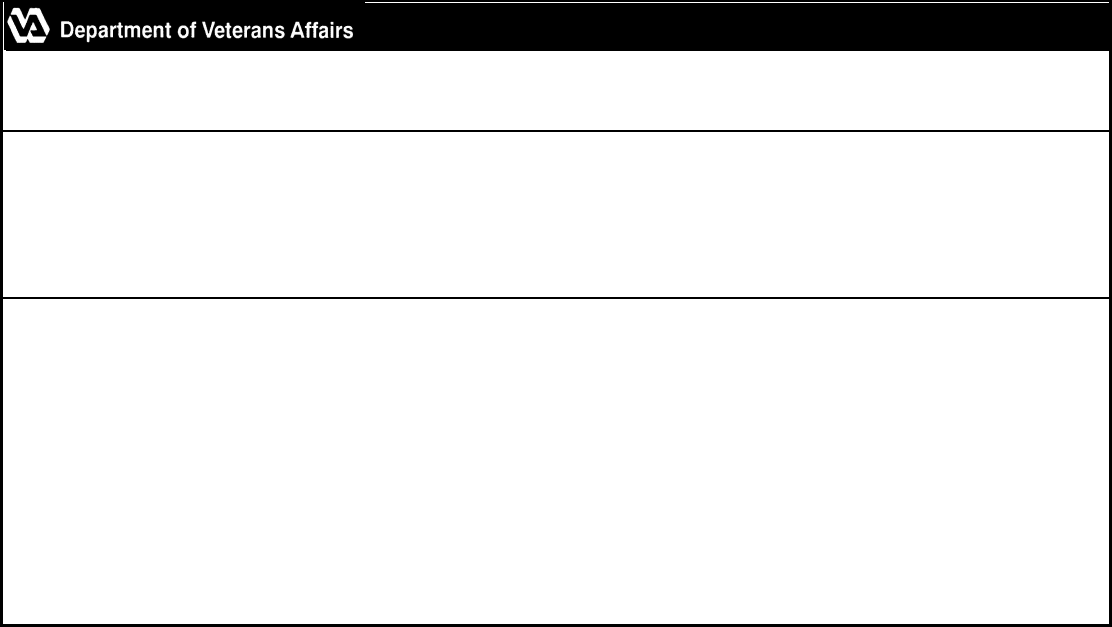 OMB NUMBER: 2900-0559
Respondent Burden: 16 hours per grant
STATE OR TRIBAL GOVERNMENT CEMETERY DOCUMENTATION
OF GRANT ACCOMPLISHMENTS (39.120)
Respondent Burden: Public reporting burden for this collection of information is estimated to average 16 hours per grant.
Statutory authority for a State Cemetery Grant is 38 U.S.C. 2408. The information requested is necessary to ensure that State or
Tribal government has appropriately documented what the grant accomplished. VA may not conduct or sponsor and you are not
required to respond to this collection of information unless it displays a valid OMB number. Respond to this collection is
voluntary. Send comments regarding the burden estimate or any other aspects of this collection of information, including
suggestions for reducing the burden to VA Clearance Officer (005R1B), 810 Vermont Avenue NW, Washington, DC 20420.
SEND COMMENTS ONLY. Please do not send applications for a grant to this address.
After a State or Tribal government is awarded an Operation and Maintenance project grant, the State or Tribal government will
provide a report following completion of the project. Each project and subsequent report will vary in complexity and scope and
will document the accomplishments. The extent of the report will be based on the complexity of the project and the amount of the
grant.
(1) Within 60 days of completion of an Operation and Maintenance project; the State or Tribal government must submit
to SCGS a written report that includes:
(a) The work performed to meet VA's national shrine standards and be based on the original justification for the
grant as noted in §39.81(b)(9). That project narrative should identify any subsequent project scope changes approved by SCGS
and included in the grant award.
(b) The narrative should be supported by statistical data (e.g., number of headstones cleaned or realigned,
irrigation of specific sections, improved grading of specific sections) and sufficient pictures to document the accomplishments.
OCT 2010
40-0895-17