Home

>

Award Certificate
Award Certificate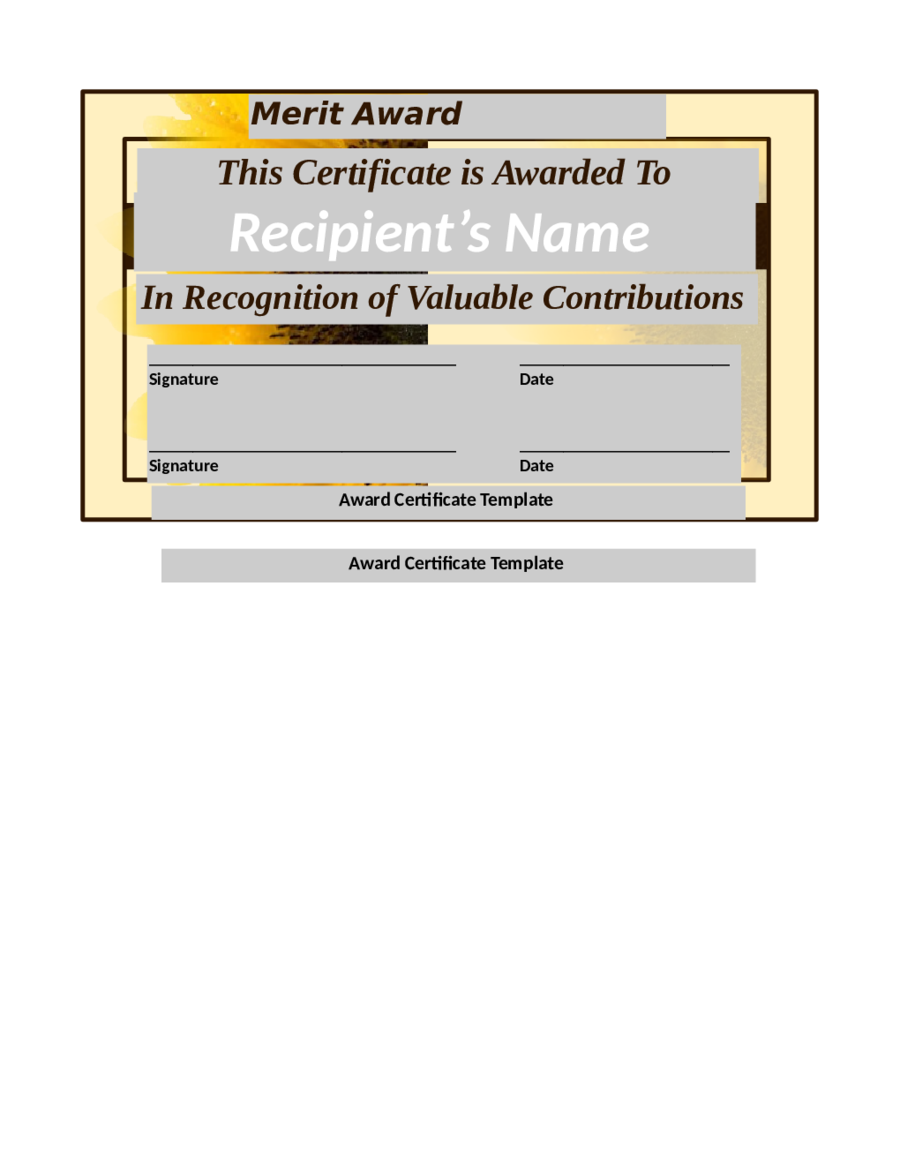 It is always rewarding to provide some sort of validation for good performance and excellence. No matter what field of excellence you choose to pursue, an award certificate is always appreciated. A personalized award certificate template is a sure way to show appreciation and recognize talent in all streams of life. Whether it is academic or professional merit, award certificates offer satisfaction to the people involved.
What is an Award Certificate?
An award certificate is a very formal yet reassuring way to recognize talent and show appreciation for any kind of accomplishment. These certificates provide a great platform for appreciative discourse and they come in various shapes and forms. In addition to that, these award certificates are an inexpensive way to compliment your employees or students.However in order to show appreciation, these award certificate wording templates can be varied according to the user's preferences. Still, making a customized award certificate can be a little tenacious and troublesome. This is why professional online services offer excellent quality award certificate templates to assist you.
What are the essential components of award certificate templates?
Even though getting an award certificate might look easy and simple, making one takes quite a bit of effort and skill. There are various nuanced and complicated aspects of choosing the proper award certificate template for your purpose. Award certificate templates look excellent when they are made as most of the time they are designed and formatted with the help of professional template creators.So if you are going to choose a proper award certificate template for your purposes, it is always advisable for you to opt for these professional services. However, choosing one also takes a little bit of awareness on your part. In this section, let's take a look at the essential components that make up an elegant and well designed template:
Size
This is the first component that you have to decide for yourself while opting for any professional services. Whatever your purpose for the award certificate is, it is always preferable to go for the proper size. You do not want to end up handing out a certificate that is a size too small or too big. Hence many professional online award certificate template services offer award certificate samples for you to look at and make the decision for yourself.The standard dimensions for award certificate paper is 8.5 inches x 11 inches letter size. This popular layout size is also known as the A4 European size format. In some other cases, smaller certificates are also available – similar to 2UP or 3UP formats.
Format
This is where things might get tricky for the users as they have to decide on the format for their award certificates. Now, there are different formats of award certificate paper for different types of certificates. If you are going for a certificate to recognize academic prowess, it is always best to check out the standard format offered by these professional template services. Academic certificates usually begin with the acknowledgment of the person concerned, along with a statement of recognition from the concerned institution – be it school, college or university. It is then followed by the particulars of the person's achievement.However, if you are going for a professional award certificate design, then the format is a bit different. There is no special mention of the type of achievements; rather it is customized to suit the purpose of the awardee concerned.
Font
The overall style of the award certificate is largely dependent on the type of font used in the certificate. If you want your award certificate to look like a professional one, it is best to go for standard font options, such as Calibri or Arial style. However, if your choice involves something more sophisticated and elegant in terms of the style of the certificate, then it is always best to opt for a special stylized font such as Adine Kimburg Font or even Argor Got Scaqh Font.These online professional award certificate templates often come with preview windows which lets to you check out how a particular font looks in practice. Once you are satisfied with your product, then you can easily opt for one without any hesitation. Hence, while choosing a particular style of font, it is always preferable to preview them properly before usage.
How to choose the proper award certificate wording?
This is something that most people struggle with – how to get the proper award certificate wording. When you giving a certificate to someone for their performance or excellence in a certain field, you want to have the appropriate wording in order to express your recognition of his efforts. However it is certainly not easy to write one up on your own and it gets frustrating to think of something that intricate.This is why most people opt for an online professional award certificate template service to do that. These professional services have expert writers who can express gratitude and/or recognition with the appropriate language on an award certificate and you do not have to worry about a thing! Still, you ought to remember a few points that would help you to select the proper wording for your award certificates. Let's take a look at those points:
Tone of the statement
It is very important to get the tone of the certificate right straight away when you understand how to write a certificate of appreciation. An award certificate should be crisp and to the point. It is the exact opposite of a letter where you get time to express your appreciation in more than just a few words. Hence it is very important to deliver the recognition that the person deserves in a formal but warm tone, without wasting any space.
Recognition of the institution and the awardee
This is yet another aspect that most people tend to forget while choosing a proper template for their personalized award certificate. The wording of the entire certificate has to include the details of the institution that is providing the award and the merits of the recipient of the award. Only stating these as facts seem dry – so you have to make sure you incorporate these details in a warm but precise manner with the appropriate wording when composing your award certificate.
What is an award certificate used for?
The purpose of an award certificate is pretty self-explanatory once you have understood what is an Award certificate. These certificates recognize some form of special contribution or merit in a particular field – be it a professional merit, or academic excellence. Still, there is some level of skill involved in constructing it. Even though award certificates are primarily used for these two purposes, you may customize it and use for certain personal occasions as well. Let's take a look at some innovative ways in which award certificates are used to show appreciation:
Surprise your parents on any special occasion by giving an award certificate along with a lovely gift. The tone should be much more personal, and in case of events such as birthdays or anniversaries, these certificates are fun and funny on a personal setting as well.
Same goes for your employees – if you are looking to thank your employees or a colleague of yours for their excellent work during a particular term, then an award certificate can be very rewarding.
Making an award certificate for participation is a very important way to encourage young kids for their active participation. It also softens the competitive aspect of participation and encourages the collective enterprise of participation rather than concentrating solely on winning.
Different types of award certificates
There are multiple forms and formats associated with award certificate templates. This is due to the fact that awarding certificates can serve different purposes, which are not limited to just professional recognition and/or academic prowess. Let's take a look at the different variations that award certificates offer:
Professional Certificates
These are primarily meant to reward an employee or a colleague on their excellent service for a particular body of work. Sometimes, these award certificates can be assimilated into academic fields, but mostly, they are used to recognize and appreciate the work done by fellow professionals in their respective professions.
Academic Certificates
These award certificates are meant strictly to recognize merit and show appreciation in the academic fields. This can be said for all school awards, as well for special college and university awards as well. They are much more appreciative since the recipient has shown exceptional talent and deserves the recognition.
Personal Certificates
These templates require the most casual award certificate wording of the bunch. As many people use it primarily for casual purposes, the arc and format of these ones do not really matter that much. In addition to that, these personal award certificates can offer much more freedom in showing appreciation for your loved ones than a professional award certificate.
Farewell Certificates
This is yet another type of award certificate where the lifelong contribution of an individual is recognized or appreciated instead of an immediate merit or feat. Retiring employees, colleagues, educators or other professionals are often bestowed with these types of award certificates in show to appreciate their presence and acknowledge their contribution to their respective field of work.
How to use an award certificate template?
Using an award certificate template might seem a bit tricky at first, but once you get accustomed to the format with the help of professional service that offers such templates, you are on the right path. So, what does it take to know the proper working points? Let's have a look:
Choose the appropriate online service that provides the best templates for your purpose. This is the first step before getting into the natty-gritty details of choosing the best award certificate template.
The next step is to determine the purpose and structure for your award certificate. There are plenty of template ideas to choose from, so take your time and decide on the best possible one. If you are unsure about it, you can always revert back to the original format at the end when you are done with your award certificate template.
The third step is to fill out the relevant details of the award certificate. Various award certificate sample templates provide spaces where you can input the necessary details about the particulars of the certificate and/or awards.
After you are done with all the necessary inputs, it is time to preview your final creation. All changes made previously can be altered easily even at this step and any necessary exclusions or additions can be made.
The final step includes finalizing all your additions in the corresponding fields of the template and then proceeding on to print your award certificate.
A few things to remember
Everything related to the workings of an award certificate template and how to use it, have been already mentioned in the above points. Still, before you move on to online professional award certificate template services for your certificates, there are a few things to consider.
Do not overburden yourself with a myriad range of choices. Find one which looks best according to you and stick to it.
Do not clutter your award certificate template with unnecessary information. If you require more information on any certificate, simply select a template which has pre-allotted space for it.
Finalize your creation only after you are absolutely certain of it. For help, see various award certificate example options.
So what are you waiting for? Here is your chance to make the most out of our professionally designed award certificate template services!