Home

>

Certificate of Attendance
Certificate of Attendance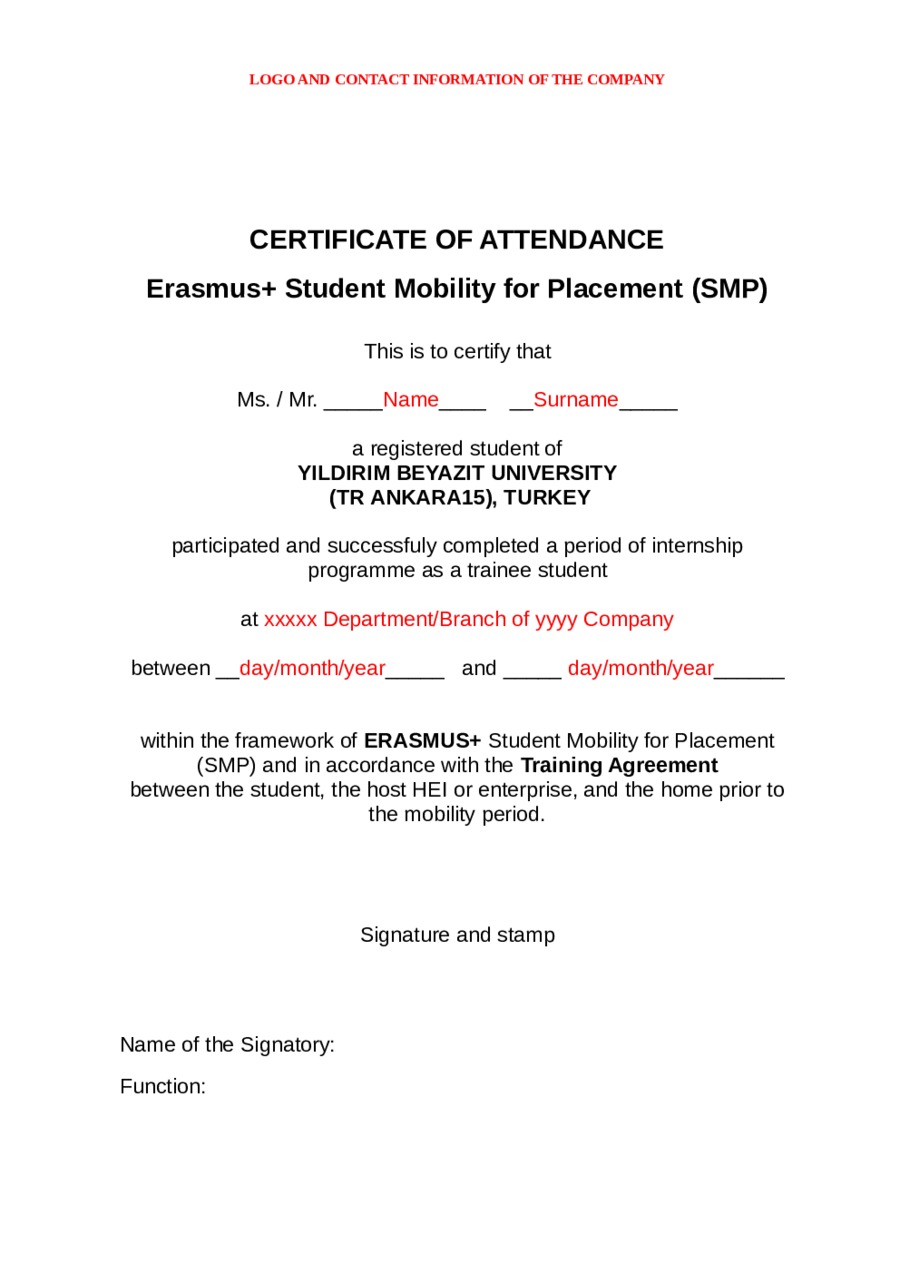 What is a certificate of attendance?
People are rewarded for ethics and skills in school and at work as well. This work ethics includes respecting peers, senior office members, punctuality, conducting oneself, presentation of work and self, etc. Attendance is a key factor for every person from the very first years of school. While it is mandatory, the lack of choice or laziness can cause tardiness.For those who persevere through this, they are awarded a token of achievement for their efforts. In the long run, these tokens are a symbol that illustrates to future employers the reputation and reliability of the person they are about to hire.Usually, certificates are given out at the end of a school or financial year. What is certificate of attendance? Download a template online now for a sample or buy them at reasonable prices right now!
What is attendance?
Attendance is the calculation of the number of days a person goes to work or college on time. It is set against the total number of working days in a year. To ensure that you have a high rank, it is required that the least amount of leaves - as possible - are taken. Good attendance is a portrayal not only of good work ethic but of good character, reliability and responsibility people have. All of these traits are presented via these easily downloaded attendance certificate templates.Generally, in school, high achievers and those who get progressively better with time are those who go for regular classes. Employees who go to work every day earn a better reputation and are significantly better at their jobs. When changing jobs, looking for better work opportunities, applying to different schools or universities – good attendance scores always play in favor of the person. It makes landing a good position at work or attaining that dream college so much easier.
Importance of attendance at work
An employee with poor attendance indicates that he or she is not particularly concerned about their daily duties, responsibilities and progress of the company. This is precisely why employers check former attendance records before hiring someone new. If you're an employer that is seeking to award certificates, you can find any certificate of attendance template online!Below is a list of reasons why regular attendance is important.
Employees have an impact on the work of their colleagues. One person's lack of absenteeism leaves more work for the others.
Meetings have to be rescheduled because of a single absent employee or tardiness. This is especially a hindrance for small businesses.
Each employee fulfills a critical role in the company. Temporary employees need to be trained and may not do the job effectively. Hence, the productivity, as well as, profits of the organization is affected.
However, employees who are punctual, responsible and dedicated to their jobs should get rewarded. Pick a certificate of attendance sample so that you have an idea of what they should look like. Many are available online and can be downloaded for use whenever required.
Importance of attendance in school/university
School is a place where good work ethics are first imbibed in us. It is very essential that every child attend school habitually so that they develop good habits early in life. This is definitely displayed in every students grades and performance overall.At the end of the every deserving student receives a badge for being responsible. Teachers can now find a certificate of attendance template online that can be easily customized for each student.Here is why each student should be regular:
Able to follow every topic that is being taught in class.
No opportunities are missed, whether it is to win a quiz or a chance to join a new club.
They do not miss out on group activities; improve social skills.
In the long term, these students are more academically successful.
Good grades and punctuality aid in getting into a good college or university.
It builds character and enables students to be accountable for their actions.
Why awarding for attendance is necessary
It is crucial that people are remunerated for their dedication to their jobs and education. An award for students or employees encourages them to be better and continue to work hard daily.
It promotes a good office environment and sets the standards for other employees as well. Peers learn from each other and are influenced by each other too. However, it can be complicated trying to think of the appropriate template for a certificate. But these days certificate of attendance samplers readily available for download. They are easily customizable and easy to use.
If you encourage hard work with adequate acknowledgement of hard work and remuneration, it will promote a healthy work environment that will inspire employees to push themselves further.
Team building spirits will also be strengthened and the level of output from each worker will increase significantly.
Students feel motivated to attend daily and work harder in their classes.
It reinstates the fact that good, hard work is well rewarded, and so people wire themselves to remember that effort will always be rewarded.
In case you are worried as to how to write down such a certificate, you can surely check out various templates that are available online! With these templates you can either get an idea regarding how to write such a certificate, or in case you find it too difficult to do so, you can simply download them and fill in the required details!
How to write a certificate of attendance: For work
There are many ways a certificate can be written. Each format is different and is meant for different purposes. You can avail of any format that suits your need. Writing certificates of attendance is a breeze when you have so many template options available. Choose one or put together your own custom template that will be ready to download in minutes!A general printable certificate of attendance for work has the following:
Company name and logo right on the top.
The reason the certificate is being awarded just below the company name.
Name of the awardee after that.
Some have a few more details about the specifics of the role the employee has played in the company.
Below all of this, the date, signature of the employer and head of the company can be found.
A basic border gives the entire thing some definition. This is important to keep in mind when wondering how to write a certificate of attendance.
The color scheme may be a simple black and white coordination, or a few more colors may be added in minor details like the border or text to make the certificate look attractive.
The format for work certificates is usually simple with no more than two basic colors on it. They are rather uncomplicated. You can print a blank certificate of attendance and simply put the name of an employee on it. This is the quickest and easiest way to avoid any complex and complicated method of writing any certificate.
How to write a certificate of attendance: For schools
Next, writing certificates for students or schools is slightly different. Customizing a printable certificate of attendance should be written as follows:
The school logo should be lightly printed as the background.
The first line should state the purpose of the document, that is, certificate of attendance.
Next should portion state the student the certificate is being awarded to.
The year that it is being given to the student for.
It can be as colorful or plain as required. Usually, certificates for junior students include a lot more colors than the basic school colors.
Border can be straight lines, or various can be used to make it attractive.
Certificates are the ideal way of promoting students to focus, work harder and be more productive in class. To save time, money and effort, you can always opt to print a blank certificate of attendance as a sample from the internet.These certificate templates are what will help students later in life by establishing their character and reliability. Downloading the templates is not complex or complicated; they are exceptionally simple to customize as well.
How to search for the best templates
With the internet, so many options are available that it is hard to pick the right one. If you're wondering, "What is a certificate of attendance?" You can find all the information you need online. However, there are things that you need to keep in mind when trying to pick a template that is ideal for your needs.Here is what you need to remember:
Customize it exactly as necessary. Go over the format before you submit a template that you like.
Check various formats for different occasions so that you pick the most appropriate one.
Ensure that what you print is durable and done with the right ink so that it lasts for many years.
Pick a site that is reliable and one that you intend on using for many years.
They should not ask you for important information like credit card details, etc.
They should offer designing options as per your convenience.
The option for a blank certificate of attendance should be available, but there should also be the option of having the pre-printing names on them.
It should be easy to print if required. The item which is seen on the internet should be printed exactly like that for the size and format you have chosen.
Opt for Certificate of attendance templates
Availing of a certificate of attendance template is simple. Here is why they are so popular these days:
There are many samples and options that you can try before you settle on one.
You can see what your certificate will look like before you print it.
There are many format options like MS Word, A4, PDF, etc.
A variety of payment options are available.
You can get a print out if you like, or even save it as a soft copy for e-mail purposes.
The variety of choices means you can compare your options, as well as, prices before you settle on one template.
They are extremely easy to use and user friendly so that customization is a breeze.
Download any template in your own time, and print it at a later time.
Choose from a variety of font options.
Save money by doing it on your own. There is no need to hire an individual to customize, create, print, and arrange the templates.
Downloading certificate of attendance templates online is user friendly.
Step by step guides are available for assistance.
Never worry about how to write a certificate of attendance ever again! From downloading, to printing, emailing soft copies, etc., you now have the opportunity to build someone's future through these certificates. Presenting an array of attendance certificates at an interview, or framing them on a wall can now be done at the click of a button. So, check out your options today!