Fillable Printable A Eulogy for My Colleague
Fillable Printable A Eulogy for My Colleague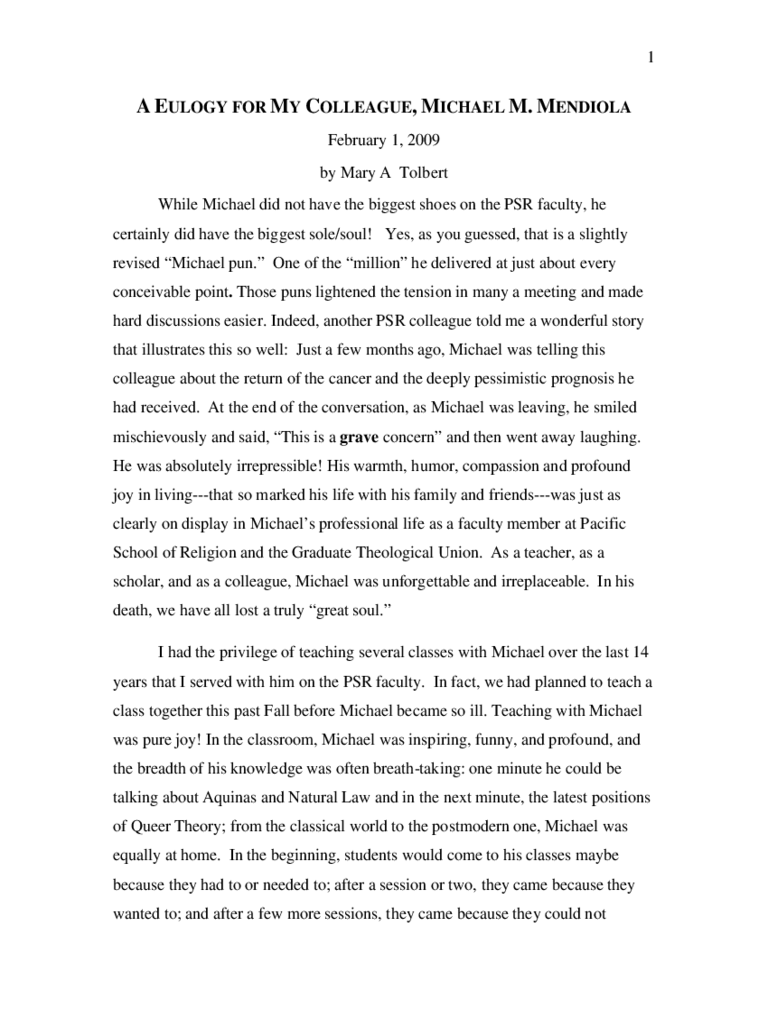 A Eulogy for My Colleague
1
A
E
ULOGY FOR
M
Y
C
OLLEAGUE
,
M
ICHAEL
M.
M
ENDIOLA
February 1, 2009
by Mary A Tolbert
While Michael did not have the bi
ggest shoes on the PSR faculty, he
certainly did have the biggest sole/soul!
Yes, as you guessed, that is a slightly
revised "Michael pun." One of the "mil
lion" he delivered at just about every
conceivable point
. Those puns lightened the tensi

on in many a meeting and ma de
hard discussions easier. Indeed, another
PSR colleague told me a wonderful story
that illustrates this so we
ll: Just a few months ago,

Michael was telling this
colleague about the re
turn of the cancer and the de

eply pessimistic prognosis he
had received. At the end of the conversa
tion, as Michael was

leaving, he smiled
mischievously and said, "This is a
grave
concern" and then went away laughing.
He was absolutely irrepressible! His
warmth, humor, compassion and profound
joy in living---that so marked his life with his family and friends---was just as
clearly on display in Michael's professiona
l life as a faculty member at Pacific
School of Religion and the Graduate Th
eological Union. As a teacher, as a
scholar, and as a colleague, Michael was unf
orgettable and irreplaceable. In his
death, we have all lost a truly "great soul."
I had the privilege of teaching several
classes with Michael over the last 14
years that I served with him
on the PSR faculty. In fact, we had planne d to teach a
class together this past Fall before Mich
ael became so ill.

Teaching with Michael
was pure joy! In the classroom, Michael wa
s inspiring, funny, and profound, and
the breadth of his knowledge was often
breath-taking: one

minute he coul d be
talking about Aquinas and Natural Law and
in the next minute, the latest positions
of Queer Theory; from the cl
assical world to the post

modern one, Michael was
equally at home. In the beginning, students would come to his classes maybe
because they had to
or needed to; after
a session or two, they came because they
wanted to; and after a few more sessions, they came because they could not
2
imagine missing even one
word Michael had to say.

Michael loved learning, and
in the classroom, he was uniquely able to
communicate that love to students. He
changed the thinking and indeed the lives
of so many of the students he touched
with his inspired teaching.
Without question he was one

of the best teachers PSR
has seen in many years: passionate, committed to high standards for himself and
everyone else, a superb communicator,
and a compelling classroom presence.
Those are shoes that will be very hard to fill!
Michael's excellence as a teacher sp
rang directly out of his commitment
both to students and to his own scholarshi
p. Michael gave fully of his tim e,
resources, and skill to any student who needed and wanted help
(the "wanted" was
very important). From m eeting students
during vacation days to reading and
rereading papers and theses to all hours
of the night, so that students could get
important feedback in time fo
r deadlines, Michael was, as

another colleague put it,
"impeccably responsible," or as I often pu
t it to Michael, "too damn committed for
his own good." But Michael's commitment to
students was part and parcel of his
scholarly commitment to a profoundly em
bodied narrative ethics, a development
of contemporary ethics that takes with gr
eat seriousness the real, lived experience
of people in day to day life expressed in th
eir stories. In his book on suffering, for
example, he spends a great deal of
time developing what he calls a "thick"
description of suffering. He wanted to
know what people really experienced and
meant by suffering in detail before talking
about possible ethical responses to it.
As a gay man and as a Latino, Michael
was especially concerned with the
suffering that comes from social injustice, and as a bioethicist,
he took the pain of
the body, a pain that in recent years, he himsel
f knew only too well, with
compassionate seriousness. However, sc
holarship for Michael was not only
something one did in books, lectures,
and classrooms; scholarship for Michael
needed to act in the world
to change the painful realities it analyzed. At PSR,
Michael was the founder of the Bay Area
Faith and Health Consortium, bringing
3
together health professionals from across
the region and especially from Cal's
School of Public Health w
ith theologians and ethicists

to work out best practices
for patient and community care. Moreover,
Michael was one of the faculty leaders
in establishing PSR's ground-breaking Ce
nter for Lesbian and Gay Studies in
Religion and Ministry. Withou
t Michael that Center would not exist. Scholarship
in action; compassionate reasoning; theo
ry and praxis work
ing together---those
were not just slogans for Michael; they
were the embodied soul of his life and
work.
As a faculty colleague, Michael was, as
scripture puts it, a man in whom
there is no guile. Michael did not particip
ate in the behind-the-back m achinations
that often plague small faculties---and let's
be honest, large ones as well. He was
who he was at every moment, an enormous
ly rare quality in my experience. What
he told you in the privacy of his office wa
s exactly what he would say in a public
meeting. I always felt relieved when I wa
s in a meeting with Michael because I
knew he would be articulate, fair-minded,
reasonable, and absol utely accountable
in all that he said and supported. Michae
l always spoke the truth, as he knew it,
about his views, his feelings, and his life.
If he was angry, he told you; if he was
happy, he told you; if he was depressed, as
he was so often in the last month of his
life, he told you. You never had to wond
er or guess what Michael thought or what
he felt. It is such a relief to work w
ith someone like that, such a joy. I loved
working with Michael, even on those rare occasions when we did not agree,
because I had enormous respect for Mich
ael's carefully thought out positions, and
because we could talk about anything, lite
rally anything: death,

fidelity, sex, his
desire to go to beauty school, finances,
family, politics, anythi
ng. He always spoke
out courageously at injustice, and he
always
expressed his gratitude at the work
and words of others. After many m ee
tings, Michael would knock on my office
door just to tell me that he really appr
eciated what I had said

or done in that
meeting. And I am not the only one; ma
ny faculty colleagues found Michael at
4
their doors expressing his gratitude for what
they had said. He let us all know that
he, at least, appreciated th
e time and work everyone put

in to making the school a
successful enterprise. And in
return, Michael was held in enormously high esteem
by everyone who worked with him, whic
h often meant that he was elected or
appointed to crucial commi
ttees and important faculty

posts—all of which he
carried through with utter competence
and f ull accountability. How can you not
love a colleague like that? Gratitude, hu
mility, courage, fair-mindedness, humor,
intelligence, and an enduring personal hones
ty were the hallmarks of Michael's
collegial life. We will not see his like agai
n anytime soon. Michael was a rare soul,
one who was with us much, much too short a time.
Writing this piece about Michael has been
one of the hardest tasks I have
undertaken in a long time—not because ther
e are not many things to say about this
wonderful man. I could easily spend
hours telling you about Michael. But
because I simply cannot believe
that he is gone. I keep expecting to hear his
laughter in the PSR hallways, to find him at
the center of every group of excitedly
talking students. He is too vital, too aliv
e to be dead. I want to close my remarks
with a poem by Edna St. Vincent Millay
that says what I am feeling today:
Dirge without Music
I am not resigned to the shutting away
of loving hearts in the hard ground.
So it is, and so it will be, for so
it has been time out of mind:
Into the darkness they go, the
wise and the lovely, Crowned
With lilies and with laurel they
go; but I am not resigned.
Lovers and thinkers, in
to the earth with you,
Be one with the dull, the indiscriminate dust.
A fragment of what you fe
lt, of what you knew,
A formula, a phrase remains---but the best is lost.
5
The answers quick and k
een, the honest look, the laughter, the love---
They are gone. They are gone to fe
ed the roses. Elegant and curled
Is the blossom. Fragrant is the blossom. I know. But I do not approve.
More precious was the light in your eyes
than all the roses of the world.
Down, down, down into the darkness of the grave
Gently they go, the beau
tiful, the tender, the kind;
Quietly they go, the intellig
ent, the witty, the brave.
I know. But I do not approve. And I am not resigned.