Fillable Printable Application for Search and Certified Copy of Death Record - Indiana
Fillable Printable Application for Search and Certified Copy of Death Record - Indiana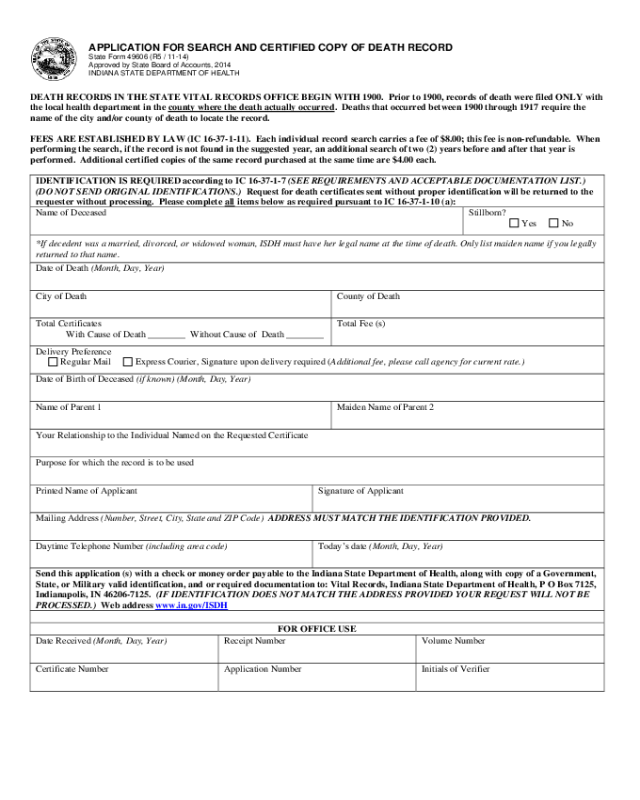 Application for Search and Certified Copy of Death Record - Indiana
APPLICATION FOR SEARCH A ND CERTIFIED COPY OF DEATH RECORD
State Form 49606 (R5 / 11-14)
Approved by State Board of Accounts, 2014
INDIANA STATE DEPARTMENT OF HEALTH
DEATH RECORDS IN THE STATE VITAL RECORDS OFFICE BEGIN WITH
1900. Prior to 1900, records of death were filed ONLY with
the local health department in the county where the death actually occurred
. Deaths that occurred between 1900 through 1917 require the
name of the city and/or county of death to locate the recor d.
FEES ARE ESTABLISHED BY LAW (IC 16-37-1-11).
Each individual record search carries a fee of $8.00; this fee is non-refundable.

When
performing the search, if the record is not found in the sugge ste d
year, an additional search of two (2) years before and after

that year is
performed. Additional certified copies of the same record purchased at the same time are $4.00 each.
IDENTIFICATION IS REQUIRED
according to IC 16-37-1-7

(SEE REQUIREMENTS AND ACCEPTABLE DOCUMENTATION LIST.)
(DO NOT SEND ORIGINAL IDENTIFICATIONS.)
Request for death certificates sent without proper identification will be returned to the
requester withou t proces s in g . Pleas e complete all
items below as required pursuant to IC 16-37-1-10 (a):
Name of Deceased
Stillborn?
*If decedent was a married, divorced, or widowed woman, ISDH must
have her legal name at the time of death. Only list maiden na

me if you legally
returned to that name.
Date of Death
(Month, Day, Year)
City of Death
County of Death
Total Certificates
With Cause of
Death ________ Without Cause of Death ________
Total Fee (s)
Delivery Preference
Regular Mail
Express Courier, Signature upon delivery required (Additional fee, please call

agency for current rate.)
Date of Birth of Deceased
(if known) (Month, Day, Year)
Name of Parent 1
Maiden Name of Parent 2
Your Relationship to the Individual Named on the Requested Certificate
Purpose for which the record is to be used
Printed Name of Applicant
Signature of Applicant
Mailing Address
(Number, Street, City, State and ZIP Code) ADDRESS MUST MATCH THE

IDENTIFICATION PROVIDED.
Daytime Telephone Number
(including area code) Today's date (Month, Day, Year)
Send this application (s) with a check or money order paya ble to
the Indiana State Department of Health, along with copy of a G

overnment,
State, or Military valid identification, and or required document
ation to: Vital Records, Indiana State Department of He alth, P

O Box 7125,
Indianapolis, IN 46206-7125.
(IF IDENTIFICATION DOES NOT MATCH THE ADD

RESS PROVIDED YOUR REQUEST WILL NOT BE
PROCESSED.)
Web address

www.in.gov/ISDH
FOR OFFICE USE
Date Received
(Month, Day, Year)

Receipt Number

Volume Number
Certificate Number
Application Number
Initials of Verifier