Fillable Printable Behavior Apology Letter Sample
Fillable Printable Behavior Apology Letter Sample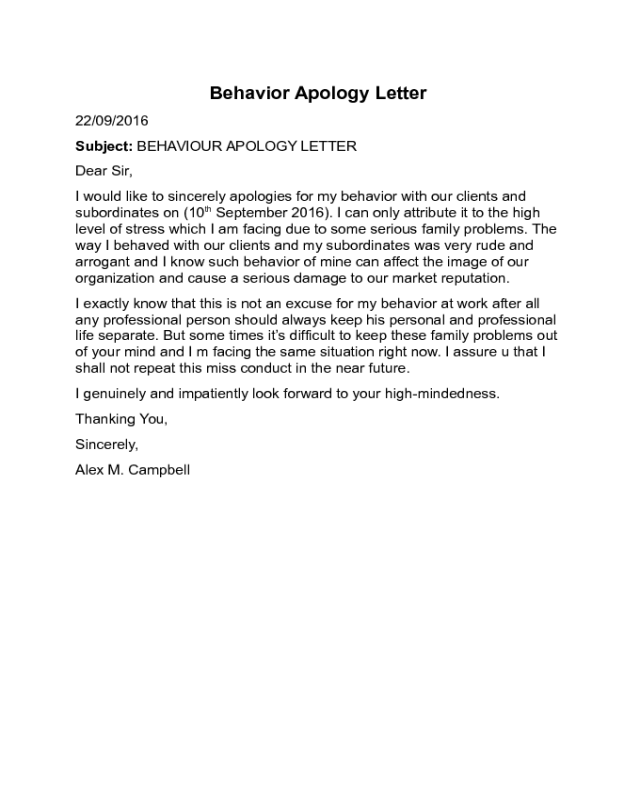 Behavior Apology Letter Sample
Behavior Apology Letter
22/09/2016
Subject:
BEHAVIOUR APOLOGY LETTER
Dear Sir,
I would like to sincerely apologies for my behavior with our clients and
subordinates on (10
th
September 2016). I can only attribute it to the high
level of stress which I am facing due to some serious family problems. The
way I behaved with our clients and my subordinates was very rude and
arrogant and I know such behavior of mine can affect the image of our
organization and cause a serious damage to our market reputation.
I exactly know that this is not an excuse for my behavior at work after all
any professional person should always keep his personal and professional
life separate. But some times it's difficult to keep these family problems out
of your mind and I m facing the same situation right now. I assure u that I
shall not repeat this miss conduct in the near future.
I genuinely and impatiently look forward to your high-mindedness.
Thanking You,
Sincerely,
Alex M. Campbell