Fillable Printable I Am Sorry Letter Sample
Fillable Printable I Am Sorry Letter Sample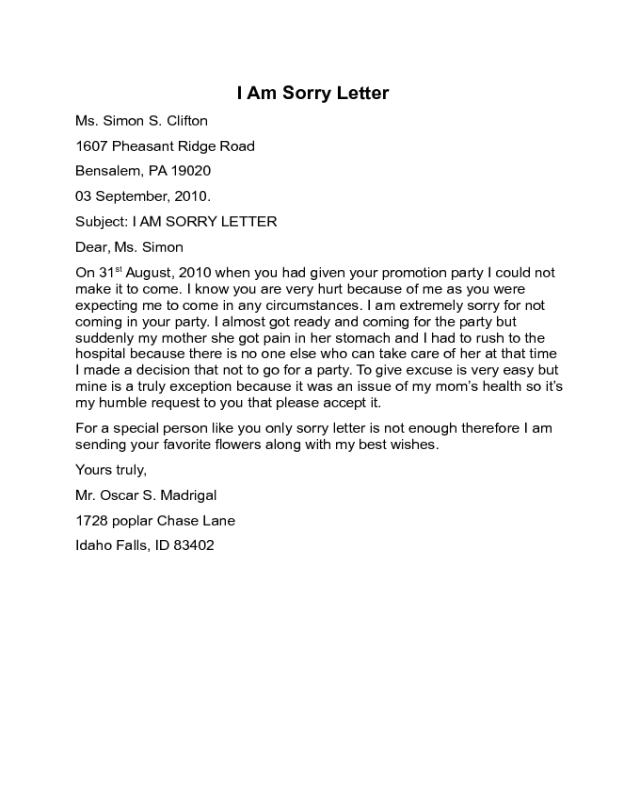 I Am Sorry Letter Sample
I Am Sorry Letter
Ms. Simon S. Clifton
1607 Pheasant Ridge Road
Bensalem, PA 19020
03 September, 2010.
Subject: I AM SORRY LETTER
Dear, Ms. Simon
On 31
st
August, 2010 when you had given your promotion party I could not
make it to come. I know you are very hurt because of me as you were
expecting me to come in any circumstances. I am extremely sorry for not
coming in your party. I almost got ready and coming for the party but
suddenly my mother she got pain in her stomach and I had to rush to the
hospital because there is no one else who can take care of her at that time
I made a decision that not to go for a party. To give excuse is very easy but
mine is a truly exception because it was an issue of my mom's health so it's
my humble request to you that please accept it.
For a special person like you only sorry letter is not enough therefore I am
sending your favorite flowers along with my best wishes.
Yours truly,
Mr. Oscar S. Madrigal
1728 poplar Chase Lane
Idaho Falls, ID 83402