Fillable Printable Business Apology Letter Sample
Fillable Printable Business Apology Letter Sample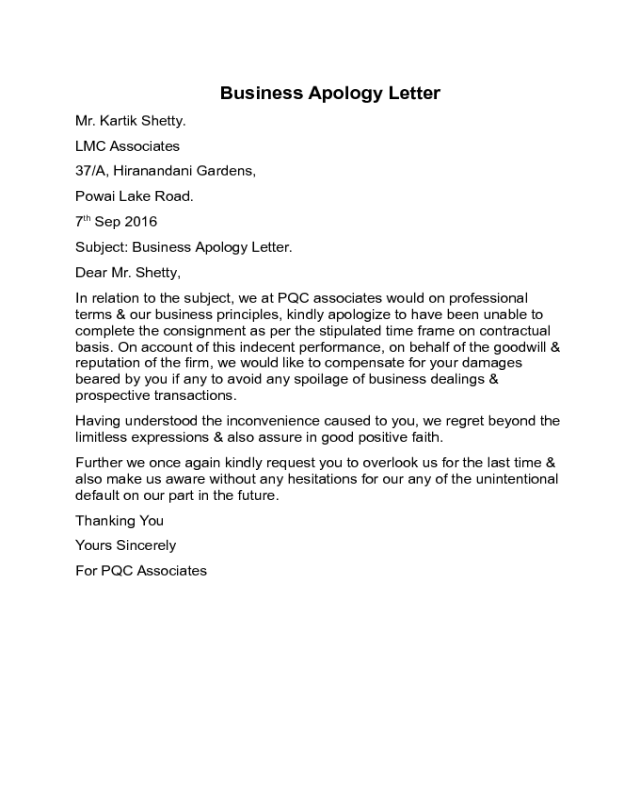 Business Apology Letter Sample
Business Apology Letter
Mr. Kartik Shetty.
LMC Associates
37/A, Hiranandani Gardens,
Powai Lake Road.
7
th
Sep 2016
Subject: Business Apology Letter.
Dear Mr. Shetty,
In relation to the subject, we at PQC associates would on professional
terms & our business principles, kindly apologize to have been unable to
complete the consignment as per the stipulated time frame on contractual
basis. On account of this indecent performance, on behalf of the goodwill &
reputation of the firm, we would like to compensate for your damages
beared by you if any to avoid any spoilage of business dealings &
prospective transactions.
Having understood the inconvenience caused to you, we regret beyond the
limitless expressions & also assure in good positive faith.
Further we once again kindly request you to overlook us for the last time &
also make us aware without any hesitations for our any of the unintentional
default on our part in the future.
Thanking You
Yours Sincerely
For PQC Associates