Fillable Printable Birth Certificate Request Form - Alaska
Fillable Printable Birth Certificate Request Form - Alaska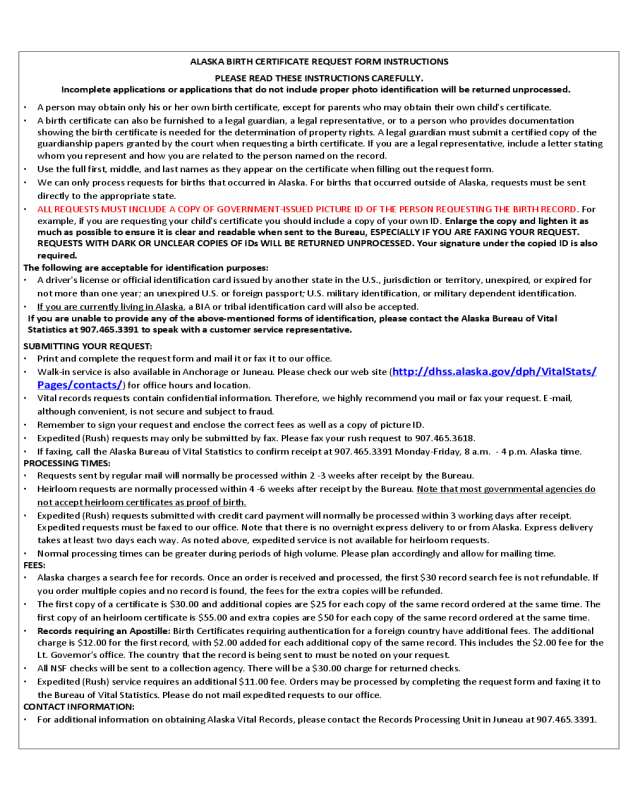 Birth Certificate Request Form - Alaska

ALASKA BIRTH CERTIFICATE REQUEST FORM INSTRUCTIONS
PLEASE READ THESE INSTRUCTIONS CAREFULLY.
Incomplete applications or applications that do not include proper photo identification will be returned unprocessed.
·
A person may obtain only his or her own birth certificate, except for parents who may obtain their own child's certificate.
·
A birth certificate can also be furnished to a legal guardian, a legal representative,

or to a person who provides documentation
showing the birth certificate is needed for the determination of property rights. A legal guardian must submit a certified copy of the
guardianship papers granted by the court when requesting a birth certificate. If you are a legal representative, include a letter stating
whom you represent and how you are related to the person named on the record.
·
Use the full first, middle, and last names as they appear on the certificate when filling out the request form.
·
We can only process requests for births that occurred in Alaska. For births that occurred outside of Alaska, requests must be sent
directly to the appropriate state.
·
ALL REQUESTS MUST INCLUDE A COPY OF GOVERNMENT-ISSUED PICTURE ID OF THE PERSON REQUESTING THE BIRTH RECORD

. For
example, if you are requesting your child's certificate you should include a copy of your own ID.
Enlarge the copy and lighten it as
much as possible to ensure it is clear and readable when sent to the Bureau, ESPECIALLY IF YOU ARE FAXING YOUR REQUEST.
REQUESTS WITH DARK OR UNCLEAR COPIES OF IDs WILL BE RETURNED UNPROCESSED. Your signature under the copied ID is also
The following are acceptable for identification purposes:
·
A driver's license or official identification card issued by another state in the U.S., jurisdiction or territory, unexpired, or expired for
not more than one year; an unexpired U.S. or foreign passport; U.S. military identification, or military dependent identification.
·
If you are currently living in Alaska, a BIA or tribal identification card will also be accepted.
If you are unable to provide any of the above-mentioned forms of identification, please contact the Alaska Bureau of Vital
Statistics at 907.465.3391 to speak with a customer service representative.
SUBMITTING YOUR REQUEST:
·
Print and complete the request form and mail it or fax it to our office.
·
Walk-in service is also available in Anchorage or Juneau. Please check our web site (
http://dhss.alaska.gov/dph/VitalStats/
Pages/contacts/
) for office hours and location.
·
Vital records requests contain confidential information. Therefore, we highly recommend you mail or fax your request. E-mail,
although convenient, is not secure and subject to fraud.
·
Remember to sign your request and enclose the correct fees as well as a copy of picture ID.
·
Expedited (Rush) requests may only be submitted by fax. Please fax your rush request to 907.465.3618.
·
If faxing, call the Alaska Bureau of Vital Statistics to confirm receipt at 907.465.3391 Monday-Friday, 8 a.m. - 4 p.m. Alaska time.
PROCESSING TIMES:
·
Requests sent by regular mail will normally be processed within 2 -3 weeks after receipt by the Bureau.
·
Heirloom requests are normally processed within 4 -6 weeks after receipt by the Bureau. Note that most governmental agencies do
not accept heirloom certificates as proof of birth.
·
Expedited (Rush) requests submitted with credit card payment will normally be processed within 3 working days after receipt.
Expedited requests must be faxed to our office. Note that there is no overnight express delivery to or from Alaska. Express delivery
takes at least two days each way. As noted above, expedited service is not available for heirloom requests.
·
Normal processing times can be greater during periods of high volume. Please plan accordingly and allow for mailing time.
FEES:
·
Alaska charges a search fee for records. Once an order is received and processed, the first $30 record search fee is not refundable. If
you order multiple copies and no record is found, the fees for the extra copies will be refunded.
·
The first copy of a certificate is $30.00 and additional copies are $25 for each copy of the same record ordered at the same time. The
first copy of an heirloom certificate is $55.00 and extra copies are $50 for each copy of the same record ordered at the same time.
·
Records requiring an Apostille:

Birth Certificates requiring authentication for a foreign country have additional fees. The additional
charge is $12.00 for the first record, with $2.00 added for each additional copy of the same record. This includes the $2.00 fee for the
Lt. Governor's office. The country that the record is being sent to must be noted on your request.
·
All NSF checks will be sent to a collection agency. There will be a $30.00 charge for returned checks.
·
Expedited (Rush) service requires an additional $11.00 fee. Orders may be processed by completing the request form and faxing it to
the Bureau of Vital Statistics. Please do not mail expedited requests to our office.
CONTACT INFORMATION:
·
For additional information on obtaining Alaska Vital Records, please contact the Records Processing Unit in Juneau at 907.465.3391.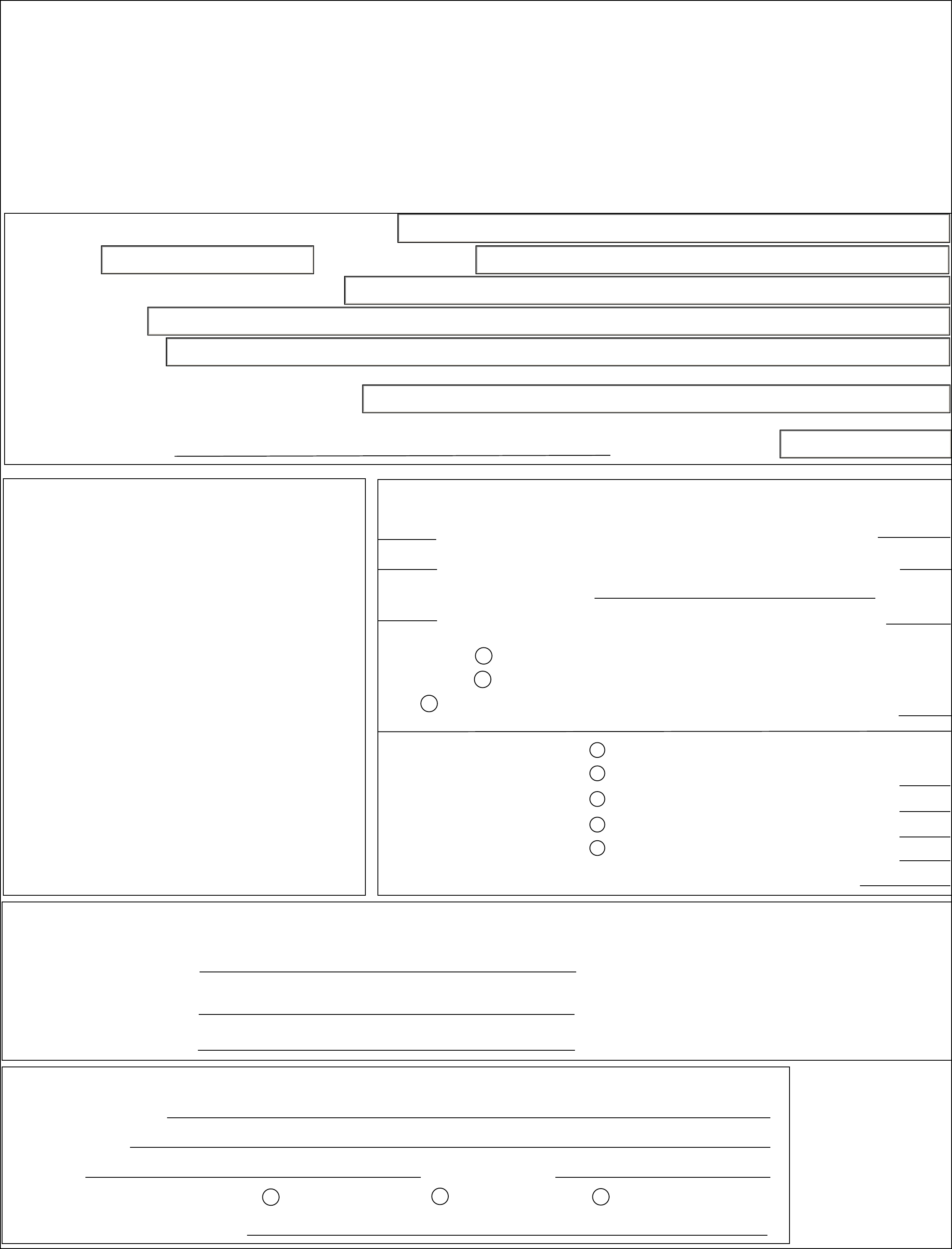 STATE OF ALASKA
BIRTH CERTIFICATE REQUEST FORM
•
You may type directly on this form and print it or you may print the form first and then complete it by hand. If you enter the ordering
information on this form the fees and shipping charges will automatically be calculated.
•
If completed by hand, be sure that all information is printed neatly and is legible.
•
Expedited (Rush) requests must be faxed to 907.465.3618 for processing

. Do not mail expedited requests. Please call 907.465.3391
Monday

-

Friday, 8 a.m. to 4 p.m. Alaska time, to confirm the receipt of your fax.
•
Please read the instructions on the previous page.

Incomplete or inaccurate requests or requests that do not include a copy of a
government
-
issued ID with a signature below the ID will be returned
unprocessed.
FULL
First, Middle, and Last Name on the Birth Certificate:
Date of Birth:
City or Village of Birth:
Mother's
FULL
name before she was first married:
Purpose of the request:
(Personal Records, Legal Purposes, Inheritance/Estate Settlement, Govt. Assistance/Benefits, Insurance/Pension, Retirement, etc. )
(Self, mother, father, legal representative, etc. )
Your Relationship to the Child Named on the Record:
Contact Phone Number:
Signature of the Person
Requesting the Record:
Make Checks Payable to:
Bureau of Vital Statistics
P.O. Box 110675
Mail this form with a money order, a check, or
credit card information. Checks must be
preprinted with your name and address. Please
note there is a $30.00 NSF fee for returned checks.
Expedited (Rush) requests must be faxed to
907.465.3618 for processing (Add $11.00).
Expedited (Rush) Service* (Add $11.00)
Jon Van Zyle, "Polar Bears"
Rie Muñoz, "The Embrace"
Heirloom Certificate Selected:
Heirloom Certificates: $55 first copy; $50 each additional copy
Country needed for:
Apostille fee (please see instructions for fees)
Birth Certificates: $30 first copy; $25 each additional copy
of the same record ordered at the same time.
*Does not include shipping fees.
the U.S)
rates outside
for shipping
(Call our office
Ship by:
Total
FedEx (No PO Box / Add $19.50)
Express Mail (Add $19.99)
Priority Mail (Add $5.75)
Regular Mail (no additional fee)
Registered Mail (Add $12.20)
Credit Card Information (When paying by credit card)
Name on credit card:
Billing address:
Number:
Expiration date:
Cardholder signature (required):
PLEASE ENTER YOUR MAILING ADDRESS BELOW
Name:
Street / PO Box:
City, State, Zip
Amount
You may enter the ordering information in this form and the fees
and shipping charges will automatically be calculated.
# Copies
(Rev. 07/15)