Fillable Printable Borad Continuing Power of Attorney - Prince Edward Island
Fillable Printable Borad Continuing Power of Attorney - Prince Edward Island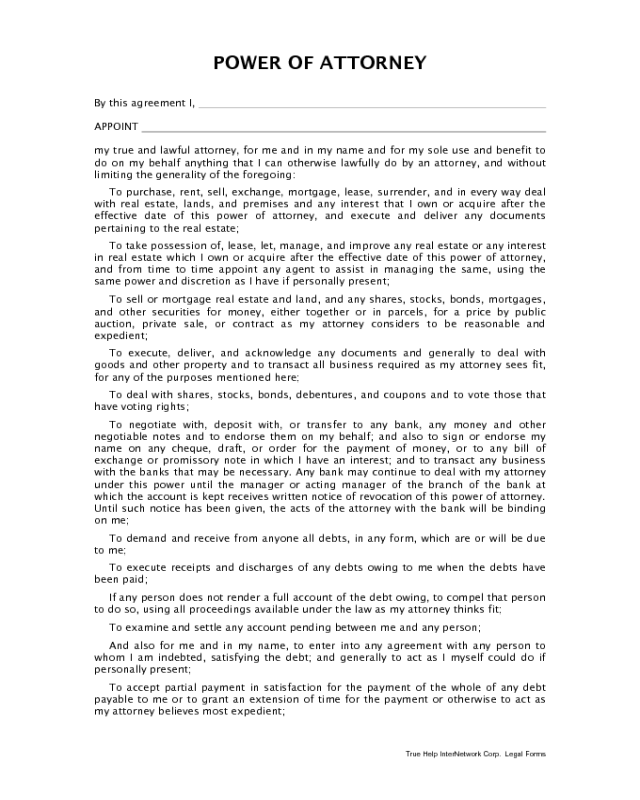 Borad Continuing Power of Attorney - Prince Edward Island

!
!
True Help InterNetwork Corp. Legal Forms
!
POWER OF ATTORNEY
my true and lawful attorney,for me and in my name and for my sole use and benefit to
do on my behalf anything that I can otherwise lawfully do by an attorney, and without
limiting the generality o
f the foregoing:
To purchase, rent, sell, exchange, mortgage, lease, surrender, and in every way deal
with real estate, lands, and premises and any interest that I own or acquire after the
effective date of thispowerof attorney, and execute and deliver a
ny documents
pertaining to the real estate;
To take possession of, lease, let, manage, and improve any real estate or any interest
in real estate which I ownor acquire after theeffective date of this power of attorney,
and from time to time appointany a
gent to assist in managing the same, using the
same power and discretion as I have if personally present;
To sell or mortgage real estate and land, and any shares, stocks, bonds, mortgages,
and other securities for money,either together or in parcels, for
a price by public
auction, private sale,or contract as my attorney considers to be reasonable and
expedient;
To execute, deliver, and acknowledge any documents and generally to deal with
goods and other property and to transact all business required as m
y attorney sees fit,
for any of the purposes mentioned here;
To deal with shares, stocks, bonds, debentures, and coupons and to vote those that
have voting rights;
To negotiate with, deposit with, or transfer to any bank, any money and other
negotiable not
es and to endorse them on my behalf; and also to sign or endorse my
name on any cheque, draft, or order for the payment ofmoney, or to any bill of
exchange or promissory note in which I have aninterest; and totransact any business
with the banks that ma
y be necessary. Any bank may continue to deal with my attorney
under this power until the manager or acting manager of the branch of the bank at
which the account is kept receives written notice of revocation of this power of attorney.
Until such notice ha
s been given, the acts of the attorney with thebank will be binding
on me;
To demand and receive from anyone all debts, in any form, which areor will be due
to me;
To execute receipts and discharges of any debts owing to me when the debts have
been paid;
If any person does not render a full account of the debt owing, to compel that person
to do so, using all proceedings available under the law as my attorney thinks fit;
To examine and settle any account pending between me and any person;
And also for me a
nd in my name, to enter into any agreement with any person to
whom I am indebted, satisfying the debt; and generally to act as I myself could do if
personally present;
To accept partial payment in satisfaction for the payment of the whole of any debt
payab
le to meor to grant an extension of time for the payment

or otherwise to act as
my attorney believes most expedient;
!
!
True Help InterNetwork Corp. Legal F
orms
!!
If any dispute arises concerning any of the matters in this power of attorney, to take the dispute
to arbitration, as my attorney thinks
fit, and to sign any documents for this purpose;
And also to invest or deal with any money which may be received as my attorney sees fit and
in particular to buy real estate, stocks, and bonds;
And to have access to deposit and remove any documents or art
icles which may be in any
safety deposit box I have, in any institution;
This power of attorney is subject to the following conditions and restrictions:
[
insert conditions and restrictions here
]
!
!
True Help InterNetwork Corp. Legal F
orms
!!
Regarding Incapacity:
Alberta
In accordancewiths.2 of thePowers of Attorney Act of
Alberta

, I declarethat the authority
of my attorney under the power of attorney
—
(a)
is

to continue notwithstanding any mental incapacity or infirmity on my part that occurs
after the execution of the power of attorney.
OR
(b)
is to take effect on my m

ental incapacity or infirmity.
British Columbia
, Manitoba,

Saskatchewan
And, in accordance with s.8 of the Power of Attorney Act of
British Columbia
and s.10 of the
PowersofAttorneyAct of
Manitobaand s.3 ofthe Power of Attorney Act of Saskatchewan

, I
declare that the authority ofmy attorney under t
his power of attorney will continue
notwithstanding any subsequent
mental infirmity on my part.
New Brunswick
And, in accordance with s.58.2 of the PropertyAct of
New Brunswick
, I declarethat the
authority of my attorney under this power of attorney wil
l continue notwithstanding any
subsequent
mental incompetence on my part
Nova Scotia
,
Newfoundland
And, in accordance with s.3 of the Powers of Attorney Act of
Nova Scotia
and s.3 of the
Enduring Powers of Attorney Act of
Newfoundland
, I declare that the

authorityof my attorney
under this power of attorney may be exercised notwithstanding any subsequen
t legal incapacity
on my part.
Ontario
And, in accordance with s.7(1) of the Substitute Decisions Act of
Ontario
, I declare that this
power of attorney may
beexercised during any subsequent legal incapacity on my part. This
indicates my intention that this document will be a continuingpower of attorneyfor property
under the Substitute Decisions Act, 1992, and may be used during my incapacity to manage
property. I declarethat, after due consideration, I amsatisfied that the authority conferred on
my attorney(s) named in this power of attorney is adequate to provide for the competent and
effectual management of all my estate in case I should become a patie
nt in a psychiatric facility
and be certified as not competent to manage my estate under the
Mental Health Act of Ontario.
Prince Edward Island
And, in accordance with the Powers of Attorney Act of
PrinceEdward Island
, I declarethat
this power of attor
ney may be exercised during any subsequent legal incapacity on my part. *
or (b)and
delete the
other
!
!
True Help InterNetwork Corp. Legal F
orms
!!
I revoke any powers of attorney I have previously given.
I grantfull power to my attorney to substitute and appoint oneor more attorney(s) under
him or her with the same or more
limited powers, and in his or her discretion to remove this
substitute.
I authorize that myattorney is to becompletely indemnified against all claims, actions, and
costs which may arise in connection with the exercise of this power of attorney and the
a
dministration of my estate undertaken by him or her in good faith.

!
!
True Help InterNetwork Corp. Legal F
orms
!!
In this power of attorney, whererequired, the singular is to be read as theplural and other
grammaticalchanges are to be made where necessary. The word "person"includes company,
corpo
ration, body corporate, partnership, firm, or association, and theword "bank" includes
trust company or person.
SIGNATURES
We have signed this power of attorney in the presence of the person whose name appears
above and in
the presence of each other.
)
in the
Province of

, this

day

)
)
)
A Commissioner for taking
Oaths in the Province

!
!
True Help InterNetwork Corp. Legal F
orms
!!
INSTRUCTIONS FOR THIS
POWER OF ATTORNEY FORM
Note: Although, in some cases you may only need one witness and you may not be
required to
initial each page for the POA to be valid, it is better to fulfill all possible requirements than
to
have the form rejected for a minor reason. Therefore, it is recommended that you meet the
most stringent requirements as a general rule.
Note a
lso that this is a very

broad ranging Power of Attorney and covers the need for a
Continuing Power o
f Attorney as well as an Ordinary

Power of Attorney.
2.
If you wish, you can delete any section that does not app

ly to your situation.
3.
Sign as indicated in the presence of two qualified

witnesses.
4.
Have your signature witnessed by two witnesses.
5.
Date and initial each page and have the witnesses

in

iti

al each page.
6.
Have your document notarized if necessary.
1.
PDF Documents can be printed and filled out by hand. They are not fillable at this time.
2.
After completing, follow numbers 3 to 6 above.
N
otwithstanding that every effort has been made to assure the accuracy of this document

, the
organization presenting this material takes no responsibility for the outcome of any application of the
materials or principles
supplied.
It is always bet
ter to have legal documents prepared by or at least checked by a competent lawyer.
!