Fillable Printable Burger King Application Form
Fillable Printable Burger King Application Form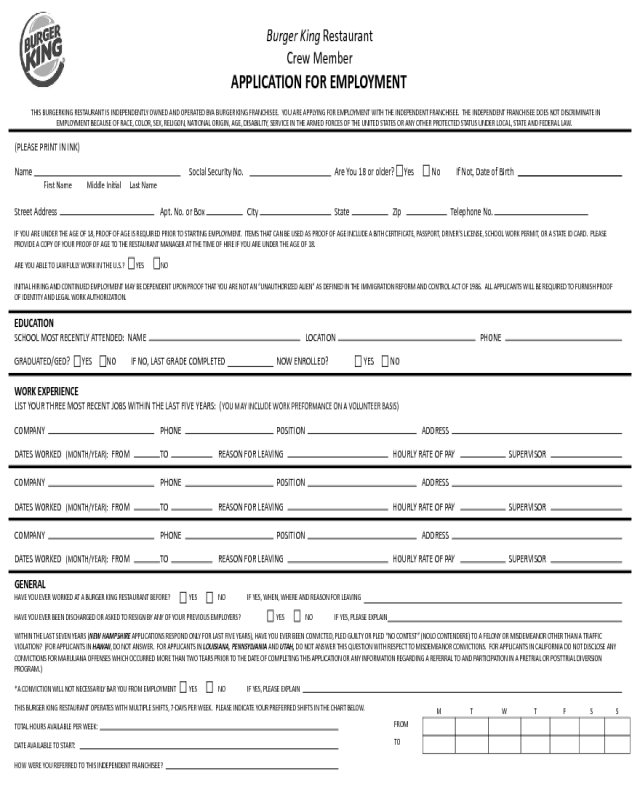 Burger King Application Form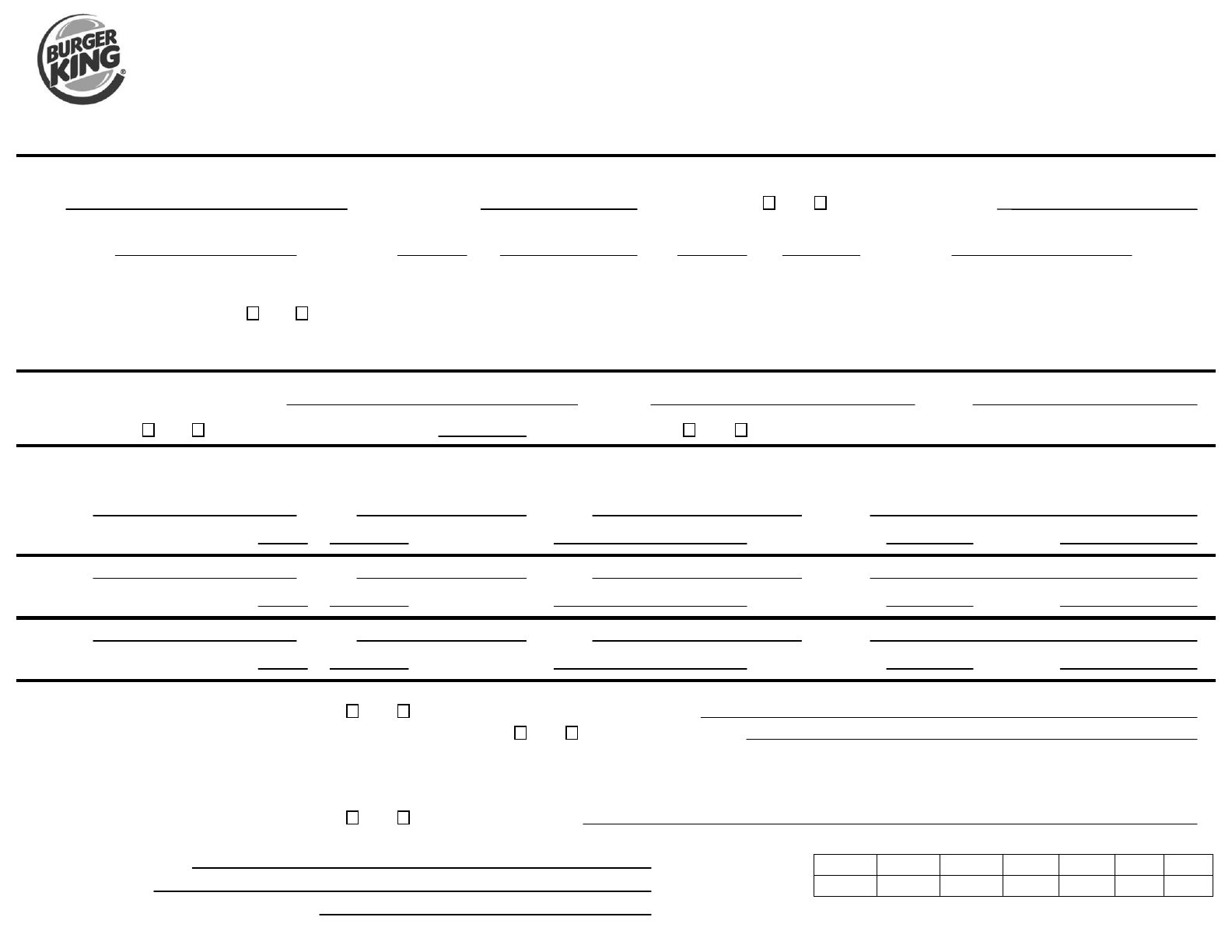 Crew Member
APPLICATION FOR EMPLOYMENT
THIS BURGERKING RESTAURANT IS INDEPENDENTLY OWNED AND OPERATED BYA BURGER KING FRANCHISEE. YOU ARE APPLYING FOR EMPLOYMENT WITH THE INDEPENDENT FRANCHISEE. THE INDEPENDENT FRANCHISEE DOES NOT DISCRIMINATE IN
EMPLOYMENT BECAUSE OF RACE, COLOR, SEX, RELIGON, NATIONAL ORIGIN, AGE, DISABILITY, SERVICE IN THE ARMED FORCES OF THE UNITED STATES OR ANY OTHER PROTECTED STATUS UNDER LOCAL, STATE AND FEDERAL LAW.
(PLEASE PRINT IN INK)
Name
Social Security No.
Are You 18 or older? Yes No
If Not, Date of Birth
First Name Middle Ini2al Last Name
Street Address
Apt. No. or Box
City
State
Zip
Telephone No.
IF YOU ARE UNDER THE AGE OF 18, PROOF OF AGE IS REQUIRED PRIOR TO STARTING EMPLOYMENT. ITEMS THAT CAN BE USED AS PROOF OF AGE INCLUDE A BITH CERTIFICATE, PASSPORT, DRIVER'S LICENSE, SCHOOL WORK PERMIT, OR A STATE ID CARD. PLEASE
PROVIDE A COPY OF YOUR PROOF OF AGE TO THE RESTAURANT MANAGER AT THE TIME OF HIRE IF YOU ARE UNDER THE AGE OF 18.
ARE YOU ABLE TO LAWFULLY WORK IN THE U.S.?
YES
NO
INITIAL HIRING AND CONTINUED EMPLOYMENT MAY BE DEPENDENT UPON PROOF THAT YOU ARE NOT AN "UNAUTHORIZED ALIEN" AS DEFINED IN THE IMMIGRATION REFORM AND CONTROL ACT OF 1986. ALL APPLICANTS WILL BE REQUIRED TO FURNISH PROOF
OF IDENTITY AND LEGAL WORK AUTHORIZATION.
EDUCATION
SCHOOL MOST RECENTLY ATTENDED: NAME
LOCATION
PHONE
GRADUATED/GED? YES NO
IF NO, LAST GRADE COMPLETED
NOW ENROLLED?
YES NO
WORK EXPERIENCE
LIST YOUR THREE MOST RECENT JOBS WITHIN THE LAST FIVE YEARS: (
YOU MAY INCLUDE WORK PREFORMANCE ON A VOLUNTEER BASIS)
COMPANY
PHONE
POSITION
ADDRESS
DATES WORKED
(MONTH/YEAR):
REASON FOR LEAVING
HOURLY RATE OF PAY
SUPERVISOR
COMPANY
PHONE
POSITION
ADDRESS
DATES WORKED
(MONTH/YEAR):
REASON FOR LEAVING
HOURLY RATE OF PAY
SUPERVISOR
COMPANY
PHONE
POSITION
ADDRESS
DATES WORKED
(MONTH/YEAR):
REASON FOR LEAVING
HOURLY RATE OF PAY
SUPERVISOR
GENERAL
HAVE YOU EVER WORKED AT A BURGER KING RESTAURANT BEFORE?
YES
NO
IF YES, WHEN, WHERE AND REASON FOR LEAVING
HAVE YOU EVER BEEN DISCHARGED OR ASKED TO RESIGN BY ANY OF YOUR PREVIOUS EMPLOYERS?
YES
NO
IF YES, PLEASE EXPLAIN
WITHIN THE LAST SEVEN YEARS (
NEW HAMPSHIRE
APPLICATIONS RESPOND ONLY FOR LAST FIVE YEARS), HAVE YOU EVER BEEN CONVICTED, PLED GUILTY OR PLED "NO CONTEST" (NOLO CONTENDERE) TO A FELONY OR MISDEMEANOR OTHER THAN A TRAFFIC
VIOLATION? (FOR APPLICANTS IN
HAWAII, DO NOT ANSWER. FOR APPLICANTS IN LOUISIANA, PENNSYLVANIA

AND

UTAH,

DO NOT ANSWER THIS QUESTION WITH RESPECT TO MISDEMEANOR CONVICTIONS. FOR APPLICANTS IN CALIFORNIA DO NOT DISCLOSE ANY
CONVICTIONS FOR MARIJUANA OFFENSES WHICH OCCURRED MORE THAN TWO TEARS PRIOR TO THE DATE OF COMPLETING THIS APPLICATION OR ANY INFORMATION REGARDING A REFERRAL TO AND PARTICIPATION IN A PRETRIAL OR POSTTRIAL DIVERSION
PROGRAM.)
*A CONVICTION WILL NOT NECESSARILY BAR YOU FROM EMPLOYMENT
YES
NO
IF YES, PLEASE EXPLAIN
THIS BURGER KING RESTAURANT OPERATES WITH MULTIPLE SHIFTS, 7-DAYS PER WEEK. PLEASE INDICATE YOUR PREFERRED SHIFTS IN THE CHART BELOW.
TOTAL HOURS AVAILABLE PER WEEK:
DATE AVAILABLE TO START:
HOW WERE YOU REFERRED TO THIS INDEPENDENT FRANCHISEE?
FROM
TO

UNDER MARYLAND LAW, AN EMPLOYER MAY NOT REQUIRE OR DEMAND, AS A CONDITION OF EMPLOYMENT, PROSPECTIVE EMPLOYMENT, OR CONTINUE EMPLOYMENT, THAT AN INDIVIDUAL SUBMIT TO OR TAKE A LIE DECTECTOR OR SIMLAR TEST.
AN EMPLOYER WHO VIOLATES THIS LAW IS GUILTY OF A MISDEMEANOR AND SUBJECT TO A FINE NOT EXCEEDING $100.
INDEPENDENTLY OWNED AND OPERATED FRANCHISED BURGER KING RESTAURANT
IN COMPLETEING THIS APPLICATION, I UNDERSTAND THAT IT IS VERY IMPORTANT THAT I BE COMPLETELY TRUTHFUL. I REALIZE THAT THE INDEPENDENT FRANCHISEE IS RELYING ON MY TRUTHFULNESS. I
AGREE THAT IF IT SHOULD BE DISCOVERED THAT THE INFORMATION I AM PROVIDING IS INACCURATE, OR INCOMPLETE IN ANY RESPECT, I WILL BE DISQUALIFIED FOR EMPLOYMENT OR, IF I HAVE ALREADY
BEEN HIRED, MY EMPLOYMENT WILL BE TERMINATED IMMEDIATELY.
I UNDERSTAND AND AGREE THAT IF I SHOULD BECOME EMPLOYED BY THE INDEPENDENT FRANCHISEE, I WILL HAVE THE RIGHT TO TERMINATE MY EMPLOYMENT AT ANY TIME FOR ANY REASON. I FURTHER
AGREE THAT THE INDEPENDENT FRANCHISEE SHALL HAVE THE SAME RIGHT TO TERMINATE MY EMPLOYMENT. MY EMPLOYMENT AT-WILL STATUS CANNOT BE MODIFIED UNLESS SUCH MODIFICATION IS
SET FORTH IN WRITING IN A DOCUMENT SIGNED BY BOTH ME AND AN OFFICER OF THE INDEPENT FRANCHISEE. EMPLOYEE HANDBOOKS, MANUALS, PERSONNEL POLICIES AND PROCEDURES OF THE
INDEPENDENT FRANCHISEE ARE NOT EMPLOYMENT CONTRACTS AND DO NOT MODIFY MY STATUS AS AN AT-WILL EMPLOYEE.
I HAVE READ AND UNDERSTAND THE FORGOING. I AM SEEKING EMPLOYMENT WITH THE INDEPENT FRANCHISEE (NOT BURGER KING CORPORATION) UNDER THE TERMS SET FORTH HEREIN AND THAT THE
INDEPENDENT FRANCHISEE IS THE SOLE EMPLOYER OF THE EMPLOYEES AT THIS RESTAURANT. I CERTIFY AND DECLARE THAT ALL THE INFORMATION I HAVE PROVIDED IS TRUE AND CORRECT.
IF APPLICABLE TO MY EMPLOYMENT, I HAVE READ AND UNDERSTOOD THE NOTICE REGARDING POLYGRAPH TESTS AND MY RIGHTS UNDER MARYLAND LAW.
I AUTHORIZE AN INVESTIGATION OF ALL STAEMENTS CONTAINED IN THIS APPLICATION. I AUTHOIZE THE REFERENCES LISTED ON THIS APPLICATION TO GIVE YOU ANY AND ALL INFORMATION CONCERNING
MY PREVIOUS EMPLOYMENT AND RELEASE ALL PARTIES FROM ALL LIABILITY FOR ANY DAMAGE THAT MAY RESULT FROM FURNISHING SUCH TO YOU.
APPLICANT'S SIGNATURE
DATE
THIS APPLICATION WILL BE CONSIDERED ACTIVE FOR 30 DAYS, FOR CONSIDERATION AFTER 30 DAYS YOU MUST REAPPLY