Fillable Printable Reference Letter-TECH UNIVERSITY HEALTH SCIENCES CENTER
Fillable Printable Reference Letter-TECH UNIVERSITY HEALTH SCIENCES CENTER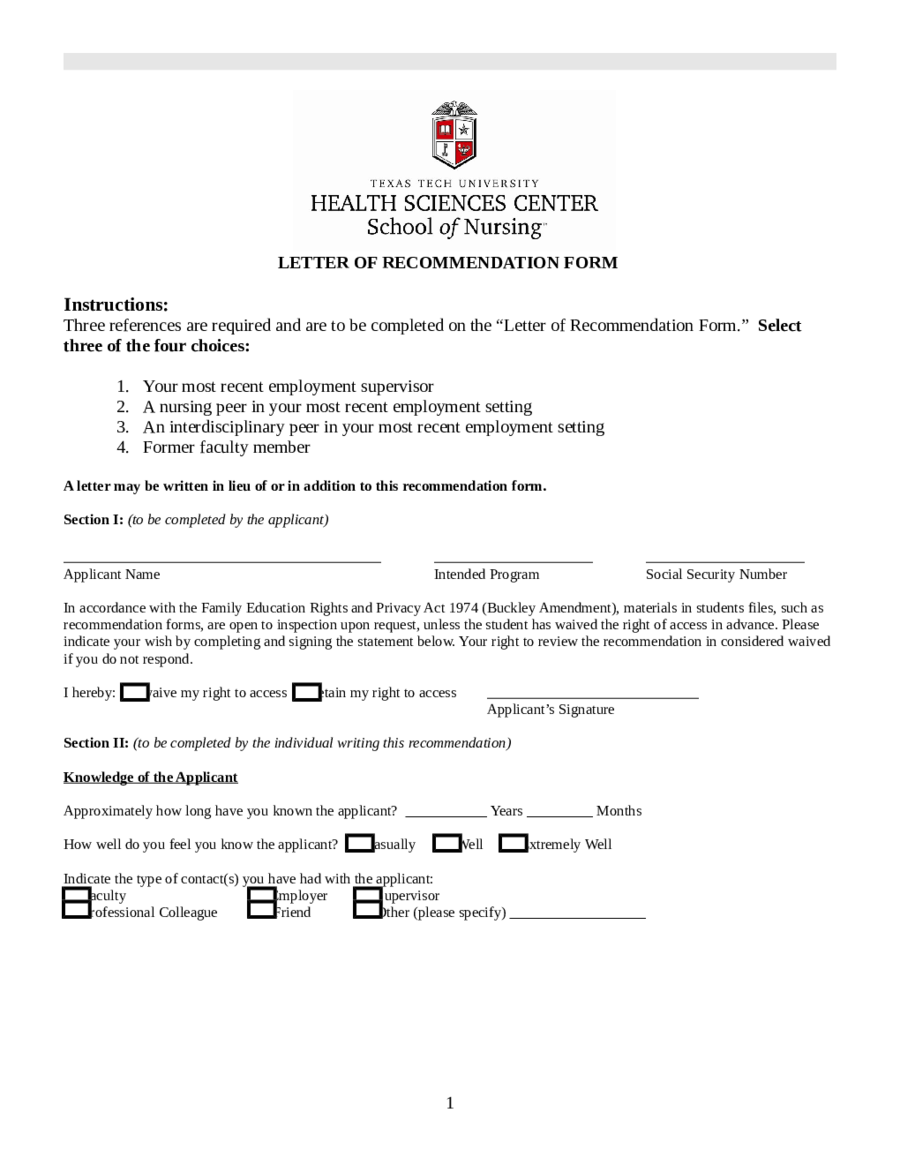 Reference Letter-TECH UNIVERSITY HEALTH SCIENCES CENTER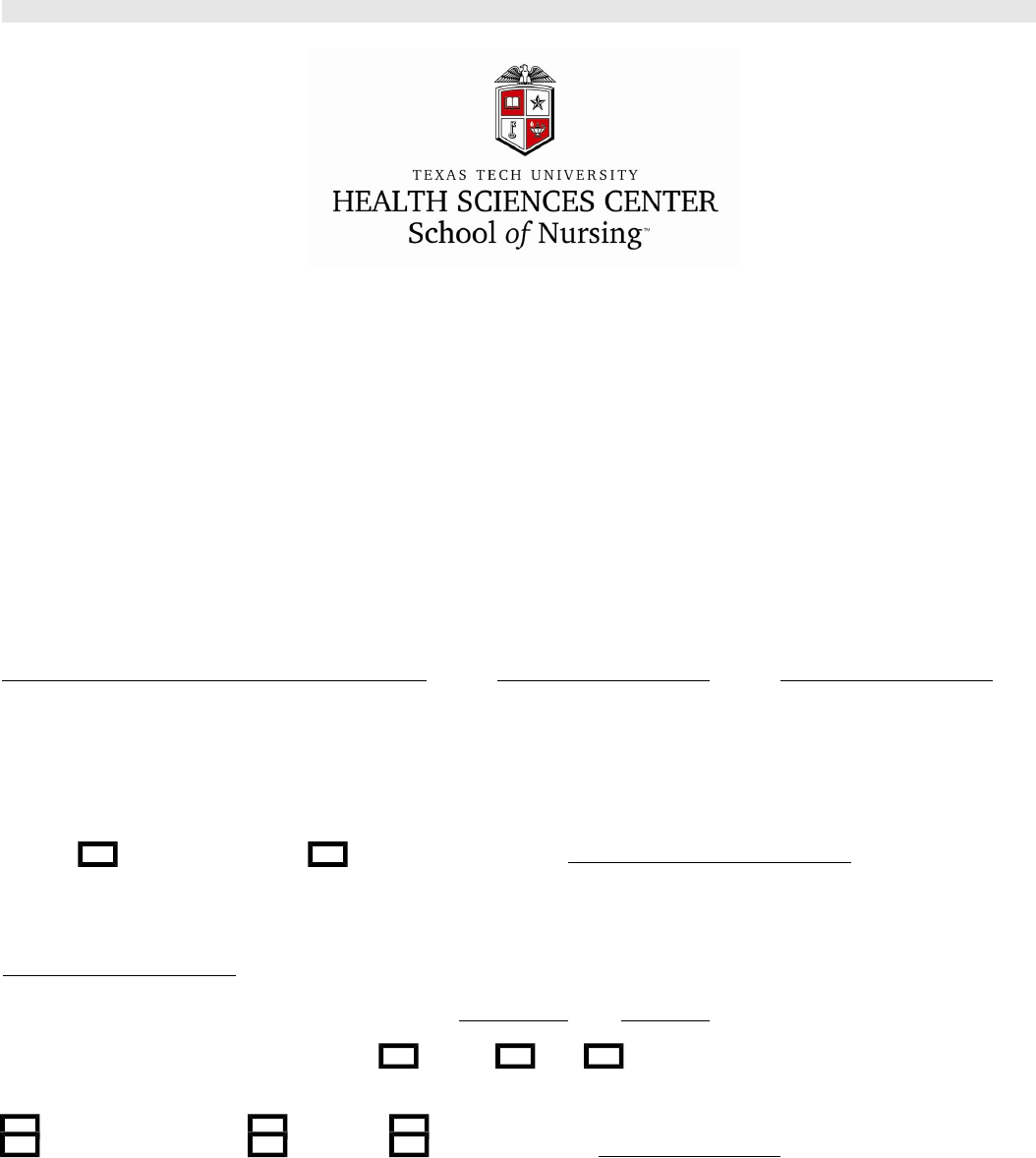 LETTER OF RECOMMENDATION FORM
Instructions:
Three references are required and are to be completed on the "Letter of Recommendation Form."
Select
three of the four choices:
1.Your most recent employment supervisor
2.A nursing peer in your most recent employment setting
3.An interdisciplinary peer in your most recent employment setting
4.Former faculty member
A letter may be written in lieu of or in addition to this recommendation form.
Section I:
(to be completed by the applicant)
Applicant NameIntended ProgramSocial Security Number
In accordance with the Family Education Rights and Privacy Act 1974 (Buckley Amendment), materials in students files, such as
recommendation forms, are open to inspection upon request, unless the student has waived the right of access in advance. Please
indicate your wish by completing and signing the statement below.Your right to review the recommendation in considered waived
if you do not respond.
I hereby: waive my right to access retain my right to access
Applicant's Signature
Section II:
(to be completed by the individual writing this recommendation)
Knowledge of the Applicant
Approximately how long have you known the applicant? Years Months
How well do you feel you know the applicant? Casually Well Extremely Well
Indicate the type of contact(s) you have had with the applicant:
Faculty Employer Supervisor
Professional Colleague Friend Other (please specify)
1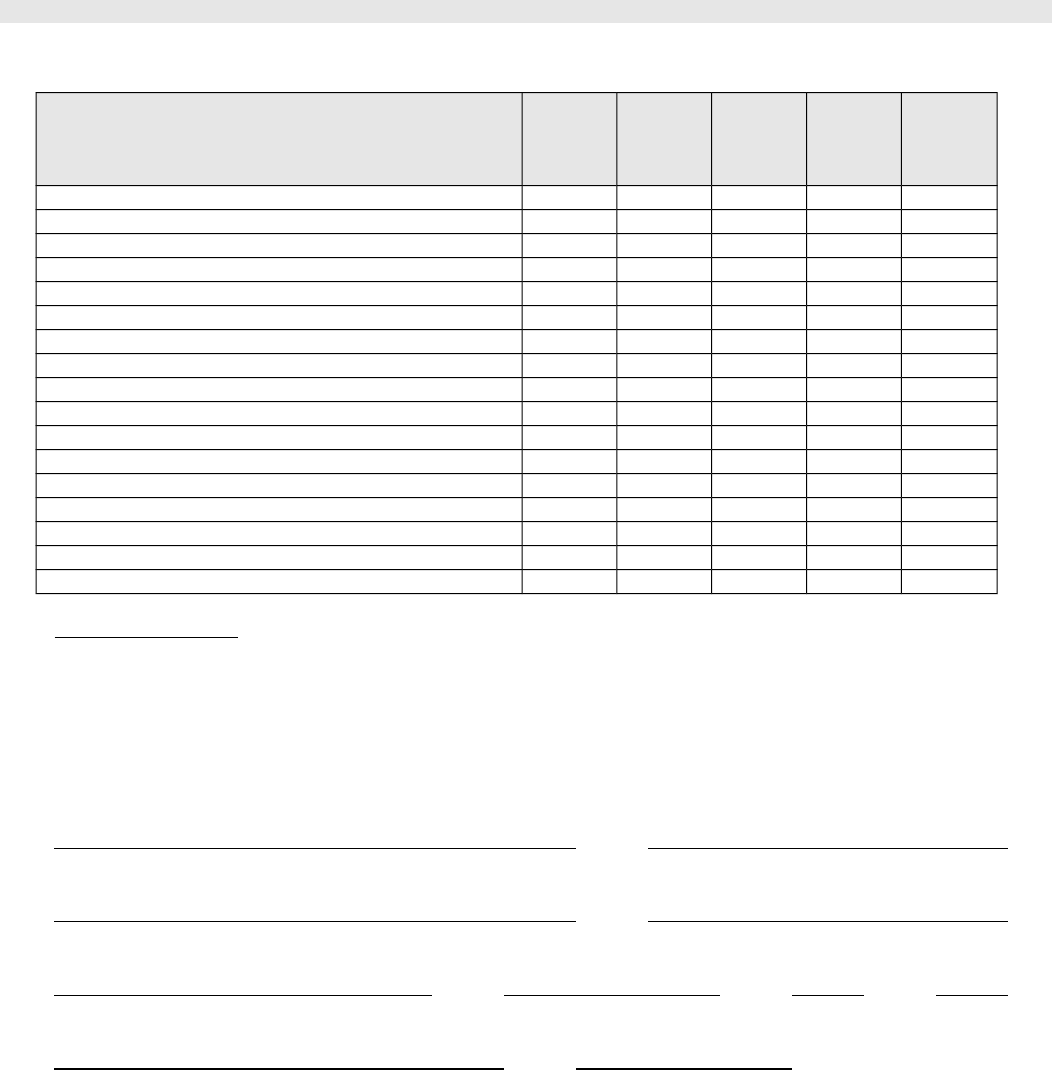 Letter of Recommendation Form – p. 2
Please check the appropriate box based on your opinion
of the applicant. If you do not have knowledge of the
applicant in a specific area, please indicate "unable to
judge."
Below
Average
AverageAbove
Average
Out
Standing
Unable
to Judge
Ability to work well with other disciplines
Organizational skills
Ability to handle stress
Initiative and creativity
Potential for scholarly achievement
Judgment
Dependability
Integrity
Ability to make decisions
Tolerance of ambiguity
Critical thinking skills
Professional leadership
Ability to do graduate level coursework
Perseverance in pursuing goals
Written communication skills
Oral communication skills
OVERALL potential for graduate study
Applicant Suitability
Please rate the applicant's suitability for his/her intended professional role on the following scale: (Circle on number)
012345678 910
Unsuitable Highly Suitable
Please feel free to add any additional comments you would like to make regarding this applicant on the back of this sheet or
on an additional sheet of paper. Your input is greatly appreciated.
NamePosition or Title
Institution Telephone Number
Mailing AddressCityStateZip
SignatureDate
Please return your response in a sealed envelope with your signature across the seal to the applicant or mail the letter to
the program at the address indicated below.
Texas Tech University Health Sciences Center
Office of Registrar & Admissions – School of Nursing
3601 4
th
Street, MS 8310
Lubbock, TX 79430-8310
2