Fillable Printable Equipment Bill of Sale - Delaware
Fillable Printable Equipment Bill of Sale - Delaware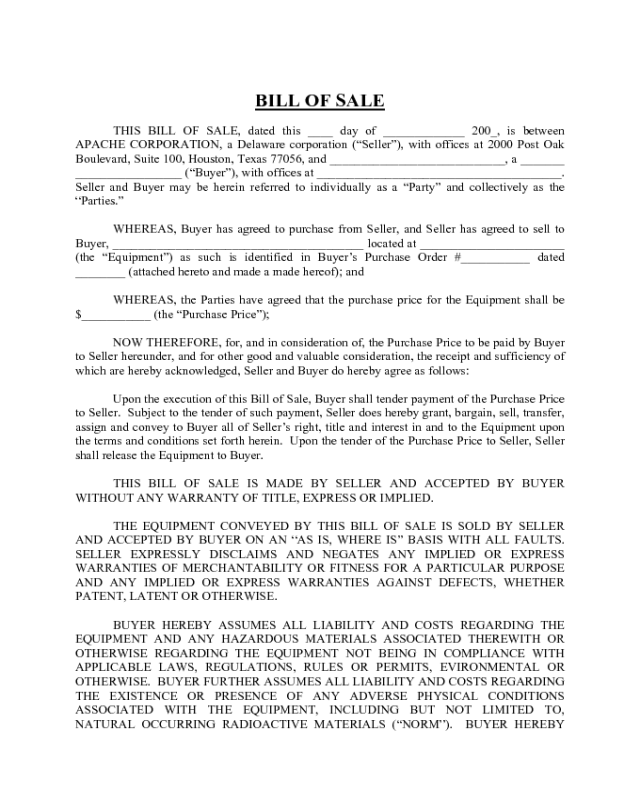 Equipment Bill of Sale - Delaware

BILL OF SALE
THIS BILL OF SALE, dated this
____ day of _____________ 200_, is between
APACHE CORPORATION, a Delaware corporati
on ("Seller"), with offices at 2000 Post Oak
Boulevard, Suite 100, Houston, Texas 77056, and ____________________________, a _______
_________________ ("Buyer"), with offices at _______________________________________.
Seller and Buyer may be herein referred to indi
vidually as a "Party" and collectively as the
"Parties."
WHEREAS, Buyer has agreed to purchase from
Seller, and Seller has agreed to sell to
Buyer, ________________________________________ located at _______________________
(the "Equipment") as such is identifie
d in Buyer's Purchase Order #___________ dated
________ (attached hereto and made a made hereof); and
WHEREAS, the Parties have agreed that th
e purchase price for the Equipment shall be
$___________ (the "Purchase Price");
NOW THEREFORE, for, and in consideration
of, the Purchase Price to be paid by Buyer
to Seller hereunder, and for other good and valuable
consideration, the receipt and sufficiency of
which are hereby acknowledged, Seller and Buyer do hereby agree as follows:
Upon the execution of this Bill of Sale, Buye
r shall tender payment of the Purchase Price
to Seller. Subject to the tender
of such payment, Seller does hereby grant, bargain, sell, transfer,
assign and convey to Buyer all of Seller's right,
title and interest in and to the Equipment upon
the terms and conditions set forth herein. Upon th
e tender of the Purchase Price to Seller, Seller
shall release the Equipment to Buyer.
THIS BILL OF SALE IS MADE BY SELLER AND ACCEPTED BY BUYER
WITHOUT ANY WARRANTY OF TITLE, EXPRESS OR IMPLIED.
THE EQUIPMENT CONVEYED BY THIS BILL OF SALE IS SOLD BY SELLER
AND ACCEPTED BY BUYER ON AN "AS IS, WH
ERE IS" BASIS WITH ALL FAULTS.
SELLER EXPRESSLY DISCLAIMS AND NEGATES ANY IMPLIED OR EXPRESS
WARRANTIES OF MERCHANTABILITY OR FITNESS FOR A PARTICULAR PURPOSE
AND ANY IMPLIED OR EXPRESS WARRANTIES AGAINST DEFECTS, WHETHER
PATENT, LATENT OR OTHERWISE.
BUYER HEREBY ASSUMES ALL LI

ABILITY AND COSTS REGARDING THE
EQUIPMENT AND ANY HAZARDOUS MATERIALS ASSOCIATED THEREWITH OR
OTHERWISE REGARDING THE EQUIPMENT
NOT BEING IN COMPLIANCE WITH
APPLICABLE LAWS, REGULATIONS, RULES OR PERMITS, EVIRONMENTAL OR
OTHERWISE. BUYER FURTHER ASSUME
S ALL LIABILITY AND COSTS REGARDING
THE EXISTENCE OR PRESENCE OF ANY ADVERSE PHYSICAL CONDITIONS
ASSOCIATED WITH THE EQUIPMENT,
INCLUDING BUT NOT LIMITED TO,
NATURAL OCCURRING RADIOACTIVE MATER
IALS ("NORM"). BUYER HEREBY

EXPRESSLY RELEASES SELLER FROM, AND
AGREES TO INDEMNIFY, DEFEND AND
HOLD HARMLESS SELLER AGAINST ANY AND ALL LIABILITIES, CLAIMS, CAUSES
OF ACTION OR RIGHTS OF ACTION OF EV
ERY KIND OR CHARACTER ARISING OUT
OF, INCIDENT TO OR ON INCONNECTION WITH THE OWNERSHIP, USE,
MAINTENANCE, HANDLING OR RESALE OF THE EQUIPMENT FROM AND AFTER
THE DATE OF THIS BILL OF SALE.
BUYER HEREBY WAIVES THE PROVISIONS OF THE TEXAS DECEPTIVE
TRADE PRACTICES ACT, CHAPTER 17, SUBCHAPTER E, SECTIONS 17.41 THROUGH
17.63, INCLUSIVE (OTHER THEN SECTION
17.555, WHICH IS NOT WAIVED), OF THE
TEXAS BUSINESS AND COMMERCE CODE TO THE EXTENT OTHERWISE
APPLICABLE TO THIS BILL OF SALE.
Buyer shall be responsible for removal and transportation of the Equipment from
________________________ at its sole cost, risk and expense.
This Bill of Sale is binding upon and shall i
nure to the benefits of Seller and Buyer and
their respective successors and assigns.
Each Party hereby represents that it is fully au
thorized to enter into this Bill of Sale and
that upon full execution hereof, this Bill of Sale
shall constitute a binding agreement between the
Parties.
This Bill of Sale shall be governed by and c
onstrued in accordance with the laws of the
state of Texas, without regard to any conflicts of
law principles that would otherwise require the
application of any other law. Moreover, Buye
r and Seller irrevocably consent to the personal
jurisdiction of the federal and/or state courts
located in Houston, Texas, and unconditionally
agree that any and all claims, disputes and/or contr
oversies arising out of or related to this Bill of
Sale shall be adjudicated in the federal or state courts located in Houston Texas.
This Bill of Sale may be executed in mu
ltiple counterparts, each of which shall be
deemed to be an original, but all of which together shall constitute but one and the same
instrument.
This Bill of Sale contains the entire agreement of the Parties concerning the subject
matter hereof and may not be contradicted by evidence of any prior agreements, written or oral.
WHEREFOR, this bill of sale is executed by the Parties as of the date first written above.
APACHE CORPORATION
___________________________
BY: ____________________________ BY:________________________
Name:
- 2 -