Fillable Printable Example Message Pad Summary
Fillable Printable Example Message Pad Summary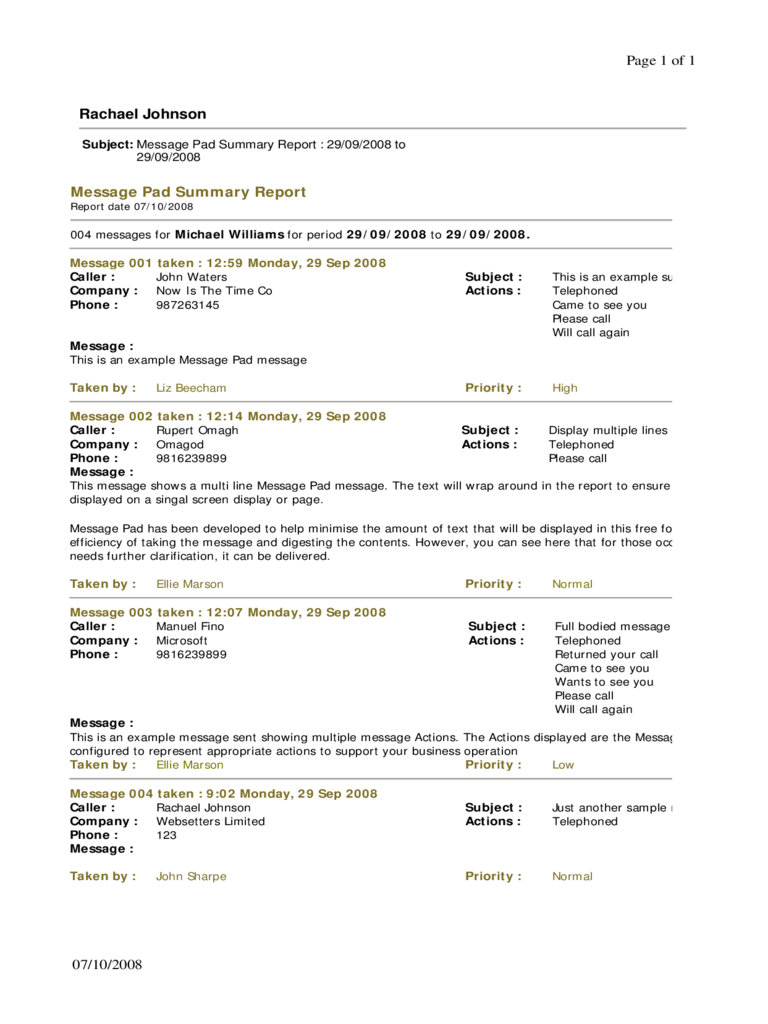 Example Message Pad Summary

Message Pad Summary Report : 29/09/2008 to
29/09/2008
07/10/2008
Message Pad Summary Report
Report date 07/10/2008
004 messages for
Michael Williams

for period

29/09/2008 to 29/09/2008.
Message 001 taken : 12:59 Monday, 29 Sep 2008
an
example Message Pad message
Message 002 taken : 12:14 Monday, 29 Sep 2008
multiple lines in message
message shows a multi l
ine
Message Pad message. The text will wrap around in the report to ensure that all content may be
displayed on a singal screen display or page.
Message Pad has been developed to help minimise the amount of text that will be displayed in this free format section, thus aiding he
efficiency of taking the message and digesting the contents. However, you can see here that for those occassions where a message
needs further clarification, it can be delivered.
Message 003 taken : 12:07 Monday, 29 Sep 2008
This is an example message sent
showing multiple message Actions. The Actions displayed are the Message Pad defaults. This may be
configured to represent appropriate actions to support your business operation