Fillable Printable Explanation And Instruction Sheet - Statement Of Charges To Reserve Account, De 428T (De 428C)
Fillable Printable Explanation And Instruction Sheet - Statement Of Charges To Reserve Account, De 428T (De 428C)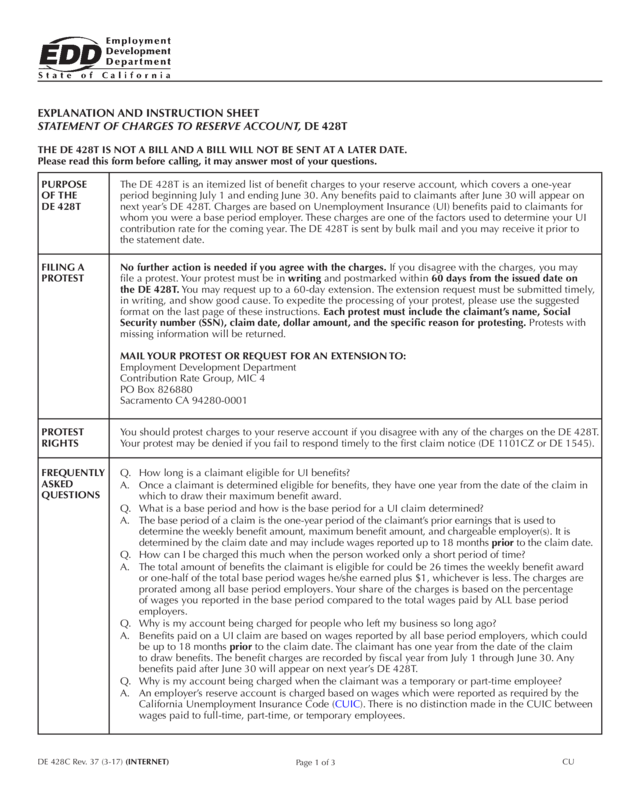 Explanation And Instruction Sheet - Statement Of Charges To Reserve Account, De 428T (De 428C)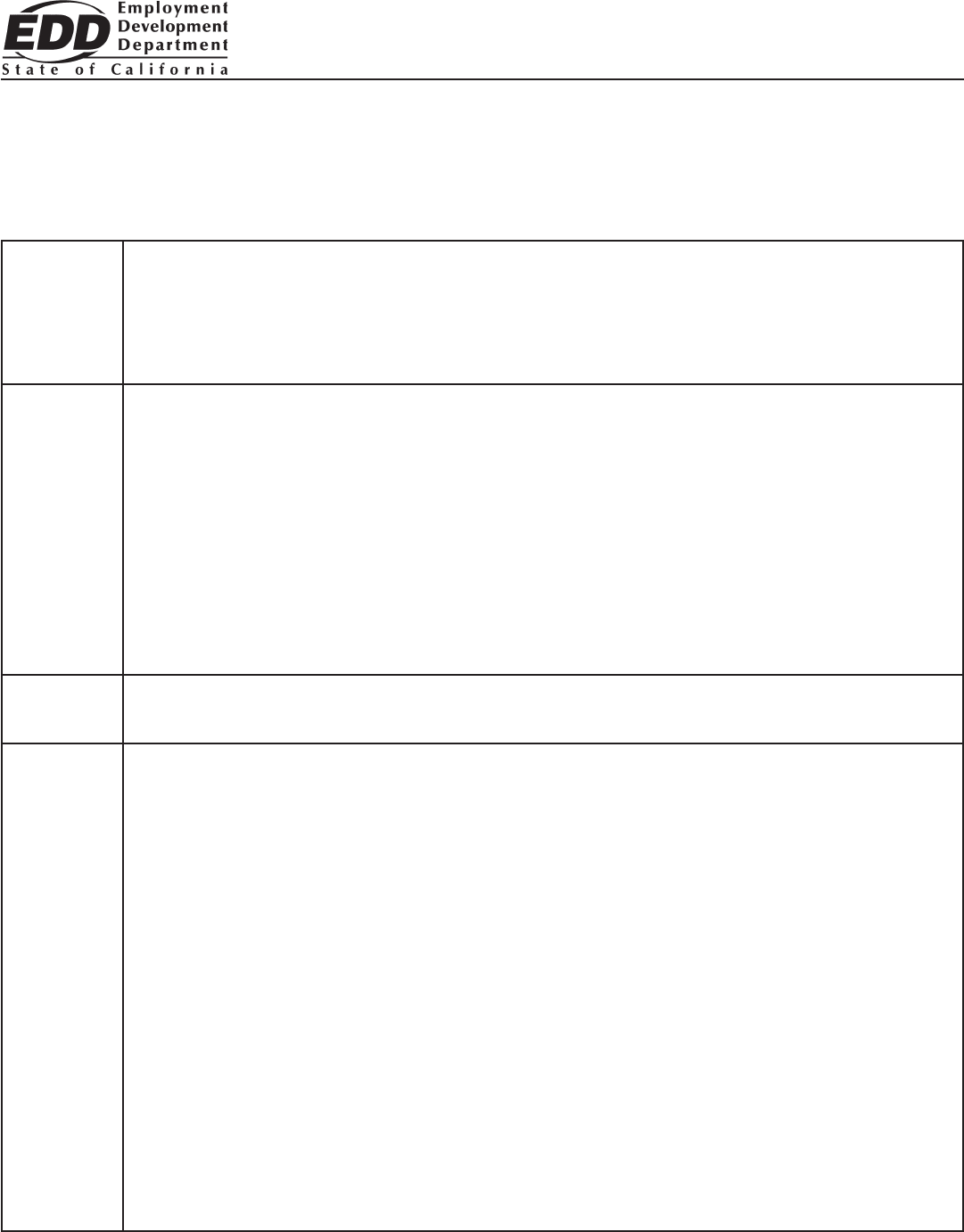 DE 428C Rev. 37 (3-17)
(INTERNET)
CU
PURPOSE
OF THE
DE 428T
FILING A
PROTEST
PROTEST
RIGHTS
FREQUENTLY
ASKED
QUESTIONS
Page 1 of 3
The DE 428T is an itemized list of benefit charges to your reserve account, which covers a one-year
period beginning July 1 and ending June 30. Any benefits paid to claimants after June 30 will appear on
next year's DE 428T. Charges are based on Unemployment Insurance (UI) benefits paid to claimants for
whom you were a base period employer. These charges are one of the factors used to determine your UI
contribution rate for the coming year. The DE 428T is sent by bulk mail and you may receive it prior to
the statement date.
No further action is needed if you agree with the charges.
If you disagree with the charges, you may
file a protest. Your protest must be in
writing
and postmarked within
60 days from the issued date on
the DE 428T.
You may request up to a 60-day extension. The extension request must be submitted timely,
in writing, and show good cause. To expedite the processing of your protest, please use the suggested
format on the last page of these instructions.
Each protest must include the claimant's name, Social
Security number (SSN), claim date, dollar amount, and the specific reason for protesting.
Protests with
missing information will be returned.
MAIL YOUR PROTEST OR REQUEST FOR AN EXTENSION TO:
Employment Development Department
Contribution Rate Group, MIC 4
PO Box 826880
Sacramento CA 94280-0001
You should protest charges to your reserve account if you disagree with any of the charges on the DE 428T.
Your protest may be denied if you fail to respond timely to the first claim notice (DE 1101CZ or DE 1545).
Q. How long is a claimant eligible for UI benefits?
A. Once a claimant is determined eligible for benefits, they have one year from the date of the claim in
which to draw their maximum benefit award.
Q. What is a base period and how is the base period for a UI claim determined?
A. The base period of a claim is the one-year period of the claimant's prior earnings that is used to
determine the weekly benefit amount, maximum benefit amount, and chargeable employer(s). It is
determined by the claim date and may include wages reported up to 18 months
prior
to the claim date.
Q. How can I be charged this much when the person worked only a short period of time?
A. The total amount of benefits the claimant is eligible for could be 26 times the weekly benefit award
or one-half of the total base period wages he/she earned plus $1, whichever is less. The charges are
prorated among all base period employers. Your share of the charges is based on the percentage
of wages you reported in the base period compared to the total wages paid by ALL base period
employers.
Q. Why is my account being charged for people who left my business so long ago?
A. Benefits paid on a UI claim are based on wages reported by all base period employers, which could
be up to 18 months
prior
to the claim date. The claimant has one year from the date of the claim
to draw benefits. The benefit charges are recorded by fiscal year from July 1 through June 30. Any
benefits paid after June 30 will appear on next year's DE 428T.
Q. Why is my account being charged when the claimant was a temporary or part-time employee?
A. An employer's reserve account is charged based on wages which were reported as required by the
California Unemployment Insurance Code (
CUIC
). There is no distinction made in the CUIC between
wages paid to full-time, part-time, or temporary employees.
EXPLANATION AND INSTRUCTION SHEET
STATEMENT OF CHARGES TO RESERVE ACCOUNT,
DE 428T
THE DE 428T IS NOT A BILL AND A BILL WILL NOT BE SENT AT A LATER DATE.
Please read this form before calling, it may answer most of your questions.

Page 2 of 3
DE 428C Rev. 37 (3-17)
(INTERNET)
Due to the volume of protests received, it may
take up to nine
months before you receive a response.
If the protest is allowed, the charges will be removed, and you will receive an amended
Notice of
Contribution Rates and Statement of UI Reserve Account,
DE 2088, if your account is active. If the protest
is denied, you will receive an explanation and information on your petition rights.
PREDECESSOR ACCOUNT NUMBER:
If you acquired another business and requested a

complete
reserve account transfer, the predecessor's account number will appear in the PREDECESSOR ACCOUNT
NUMBER field on your statement. The claimants listed are former employees of that business, and the
benefits paid to the claimants are based on wages reported by the former owner. Because the predecessor's
reserve account was transferred to you, your reserve account is now chargeable for the predecessor's
share of benefits paid to those claimants. Charges for each predecessor's account will be listed on separate
page(s) under your account number. However, if you requested a
partial
reserve account transfer, your
predecessor will receive the DE 428T for that account number.
CLAIMANT'S NAME/SOCIAL SECURITY NUMBER (SSN):
The UI claim information and claimant wage
records are controlled by SSNs and not by names. The SSNs on your DE 428T were reported by you on
your
Quarterly Wage and Withholding Report,

DE 6

, and/or

Quarterly Contribution Return and Report of
Wages (Continuation),
DE 9C

. The claimants' names may have been changed, misspelled, or shortened to
fit computer limitations.
CLAIM DATE:
The date the claim for UI benefits was established.
CLAIM TYPE:
For EDD use only.
EMPLOYER CHARGE:
The amount charged to your reserve account represents your prorated share of
benefits paid from July 1 through June 30. If the amount is preceded by a
MINUS (-) sign
, it is a credit to
your reserve account.
CHG CODE:
These codes designate the type of claim.
Blank — Regular UI charge
1 — Your reserve account was charged because benefits were paid prior to the separation date on
your favorable ruling or you reported wages for the claimant after the separation date on your
favorable ruling.
6 — UI benefits paid during a federal extension period.
G
— UI benefits paid to a claimant who filed and was eligible for a training extension claim per
Section 1269 of the CUIC.
R — UI benefit overpayment activity on an interstate claim. It may be a debit or a credit amount.
PGM CODE:
For EDD use only.
WHAT TO
EXPECT
ENTRIES
ON
DE 428T
WHERE TO
CALL
For assistance or questions regarding the DE 428T, please call 916-653-7795.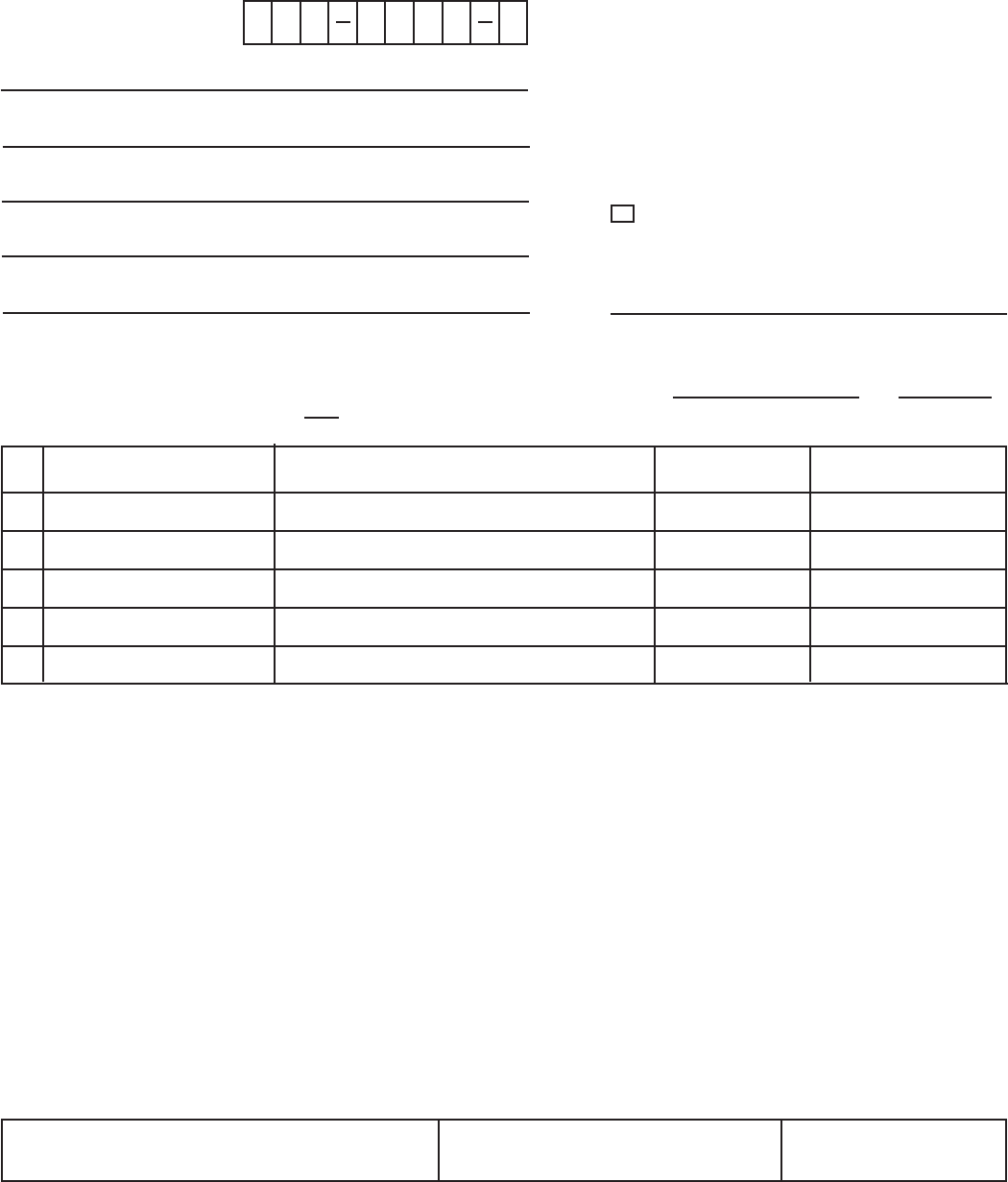 DE 428C Rev. 37 (3-17)
(INTERNET)
SSN
CLAIMANT NAMECLAIM DATE
EMPLOYER
CHARGE AMOUNT
1
2
3
4
5
SUGGESTED FORMAT FOR FILING A WRITTEN PROTEST TO THE DE 428T
EMPLOYER PAYROLL TAX
ACCOUNT NUMBER:
Business Name
Doing Business As (DBA)
Business Mailing Address (Number, Street, Box Number) Check here if new
address
Business Mailing Address (City, State, ZIP Code)
Contact Person
This is a protest to the
Statement of Charges to Reserve Account,

DE 428T, dated , 20 ,
for the fiscal year ended June 30, 20 , for the following claimant(s):
( )
Phone Number
Employment Development Department
Contribution Rate Group, MIC 4
PO Box 826880, Sacramento CA 94280-0001
Please state the protest reason for each claimant listed above. Type or print clearly. If more space is needed, please attach
a separate page.
Signature
Title
Date
Page 3 of 3