Fillable Printable Form 4576 - Abandoned Property Affidavit
Fillable Printable Form 4576 - Abandoned Property Affidavit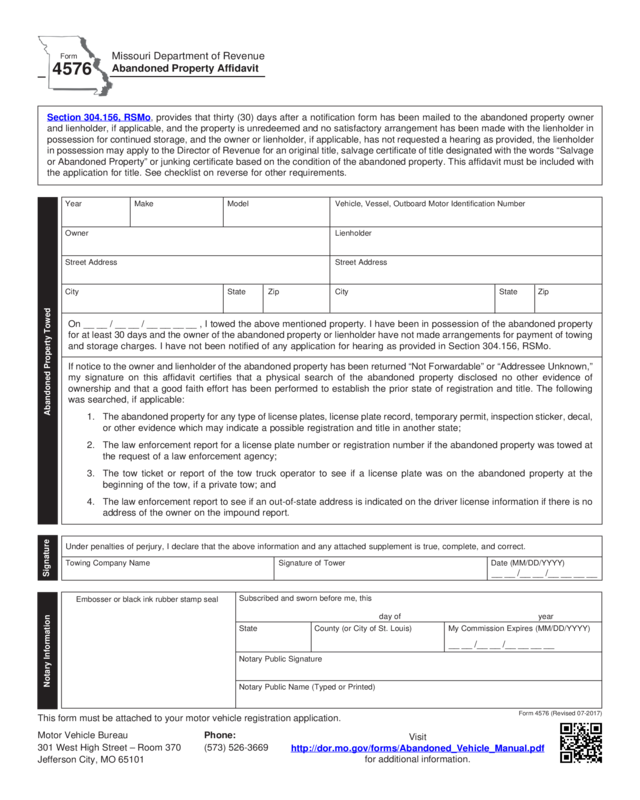 Form 4576 - Abandoned Property Affidavit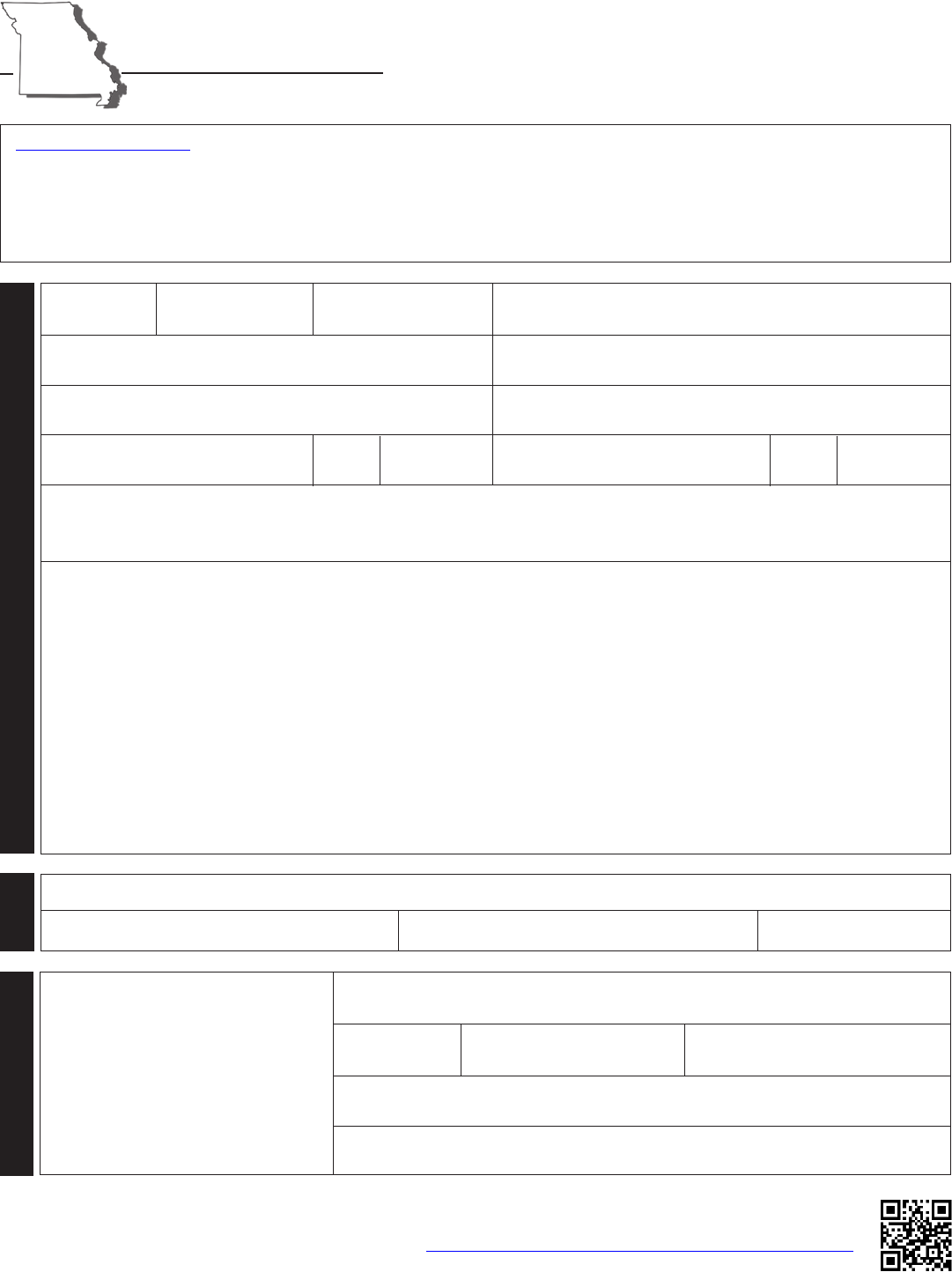 Form
4576
Missouri Department of Revenue
Abandoned Property Affidavit
Subscribed and sworn before me, this
State
County (or City of St. Louis)
My Commission Expires (MM/DD/YYYY)
Notary Public Name (Typed or Printed)
Embosser or black ink rubber stamp seal
__ __ /__ __ /__ __ __ __
Notary Information
Section 304.156, RSMo
,

provides that thirty (30) days after a notification form has been mailed to the abandoned property owner
and lienholder, if applicable, and the property is unredeemed and no satisfactory arrangement has been made with the lienholder in
possession for continued storage, and the owner or lienholder, if applicable, has not requested a hearing as provided, the lienholder
in possession may apply to the Director of Revenue for an original title, salvage certificate of title designated with the words "Salvage
or Abandoned Property" or junking certificate based on the condition of the abandoned property. This affidavit must be included with
the application for title. See checklist on reverse for other requirements.
Abandoned Property Towed
Year
Make
Model
Vehicle, Vessel, Outboard Motor Identification Number
Street Address
Street Address
City
State
Zip
City
State Zip
On __ __ / __ __ / __ __ __ __
, I towed the above mentioned property. I have been in possession of the abandoned property
for at least 30 days and the owner of the abandoned property or lienholder have not made arrangements for payment of towing
and storage charges. I have not been notified of any application for hearing as provided in Section 304.156, RSMo.
If notice to the owner and lienholder of the abandoned property has been returned "Not Forwardable" or "Addressee Unknown,"
my signature on this affidavit certifies that a physical search of the abandoned property disclosed no other evidence of
ownership and that a good faith effort has been performed to establish the prior state of registration and title. The following
was searched, if applicable:
1.
The abandoned property for any type of license plates, license plate record, temporary permit, inspection sticker, decal,
or other evidence which may indicate a possible registration and title in another state;
2.
The law enforcement report for a license plate number or registration number if the abandoned property was towed at
the request of a law enforcement agency;
3.
The tow ticket or report of the tow truck operator to see if a license plate was on the abandoned property at the
beginning of the tow, if a private tow; and
4.
The law enforcement report to see if an out-of-state address is indicated on the driver license information if there is no
address of the owner on the impound report.
Under penalties of perjury, I declare that the above information and any attached supplement is true, complete, and correct.
Towing Company Name
Signature of Tower
Date (MM/DD/YYYY)
__ __ /__ __ /__ __ __ __
Signature
Visit
http://dor.mo.gov/forms/Abandoned_Vehicle_Manual.pdf
for additional information.
Form 4576 (Revised 07-2017)
This form must be attached to your motor vehicle registration application.
Motor Vehicle Bureau
Phone:
301 West High Street – Room 370
(573) 526-3669
Jefferson City, MO 65101

Instructions for Titling Abandoned Property
Please contact the Motor Vehicle Bureau with any questions regarding titling abandoned property. Abandoned property includes
motor vehicles, trailers, all-terrain vehicles, outboard motors, and vessels.
Titling requirements for units towed from public or private property with authorization from law enforcement or a governmental
agency:
1.
Application for title, properly completed in the tower's company name. The title type must be marked "Original", "Salvage",
or "Junking Certificate" (No title fee is required);
2.
Abandoned Property Affidavit (
Form 4576
) properly completed, signed by the tower and notarized by a notary public;
3.
A copy of the Vehicle Owner and Lienholder Notification (
Form 4577
) issued to any owner and lienholder of record.
This must be sent by certified mail;
4.
A copy of the certified mail receipts at least 30 days old, indicating the owner and lienholder of record, if applicable, have
been sent the above notice;
5.
A copy of the online record search or notice the Motor Vehicle Bureau issued to the tower informing the tower of the latest
owner or lienholder of record;
6.
A completed and signed Vehicle Examination Certificate (
Form 551
), if applying for an "Original" title; and
7.
Crime Inquiry and Inspection Report completed by authorized law enforcement.
Titling requirements for units towed from private property without authorization from law en force ment or a governmental agency:
1.
Items 1 through 6 above; and
2.
Abandoned Property Report (
Form 4669
) completed by the property owner, towing company, and law enforcement.
Form 4576 (Revised 07-2017)