Fillable Printable Form 622-048-000 (Fpdf)
Fillable Printable Form 622-048-000 (Fpdf)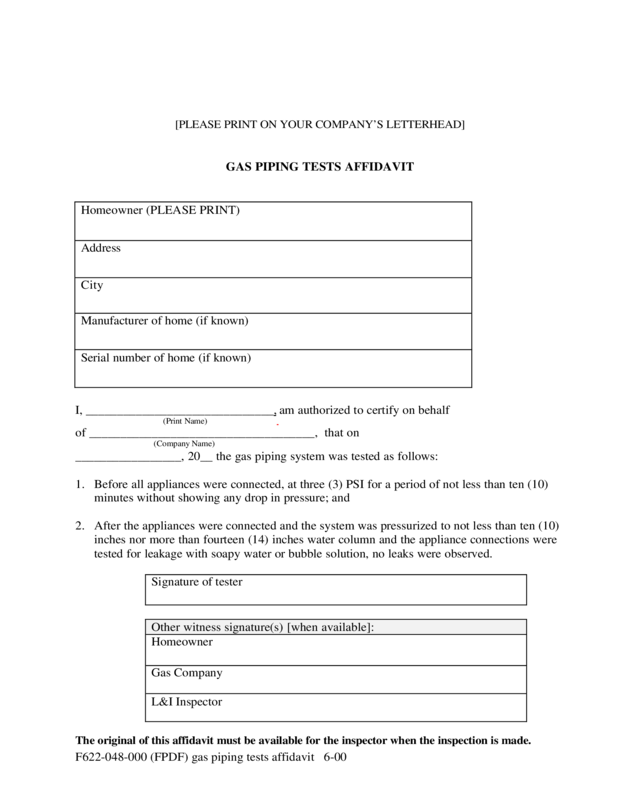 Form 622-048-000 (Fpdf)

F622-048-000 (FPDF) gas piping tests affidavit 6-00
[PLEASE PRINT ON YOUR COMPANY'S LETTERHEAD]
GAS PIPING TESTS AFFIDAVIT
Homeowner (PLEASE PRINT)
Address
City
Manufacturer of home (if known)
Serial number of home (if known)
I, ______________________________
,
am authorized to certify on behalf
of ____________________________________, that on
_________________, 20__ the gas piping system was tested as follows:
1.
Before all appliances were connected, at three (3) PSI for a period of not less than ten (10)
minutes without showing any drop in pressure; and
2.
After the appliances were connected and the system was pressurized to not less than ten (10)
inches nor more than fourteen (14) inches water column and the appliance connections were
tested for leakage with soapy water or bubble solution, no leaks were observed.
Signature of tester
Other witness signature(s) [when available]:
Homeowner
Gas Company
L&I Inspector
The original of this affidavit must be available for the inspector when the inspection is made.