Fillable Printable Form MV-1W - Withdrawal of Consent - New York
Fillable Printable Form MV-1W - Withdrawal of Consent - New York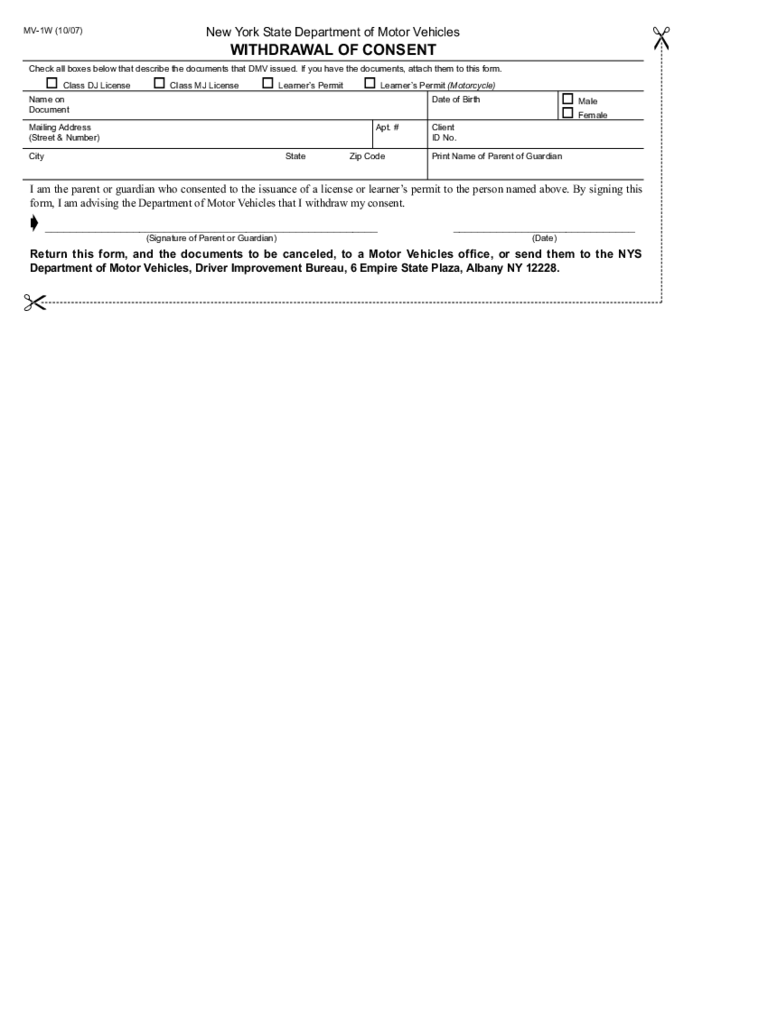 Form MV-1W - Withdrawal of Consent - New York

New York State Department of Motor Vehicles
WITHDRAWAL OF CONSENT
Check all boxes below that describe the documents that DMV issued. If you have the documents, attach them to this form.

Class DJ License

Class MJ License

Learner's Permit

Learner's Permit

(Motorcycle)
Name on
Document
Return this form, and the documents to be canceled, to a Motor Vehicles office, or send them to the NYS
Department of Motor Vehicles, Driver Improvement Bureau, 6 Empire State Plaza, Albany NY 12228.
Mailing Address
(Street & Number)
Apt. #
Client
ID No.
City State Zip Code
Print Name of Parent of Guardian
Date of Birth
I am the parent or guardian who consented to the issuance of a license or learner's permit to the person named above. By signing this
form, I am advising the Department of Motor Vehicles that I withdraw my consent.
±
_____________________________________________________ _____________________________
(Signature of Parent or Guardian)
(Date)
MV-1W (10/07)

